Chelsea Supporters Group Launches New Website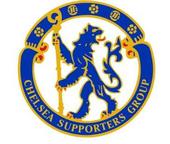 Welcome to new look CSG website.
The close season has seen the CSG working alongside our new website designer, to develop a more professional, informative and user-friendly site.
Many hours have been put in to get to what you see today, and we hope you agree that the new design is a massive improvement.
As always, your feedback is important to us, and we welcome any comments or suggestions you may have, including any additions you would like too see to help us keep you up to date with all things Chelsea.
We also welcome your involvement with this, and request you send us your Chelsea related articles which can be shared with fellow supporters.