New Chelsea Kingston Store Player Signing
Graeme and I made our way to Kingston upon Thames yesterday to scope out the new Chelsea store and for the signing of the "Play like Chelsea" book.
Arriving just before 10.30 am with the players not due to be there until 2.30 pm there were already queues gathering on either side of the doorway. Bearing in mind this was half term week there were a lot of youngsters present and we had taken along two children from the Kent Blues.
Kingston High Street is a pedestrianised area and it needed some early organising from the Chelsea staff ensuring that barriers were put in place so the line was clearly defined and fans weren't blocking entrances to other shop premises.  Around midday 150 raffle tickets were distributed so as long as you had your ticket and of course your book, you were certain to be seen.
With hindsight it was probably wise that the three players who attended hadn't been advertised as I suspect there would have been many more fans present, but Chinese whispers from inside the store pretty soon spread the word that John Terry, Petr Cech and Drogba were the most likely.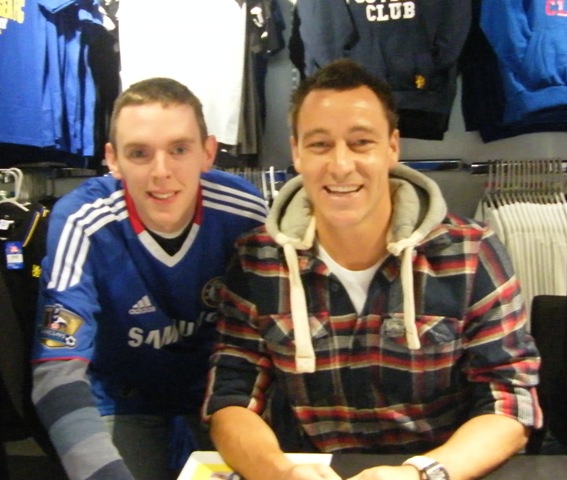 Kingston is about a 25 minute drive from Cobham and the players were early arriving and we got ushered into the store to meet them.
JT had passed his "One Team, One Community" tee shirt over to us at the Wolves game on Saturday, so along with the children from school we got the chance to thank him. He was already sitting some of the younger one's on his knee for photo-shoots and it was clear that he was enjoying meeting with the fans. Petr and Didier were equally relaxed and they took their time to sign not only books but shirts and photos if that was asked for, so good on them, because the cost of a £16.99 book per person for signing is certainly not within everyone's budget.
This coming Saturday, 30th October, the Premiership Trophy and FA Cup will be in the Kingston store for any fans who would like to go along and have pictures taken.
Gill Reeves CSG disabled rep.