Match Report: Blackburn Rovers 1 – Chelsea 2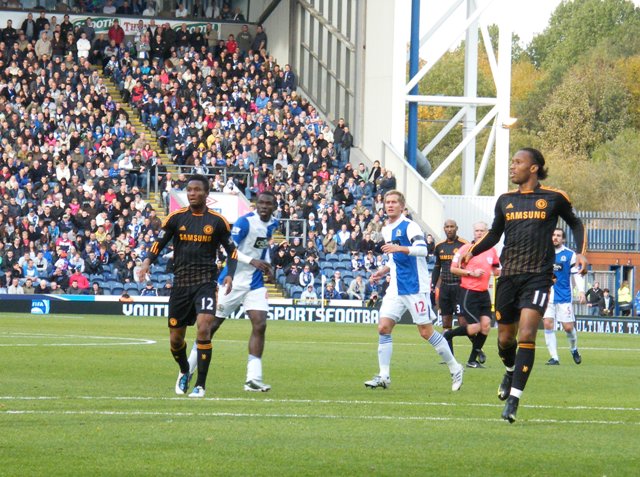 It's games like this where titles are won and we collected 3 priceless points after a hard fought victory over a tough Blackburn side.
Goals from Nicolas Anelka and Branislav Ivanovic secured the win for us after Benjani had given Big Sam's side an early lead at Ewood Park.
As was expected Alex returned from his four week layoff due to injury and partnered John Terry in the back four which also saw Bosingwa being rested and Ivanovic taking his position at right back.
Of both the sides it was Blackburn who started the game on a brighter note as they were the first to have a shot on goal when Morten Gamst Pedersen's half-volley was firmly blocked by John Terry.  Mame Diouf and El-Hadji Diouf both had a go at Chelsea's goal with the latter's chip shot tipped over by Petr Cech after he lost his footing, who then had to prevent Benjani's toe-poke with his legs. Petr Cech probably had his busiest game of the season as he was the one who kept many of Blackburn's shots away from our goal.
Blackburn kept up the pressure and were rewarded for this as they opened the scoring in the 21st minute after Benjani headed in off El-Hadji Diouf's cross from the left hand side of the pitch. The lead was a deserved one for Rovers who had looked the better of the two sides in the opening minutes.
Blackburn were not keen to sit back on a single goal lead and could have had their second but El-Hadji Diouf's cross was thankfully tipped to safety by Cech.
We also had chances but they couldn't be called clear cut as we looked far away from our best. Yury Zhirkov had a shot blocked by a flying Christopher Samba while Michael Essien saw his shot go wrong side of the post.
Then came our equalizer and it was a really well worked goal getting Rovers on the counter attack. Cech sent on the ball to Florent Malouda on the far left. He then flowed in a cross to Didier Drogba into Blackburn's penalty box. Drogs headed down the ball for the approaching Anelka who slotted home a cool finish. It was Anelka's ninth goal of the season sending us into the second half all square.
Carlo Ancelotti must have had fairly strong words as the Chelsea team re-emerged a good couple of minutes before Blackburn.
Allardyce replaced his goal scorer Bejani with Jason Roberts and the game continued at the same pace as it had in the first. Ten minutes in and Ashley Cole had a chance to put us into the lead after he shot wide from a Malouda cross. We started to look a lot better compared to Blackburn who had controlled the first half. Zhirkov then had his shot parried away by Robinson, followed by Anelka and Drogba whose shots were blocked by Blackburn defenders.
Carlo Ancelotti made our first change with Sturridge replacing Florent Malouda at just 19 minutes to go. The replacement looked to reap some benefit as Sturridge had the pace and he showed a glimpse of it beating two Blackburn defenders before firing hard and high into the side netting from distance.
Blackburn could have got a second with just minutes remaining on the clock. First it was Diouf who headed straight at Petr Cech and then Jason Roberts who slotted past the diving Petr Cech but just wide of the post after beating Ashley Cole. Had that gone in it would have been very difficult for us to make a comeback. But the game wasn't over yet and thank goodness we sealed it after some patient build up saw Zhirkov chipping across the box to Ivanovic who was unmarked at the far post and headed in our second goal from a tight angle.
That goal came on the 83rd minute and cued euphoria and relief from the Chelsea away support.
After the game Carlo Ancelotti acknowledged it was a significant victory.
"It was an important result," he said. "It is very difficult to play here and the win meant we maintained our position at the top of the league."
 
So 5 points clear and a return to Champions League at Stamford Bridge next Wednesday.
Stats: From the official Chelsea FC website:
Blackburn Rovers (4-5-1): Robinson; Salgado, Samba (c), Nelsen, Givet (Olsson 34); M Diouf, Emerton, Jones, Pedersen, E Diouf (Dunn 79); Benjani (Roberts h-t).
Scorers Benjani 21
Booked Salgado 32, Nelsen 81
Chelsea (4-3-3):Cech; Ivanovic, Alex, Terry (c), Cole; Essien, Mikel, Zhirkov; Anelka (Ferreira 90+2), Drogba, Malouda (Sturridge 72).
Scorers Anelka 38, Ivanovic 83
Booked Drogba 65, Ivanovic 79
Attendance 25,836
Referee Peter Walton
Shots on Blackburn 2 Chelsea 3
Corners Blackburn 3 Chelsea 5
Fouls Blackburn 9 Chelsea 13
Offside Blackburn 2 Chelsea 2
Gill Reeves CSG Disabled Rep.