"On The Pitch" With Help A London Child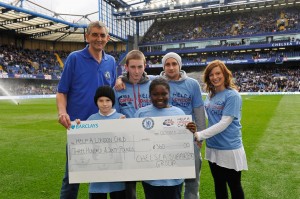 Having arrived at the East Stand press entrance at my allotted time of 2:30 I met up with Dave 'urry up' Johnston from cfcuk and Kane Curran from Chelsea FC as well as representatives from "Help A London Child" (HaLC), the club's official charity.
The press office on match days is, as you would imagine, lots of hustle and bustle, lots of free food and drink, and lots of faces you would recognise off the telly but would find them hard to name. One face, however who we did recognise, was Gary Chivers who seemed to be lurking but not doing a lot, and as he was with us at Cobham for the Fans Tournament, we 'press ganged' (no pun intended) him into handing over the Trophy on the pitch.  To be fair, he was more than happy to do it, and he said he was looking forward to the next tournament.
At 2:45 we were ushered through the far doorway and into the tunnel, at this point I must admit I did reach up and touch the Chelsea badge as many of our idols have done throughout the years! We moved out through the tunnel exit and onto the hallowed turf, what it must be like to enter the pitch as a player I cannot imagine, but I felt quite honoured to have walked the same path.
Much to my surprise, the players had just finished warming up and were on their way back to the changing room, we were ushered to the side of the pitch as they jogged past within striking distance (not that I felt the need to swing out!), DJ however, did his normal "Alright Flo – how's it going Dids – can I 'ave yer shirt' Ash" etc, as I quietly hid behind the large cheque I was holding!
Neil Barnet announced Gary Chivers onto the pitch, followed soon after by Dave Johnstone.  The trophy presentation took place to the winners, cfcuk, and it was no surprise when DJ thought he could head off on a lap of honour! (only joking mate!). I can still hear it now "Mathew Harding……David Johnstone"……West Stand……David Johnstone!" I had nightmares on Saturday night just thinking about it!
Next it was our turn, myself, some kids from a local Adventure Playground, and Hannorah Lee from HaLC were lead out.  Many pictures were taken and a cheque for £360 was handed over, the money was raised at the Fans Tournament in 2009/10.
As much as I tried to spot those I knew in various stands, I was surprised how little you can make out from that position, I did however, pick up a musical note or two from the MHL that sounded familiar to the song that Peter Crouch receives at Spur*s, bit harsh I thought! Neil Barnet was saying something into the microphone but I couldn't make much out so I guess he was just explaining what the cheque was for.
And then it was all done, we headed back into the press room which by now was empty, as they had all headed to their seats behind the dugouts.  We said our goodbyes and I headed off to the Shed Upper entrance.  Normally I'm there an hour'ish before kick off, so to get there WITH A QUEUE was most unusual.  I eventually got to my seat just after kick off, and was greeted with "Oh look out, here comes superstar!"  It was all very jovial, and all in all I've had worse days.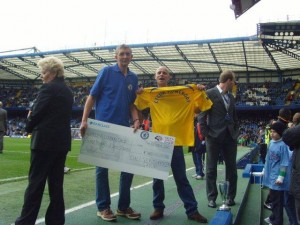 So, summing up, it was nice to give HaLC some money, and I would like to pass on theirs, and the CSG thanks for all of you that gave so generously on the day.  A big thank you also goes to those involved in Chelsea FC for their continued support in putting on this annual event.
The 'Fans Football Tournament' is now scheduled to be held on the first or second Sunday of July, and each year the popularity increases, with team applications being oversubscribed, and the interest in joining us on the day is immense (even from abroad).  A lot of work is put in by many people but it is all very worthwhile and we are already planning for the 2011 event.
We look forward to doing it all again next year.
"Win or Lose – Up the Blues"