Brief: Chelsea 0 – Sunderland 3
 All present inside Stamford Bridge joined members of the Armed Forces and the Chelsea Pensioners, for a minutes silence before today's game to remember those who lost their lives whilst protecting their country, impecably observed by all.
 —
As soon as the team sheet was read out, I had a bad feeling.  Ferreira has proved in the past that he is not a centre half, especially when paired with Ivanovic who was played out of his usual position (right side of defence).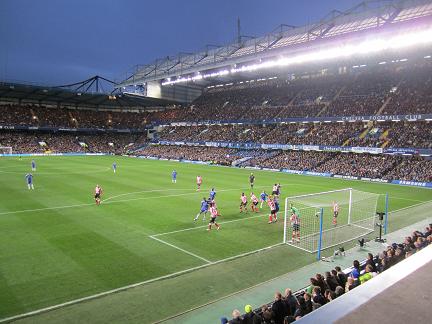 With Essien foolishly ruling himself out of the next three games, and various other key players unavailable due to injury, the midfield lacked the strength and skill to meet the challenge of a physical team who also came to play some skilful football.
The only players to come out of the game with any pride intact, would be Petr Cech and Jon Obi Mikel.  Ramires and Zhirkov were not strong enough and constantly lost possession. 
The final score of 0 – 3 was a fair reflection of the game unfortunately.
Next weekend we visit the midlands again, and a better display from all the squad will be  needed against an improving Birmingham side.
KTBFFH
Liz Nurse – Membership Sec.