Brief: Chelsea 1 – Fulham 0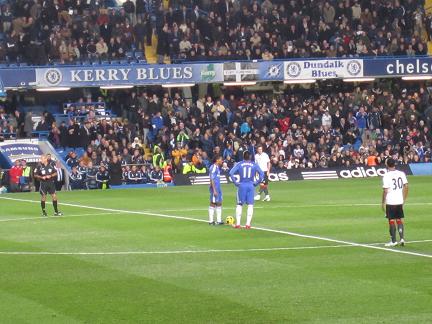 Chelsea extended their lead in the premiership to four points after a one nil win over our neighbours, Fulham. The Mancs (both with a dismal 0-0 at Eastlands!) dropped points but The Arse won 2-0 at Wolves so they are still keeping up a further one point back from Utd.
The 'one nil' didn't really tell the whole story with chance after chance going array and having to rely on the returning Michael Essien to head us in front after half an hour of play, unfortunately his return will be short lived when he got a red card in injury time for a two footed challenge on Dempsey and will miss the next three games. Let's hope Lampard is back soon!
What a shame the ref missed Dempsey's elbow on Bosingwa, had that been penalised then the Essien incident would never have happened. Or maybe I'm just seeing things with 'blue tinted' glasses? Whatever the reason it is obvious that the referees are very inconsistent (even more so this season) and it gets very frustrating watching their sometimes, dire performances!
Fulham, as you would expect, had a go as the game got towards the end and Cech made a couple of excellent saves but all in all we were too good and the equaliser never materialised.
So, home again Sunday against an improving Sunderland where I won't expect the goal rush of last season's result.
In fact one nil will do nicely thanks!
"Win or Lose – Up the Blues"