Brief: Arsenal 3 – Chelsea 1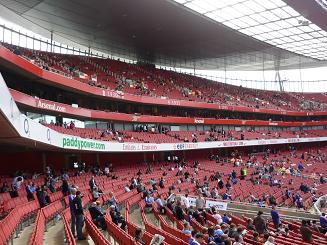 Chelsea went to the Emirates needing three points to close the gap on the top, being sat in forth spot before the game started and going through our worst run in many years (in fact, worse than West Ham at the moment!), a win was essential to get us back on track.
After a fairly even first half the inevitable happened and we went behind to an Alex Song goal after 44 minutes. This was the sixth time in the last eight games that Chelsea have gone one behind!
The second half began as the first ended with both teams looking for a goal. After just 6 minutes Fabrigas made it two and then a mistake by Essien let Walcott in to make it three after only 8 minutes of the second half gone.
Ivanovic pulled one back on 57 minutes but it was all in vain as the final result of 3-1 saw Chelsea stay in forth spot, six points behind Man Utd and they have a game in hand.
I think we can now realistically say the league is beyond us and only a miracle of the other teams having a similar blip will get us back in the chase.
Our form at the moment is something some of our younger supporters have never witnessed, for the rest of us, we've seen it all before and probably will again, but doesn't make this any easier to swallow!
"Win or Lose – Up the Blues"
Arsenal 3-1 Chelsea
 
(HT 1-0)
 
A Song 44
Fabregas 51
Walcott 53
 
Ivanovic 57
 
Arsenal
21 Fabianski
03 Sagna
06 Koscielny
20 Djourou
22 Clichy
04 Fabregas – yellow card (Rosicky 88)
08 Nasri
14 Walcott (Diaby 73)
17 A Song
19 Wilshere
10 Van Persie – yellow card (Chamakh 76)
Substitutes
53 Szczesny, 18 Squillaci, 02 Diaby, 07 Rosicky, 23 Arshavin, 29 Chamakh, 52 Bendtner
Chelsea
01 Cech
02 Ivanovic
03 A Cole – yellow card
19 Ferreira (Bosingwa 61)
26 Terry
05 Essien
08 Lampard – yellow card
12 Mikel (Ramires 46)
15 Malouda (Kakuta 56)
11 Drogba
21 Kalou – yellow card
Substitutes
22 Turnbull, 17 Bosingwa, 38 Van Aanholt, 43 Bruma, 07 Ramires, 46 McEachran, 44 Kakuta
Ref: Clattenburg
Att: 60,112