Marseille v Chelsea – Trip Report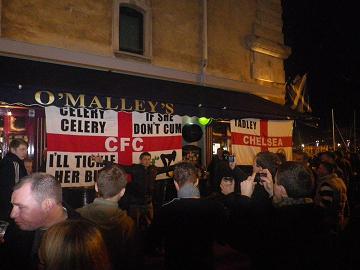 This was the trip that should have been the first game…a couple of days in the south of France in September would have been very enjoyable.
As it was we left Gatwick on a punctual British Airways flight at 07.10 on Wednesday morning when it was -2 degrees, and arrived two hours later in Marseille to a very welcome, positively balmy, 16 degrees.
Marseille is an interesting city…the oldest in France, founded by the Greeks in 600 BC.  Later, the Romans came, saw and conquered.
It is the second most populous city in France, after Paris, with a population of over 1,500,000 and is hugely cosmopolitan, with over one third of the population tracing their roots back to Italy. It has the largest Corsican and Armenian populations in France and vibrant North African, Turkish, Chinese and Vietnamese communities. Plenty of food choices.
Forty minutes after landing we were at The Radisson in the Old Port.
Fellow residents included Neil Barnett and the Chelsea TV people ; and numerous Sky TV faces, including the monotonous ex-Gooner, Alan Smith.
At eight euros a pint, the whip was shrinking far too fast so we ventured down through the port where the beer was a more reasonable 4 euros.
We enjoyed an excellent and boozy lunch at Le Fetiche, a couple of streets back from the waterfront before returning to the Old Port, where the three Irish pubs were now heaving with Chelsea fans.  All the familiar faces were out ; the flags were up ; and the songs were being belted out.  You can't beat a good "No Surrender" in an Irish bar…in France.
There was an obvious police presence but it was all good-humoured and low-key.
After the horrific 2000 trip, I had decided that I didn't fancy the pre-match detention shed ; the poxy view ; the surly stewards and the psychotic CRS, so I opted to shell out £ 125 for an "executive" seat in the main stand.
There were 200 of us up there and although I enjoyed a fantastic view from a cushioned bench in the front row of the top tier, the facilities were very poor, basically a hole-in-the-wall refreshment kiosk and a tiny toilet block.  Shocking really, bearing in mind this place was supposedly completely renovated for the 1998 World Cup.  We really are spoilt in the UK with the stadia we have.
We could learn a lot from their supporters though. Very loud and organised, they made a terrific noise, although often annoyingly orchestrated by a kind of Marseillaise Greenaway on a microphone.  Mick never needed artificial aids.
They welcomed their returning hero, Didier, in fine style.
We had wondered before the game if Carlo would play some youngsters or a full-strength side in preparation for the visit to N17.  In the end, it was a bit of both.  Anelka and Cole were left at home so Ramires came into midfield with Malouda, Drogba and  Kalou upfront.  Paulo came in at left-back.  McEachran started and Kakuta, VanAanholt, Bruma and Sturridge were on the bench.
Marseille had a handful of chances before Malouda broke into the box with our first proper attack only to be hacked down by Diawara inside the box. The Russian referee, obviously feeling guilty after the FIFA World Cup fiasco, pointed to the spot, only to then change his mind when his linesman reminded him of the nasty things being said in the UK about the Mother Country, and instead awarded a corner.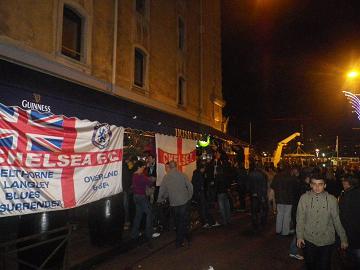 Essien and Kalou both had chances before Heinze headed in for Marseille, only for it to be disallowed for offside.
Just before half-time, Kalou was tripped in the box…again, no penalty.
Didier was replaced by Sturridge on the hour, to a fantastic ovation, and he would later give some of our fans the hump by throwing his kit and boots to the OM supporters rather than ours.
Ten minutes from the end, Taiwo mishit his shot from just inside the area, and Brandao poked the ball home from six yards.   A soft goal.  Cech had the right hump…six games without a clean sheet.
Marseille (4-1-4-1): Mandanda (c); Kabore, Diawara, Heinze, Taiwo; N'Diaye (J Ayew 85); Remy, Cheyrou, Abriel (A Ayew 62), Valbuena (Gonzalez 62); Brandao.
Chelsea (4-3-3): Cech; Bosingwa (van Aanholt 79), Ivanovic, Terry (c) (Bruma 71), Ferreira Ramires, McEachran, Essien; Kalou, Drogba (Sturridge 61), Malouda.
Attendance 50,604
All very disappointing.
The result was no big deal as we had already won the group, but a morale-boosting victory, or even a spirited performance, would have been very welcome.
The last 10 minutes had seen things getting a bit lively in the Chelsea section with missiles flying in both directions with some of the visitors trying to pull down one of the fences, whilst others started a conga. They came. They saw. They conga'd.
I'm not sure which was the more embarrassing.
I understand the 1,000 or so in the corner were kept back for an hour, and then detained again at the exterior perimeter outside the ground.    Apparently there was a further delay at the metro station as the power had been turned off when some Marseille fans had been chased down a tunnel.
We were out straight away and back at the hotel within an hour.
A couple of beers in the hotel bar followed by visits to the bars in the Old Port, which eventually refilled with Chelsea fans and I had peaked…up for nearly 24 hours is a struggle these days for us old codgers.
Taxi at 08.45…flight at 10.45…Gatwick, 3 degrees, and a hostile UK media, by noon.
Not up there with some of our better trips, but fun nevertheless.
Unlike the Romans in 49 BC,  we came…we saw…we went back home.
Vital statistics
Airfare: £ 102
Match ticket: £ 31.50  (Posh seat (no prawn sandwiches) : £ 125)
Hotel: £ 100
Food & booze: £ 100
Taxis : £  20 (my share)
Total: £ 353.50  (£ 447.00)
 
 Trip score: 6/10
 
 JOHN DREWITT