FA Youth Cup Match Report: Chelsea 2 – Arsenal 1
Just for a change I thought it would be nice for one of my lads in class to do a match report. His name is Jack and this is his fourth visit to Chelsea.  I asked Jack's dad for permission to put his report on the CSG site, which he was happy to give.  He asked me to tell you that Jack has autism and has been in special school since he was 3 years old. He did not speak until he was 6 and the first 2 words he learnt were "Chelsea" and "football"!!
Jack is now one of my star pupils as I think you will see from his match report below:-
Chelsea Youth Team 2 Arsenal Youth Team 1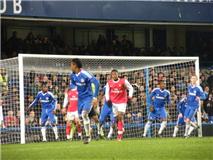 "Hello everyone.  My name is Jack and my teacher Gill took us to Stamford Bridge last night for the Youth Cup match Chelsea vs. Arsenal. Kent Blues Graeme also was with us.
Dermot got tickets for the Kent Blues in the East Stand Lower and we were right next to the dugout where Carlo Ancelotti and the team usually sit.  Dermot was walking on the pitch; Dermot came over to meet us and gave us all Chelsea hats and gloves. Dermot signed the Kent Blues flag and so did Paul Clements. 
We saw John Terry and called him and he waved to us.  Michael Essien, Carlo Ancelotti and Henrique Hilario my teacher Gill's favourite goalie arrived and then Ross Turnbull came out for a chat.  He signed our flag and our shirts and stayed to talk for 20 minutes. We are watching the team as they warmed up. 
Our teacher Gill had a photo taken with Ross.  She said it will make Hilario jealous and Ross thought that was funny.
It all went a bit wrong when Arsenal got a goal, but it wasn't them that got it; it was one of our players, so Graeme said it was called an own goal.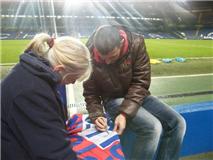 We then thought we had scored but it was offside.  Dermot was doing a lot of shouting to the team telling them what to do and that made my ears hurt a bit so I put my ear defenders on for a while. Then we had a few chances to score. Josh McEachran was playing just like Super Frank does and making lots of good passes.
At half time Neil Barnett did an interview for Chelsea TV. The lights were very bright.
Thank goodness we scored when Arsenal made a bit of a mess of things and it was a good goal by number 9 Milan Lalkovic.  We all jumped up and down
Chelsea  team were playing well but as it got close to the end everyone began to think extra time was going to happen which would be another 30 minutes. Lots of the players kept falling over and Graeme said they had cramp in their legs.  We said "Oh No!" because we all wanted to go to McDonalds.  We kept on cheering the team.
Then it was very exciting as with just 4 minutes of extra time to go Chelsea scored the winner!! The same player it was Milan Lalkovic, who ran very fast down the pitch past all the Arsenal team and kicked the ball into the net.  He took off this Chelsea shirt and slided along the grass.
When the referee blew the whistle, the Youth Team celebrated together and we did lots of jumping around as we were very happy, then we went to McDonalds.
"Well done to the Youth Team for winning!"
Jack – Kent Blues & Chelsea Junior Blue – age 9