Match Report: Wolves 1 – Chelsea 0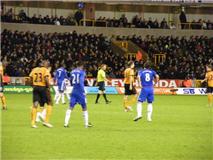 Our title hopes took another massive blow after a pitiful defeat last night at Wolves.
Jose Bosingwa's own goal handed bottom-of-the-table Wanderers an early lead, from which we failed to recover.
Carlo Ancelotti welcomed back Branislav Ivanovic to the defence, where he was so badly missed in the disastrous 3-3 draw with Aston Villa at the weekend. Meanwhile, Mick McCarthy made three changes, including a return for strikers Steven Fletcher and Kevin Doyle, who had both been absent for lengthy spells.
We started brightly enough with Didier Drogba laying the gauntlet down early for Christophe Berra and Richard Stearman.
But Wolves quickly had us on the back foot. From a Ronald Zubar strike from 40 yards, Petr Cech was put at full stretch to tip it wide, only for the dangerous corner to be whipped into the near post, where George Elokobi's flick skimmed off Bosingwa and into the back of the net.
Shortly afterwards Ashley Cole managed to get into space and deliver a cracking ball to the far post, but Elokobi was able to head it out for a corner as we looked set to test Wayne Hennessey in goal.
But Wolves weren't about to turn over and Zubar went on a barnstorming run that split open our backline before Ashley Cole made a terrific recovery tackle. Moments later and Saloman Kalou was given a glorious chance courtesy of Drogba, whose low ball across the face of goal was turned in from short range, only for Hennessey to make a superb instinct save with his right foot.
The Welsh keeper then showed his command of the box minutes later with an authoritive catch above Kalou from a Drogba free-kick.
A second scoring opportunity of the match for us just prior to the break saw some slick play, only for Brazilian Ramires to slice his shot away from goal.
As the teams headed down the tunnel, Ancelotti must have had our defeat at Birmingham at the start of the rut in form in his mind. That day we had travelled to the Midlands and were beaten 1-0, with a young goalkeeper dominating the show.
No changes made at half time and Hennessey was quickly in the action again, denying Florent Malouda with a low save from a shot that would have crept in.
Hennessey was on hand once more as Kalou latched onto a through ball, only to be blocked by the keeper, and then collected a soft Drogba header.
Ancelotti made his first substitution – bringing on Anelka for Kalou – with us looking increasingly unlikely to score, typified as Drogba twisted and turned in the box before firing into the side netting.
Injury prompted McCarthy to make his first change as Fletcher was replaced by Sylvan Ebanks-Blake. As did Doyle, who departed for Stephen Ward – match winner at Anfield last week.
After Hunt hit the bar with a whipping free-kick, Drogba burst into life and brushed aside Stearman in the box, but once again the Chelsea striker failed to hit the target, with his left-footed drive bobbling agonisingly wide.
That prompted the Chelsea boss to bring on another forward, as Daniel Sturridge replaced Ramires. But it was Wolves' sub Ebanks-Blake who made an immediate impact, bursting beyond the backline before being denied by a tackle from Michael Essien.
Gael Kakuta replaced countryman Malouda in Ancelotti's last move to change the game, but the swap only seemed to open up more holes in our midfield.
Wolves suffered a blow as substitute Ebanks-Blake limped off injured, with Serbian midfielder Nenad Milijas coming on – leaving the home side with no out-and-out forward, but the men in black and gold held on, including a heroic swipe away from goal with the ball loose in the area.
Hennessey once again stole the show with a stunning rush and tackle 30 yards from goal to deny Anelka as extra time petered out.
Carlo Ancelotti stood, hands buried in his pockets, looking bereft of further ideas, looking like a man who also wished he had not predicted that Chelsea would win this encounter.
Gill Reeves CSG disabled rep.
Game stats from the BBC website:
 
Wolverhampton
• 13 Hennessey
• 03 Elokobi
• 05 Stearman
• 16 Berra
• 23 Zubar
• 32 Foley
• 04 Edwards
• 12 Hunt
• 17 Jarvis
• 10 Fletcher (Ebanks-Blake 69) (Milijas 82)
• 29 Doyle (Ward 70)
Substitutes
• 01 Hahnemann,
• 11 Ward,
• 39 Batth,
• 46 Doherty,
• 14 Jones,
• 20 Milijas,
• 09 Ebanks-Blake
Chelsea
• 01 Cech
• 02 Ivanovic – yellow card
• 03 A Cole
• 17 Bosingwa
• 26 Terry
• 05 Essien
• 07 Ramires (Sturridge 72)
• 08 Lampard
• 15 Malouda (Kakuta 79)
• 11 Drogba
• 21 Kalou (Anelka 66)
Substitutes
• 22 Turnbull,
• 19 Ferreira,
• 43 Bruma,
• 46 McEachran,
• 23 Sturridge,
• 39 Anelka,
• 44 Kakuta
Ref: Halsey
Att: 26,432