Brief: Chelsea 0 – Liverpool 1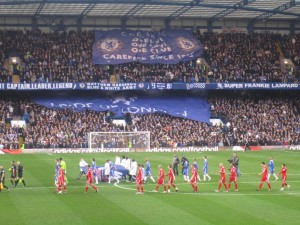 Wouldn't you just know it! This was either going to be a 'Torres wonder show' or we would regret starting him against his former club in this tense encounter with Liverpool.
As it turned out, we had to suffer seeing a very inept performance from not only our new boy Torres, but by most of those in blue who tried to play Carlo's new system which, has to be said looked, very narrow and had no width at all.
Once Torres was replaced by Kalou on 66 minutes we started to look like we had a bit more going forward and were pressing ever more to get a breakthrough but it wasn't to be.
You just knew the worst would happen as time drew on and so it proved when Gerrards cross evaded everyone except Meireles and Liverpool went one up on 69 minutes.
Our other new signing, David Luiz, came on with 17 minutes to go and, to be fair, looked like he is going to fit in very well in the defence.
So we must now wait until Valentines night, when we go to our neighbours Fulham to see if Carlo Ancelotti can sort out the problems that have crept into our game, and come up with a system that will suit both Chelsea and their new £50M 'El Nino'
Chelsea
• 01 Cech
• 02 Ivanovic
• 03 A Cole
• 17 Bosingwa (David Luiz 73)
• 26 Terry
• 05 Essien
• 08 Lampard
• 12 Mikel – yellow card (Malouda 71)
• 09 Torres (Kalou 66)
• 11 Drogba
• 39 Anelka
Substitutes
• 22 Turnbull,
• 04 David Luiz,
• 19 Ferreira,
• 15 Malouda,
• 46 McEachran,
• 55 Sala,
• 21 Kalou
Liverpool
• 25 Reina
• 02 G Johnson
• 05 Agger
• 23 Carragher
• 34 Kelly
• 37 Skrtel
• 04 Meireles (Poulsen 83)
• 08 Gerrard
• 17 Maxi (Aurelio 75)
• 21 Lucas – yellow card
• 18 Kuyt
Substitutes
• 42 Gulacsi,
• 06 Aurelio,
• 16 Kyrgiakos,
• 28 Poulsen,
• 07 Suarez,
• 14 Jovanovic,
• 24 Ngog
Ref: Marriner
Att: 41,829