Brief: Fulham 0 – Chelsea 0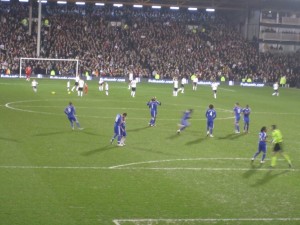 Chelsea took the short trip across West London to Craven Cottage looking for three points that would keep our faint hopes of retaining the premiership alive, but once again, failed to capitalise on the constant pressure the team produced.
Torres started and Drogba was on the bench. I'm not convinced that with the arrival of our £50M striker that Ancelotti really knows what his best formation and line up is, and perhaps, should keep to a winning formula (whatever that is!?)
A scoreless draw was undeserved after the amount of play we had but, if you can't find the net then you wont get the goals. Torres looked lively but no goals again although, I do think he will come good, made some great positional runs and just needs a goal. Our other new boy Luiz was superb (bar the foul for the last minute penalty miss) and deserved MotM. Ramires is getting better and better and ran the midfield. Other than that, pretty average performance and perhaps it's time to put Essien on the bench and give young Josh McEachran a run out.
The FA Cup returns on Saturday with our Everton replay, Torres not available as he is cup tied so perhaps Carlo will know his team already?
"Win or Lose – Up the Blues"
Fulham
• 01 Schwarzer
• 03 Salcido
• 05 Hangeland
• 06 Baird
• 18 Hughes
• 07 Sidwell – yellow card
• 13 Murphy (Gera 83 –  yellow card)
• 16 Duff
• 23 Dempsey
• 08 Johnson (Davies 74)
• 30 Dembele (Gudjohnsen 83)
Substitutes
• 12 Stockdale,
• 02 Kelly,
• 04 Pantsil,
• 11 Gera,
• 27 Greening,
• 29 Davies,
• 22 Gudjohnsen
Chelsea
• 01 Cech
• 02 Ivanovic – yellow card
• 03 A Cole
• 04 David Luiz
• 26 Terry
• 05 Essien
• 07 Ramires
• 08 Lampard
• 15 Malouda
• 09 Torres (Drogba 71)
• 39 Anelka (Kalou 65)
Substitutes
• 22 Turnbull,
• 19 Ferreira,
• 12 Mikel,
• 46 McEachran,
• 55 Sala,
• 11 Drogba,
• 21 Kalou
Ref: Dean
Att: 25,685
(Please note: The site admin will monitor all comments  posted to this site and will edit them as required. The views held are those of the poster and not the CSG)