Chelsea Megastore Signings – Ramires And Luiz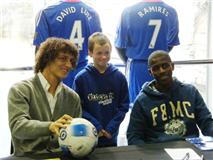 If David Luiz's performance on the pitch is going to be anything to match his attitude and personality off it then he will be a major success for Chelsea.
Graeme and I went along yesterday to meet with him and Brazilian Ramires at the Chelsea Megastore signing.
It's half term week, so we arrived bright and early expecting a big turnout of fans and by 11 am with the players not due to arrive until 4.30pm there was already a steady queue forming.
Although it was made clear from the outset that the players would autograph the "Play like Chelsea" book and therefore it needed to be purchased it was also said that other items such as shirts and photos could be included for signing. This was a breath of fresh air as in the past Megastore signings have been rather strict affairs, one signature per person and only on selected items.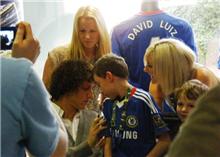 Raffle tickets were handed out along the line around 1pm, so you knew that if you had one by that time you were sure to be seen.  Once again great thinking as this meant as long as one person kept the place in the line others could nip off for snacks and toilet breaks without losing their place.
Just before 4.30pm we made our way to the upper floor where the players were already waiting.
My Kent Blues children had been busy making a welcome card for David Luiz and letter for Ramires to congratulate him on his first Chelsea goal against Bolton and both of them looked genuinely pleased to receive them.   David Luiz "for me? "Wow thank- you so much!"
He certainly struck us as being the most relaxed when he began with thumbs up and high fiving youngsters as they approached him.  With no feel of being rushed along both players took time for individual or group photographs. So we came away with shirts, books, pictures signed for the children and of course our Kent Blues flag!
Well done to the Chelsea Megastore for their organisation of the day.
Every single member of staff who was involved was helpful and informative.
There was lots of assistance around queuing and when people got to the players with taking photographs etc.
Overall it was very relaxed which was particularly important for us as our children often find waiting and crowded events such as this so difficult, so a BIG BIG thank you and more of the same please.
Gill Reeves – Kent Blues and disabled rep CSG