FA Youth Cup Match Report: Chelsea 2 – Barnsley 1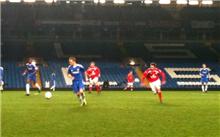 Here once again is our very own Kent Blues Jack's match report – this time he also took his own photos. I have told 9 year old Jack that you all enjoyed his last message and just to let you know that since he attended the Chelsea vs. Arsenal Youth game he has not stopped talking about it!!
Hello everyone,
My name is Jack and I went to another game at Chelsea to see the Youth Team with my teacher Gill and Kent Blues Graeme and my friend Gabby and his dad.
Before we went into the ground we walk around Stamford Bridge and guess what? we saw Josh McEachran who is Chelsea Number 46. Well then Kent Blues Graeme asked him if he would sign our flag and he says "yes" and then Josh McEachran ask us "what is written on your flag?" and we showed it to Josh and he said "that is very nice". We all said "Good Luck Josh, we hope you win" and he said "thank you very much".
When we got into the Stamford Bridge I had a cheeseburger and a blackcurrant fruit shoot.
We saw Carlo Ancelotti the Chelsea manager and we shouted "Carlo, Carlo!!" and he waved at us.
Well it all went a bit wrong again when Barnsley got a goal very quick. This is exactly the same thing as happened before and we all thought OH NO! but Kent Blues Graeme said not to get worried as last time Chelsea won but I was still a bit worried.
Next to us there was a lot of Chelsea players of youth team and they were wearing white tops.
But for a while it looked like Chelsea might not get a goal and Dermot did quite a lot of walking up and down and thinking.
When it was half time I had my fingers crossed because I want Chelsea to win so much.
Suddenly in the second half Chelsea got a goal and it was Josh who got this goal, and so we waved our flag and jumped up and down and shouted "Very good Josh!"
We all thought then that Chelsea are going to win because a lot of the Barnsley players were falling down and looking tired, but the Chelsea players weren't falling over at all and teacher Gill said that Chelsea looked like they were playing much better than Barnsley were.
It was really exciting then because Chelsea player Nathanil Chalobah headed the ball in the goal and everybody in the Chelsea crowd was very happy and cheering. This mean it was 2 goals to Chelsea and 1 goal to Barnsley and so Chelsea did win again!
At the end all the Chelsea players were on the pitch and they hugged each other and then there was an interview with Chelsea TV before we went home.
I think Josh was my best player at the game and I am going to ask my mum if I can have a Chelsea shirt with Josh and the number 46 on it.
Kent Blues Graeme said this is a good idea and maybe Josh will see me in it next time.
Jack – Kent Blues and Junior Chelsea Blue age 9