Brief: Chelsea 0 – Copenhagen 0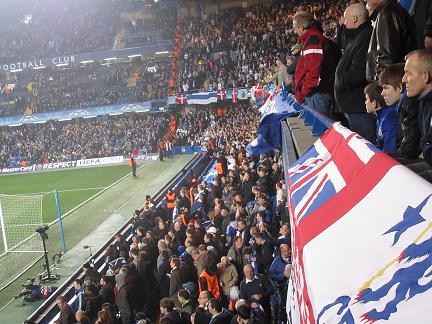 Chelsea went into this Champions League knock out game having only to draw to get them through to the next round. A convincing 2-0 away win in Copenhagen saw tonight's game appear to be a formality and, so it proved.
Despite 16 goal attempts to 5 (12-2 on target) Chelsea once against failed to convert these chances and ended the game with a 0-0 scoreline, enough to put us through but disappointing none the less to see a goalless draw (especially when you consider the price for a ticket tonight!)
So, tougher opposition awaits in Friday's draw and I have this strange feeling we will draw Manchester United or Tottenham? (I would like 'Shalke 04' though, great trip the last time we were there and a fantastic stadium)
Next up, Man City at home on Sunday for a chance to go back up into third position in the Premier League!
"Win or Lose – Up the Blues" – (pictures here)
Chelsea
• 01 Cech
• 02 Ivanovic
• 03 A Cole
• 17 Bosingwa
• 26 Terry
• 07 Ramires
• 08 Lampard
• 12 Mikel (Essien 83)
• 18 Zhirkov (Malouda 75)
• 11 Drogba – yellow card
• 39 Anelka (Torres 68)
Substitutes
• 22 Turnbull,
• 19 Ferreira,
• 05 Essien,
• 15 Malouda,
• 46 McEachran,
• 09 Torres,
• 21 Kalou
FC Copenhagen
• 21 Wiland
• 15 Antonsson
• 17 Wendt
• 25 Jorgensen
• 03 Bengtsson (Zohore 61)
• 06 Claudemir – yellow card
• 08 Kvist
• 10 Gronkjaer
• 20 Vingaard (Santin 74)
• 30 Bolanos – yellow card (Kristensen 89)
• 14 Ndoye
Substitutes
• 01 Christensen,
• 24 Hooiveld,
• 07 Martin Bergvold,
• 16 Kristensen,
• 27 Delaney,
• 11 Santin,
• 18 Zohore
Ref: Oddvar Moen
Att: 36,454