Brief: Chelsea 2 – Manchester United 1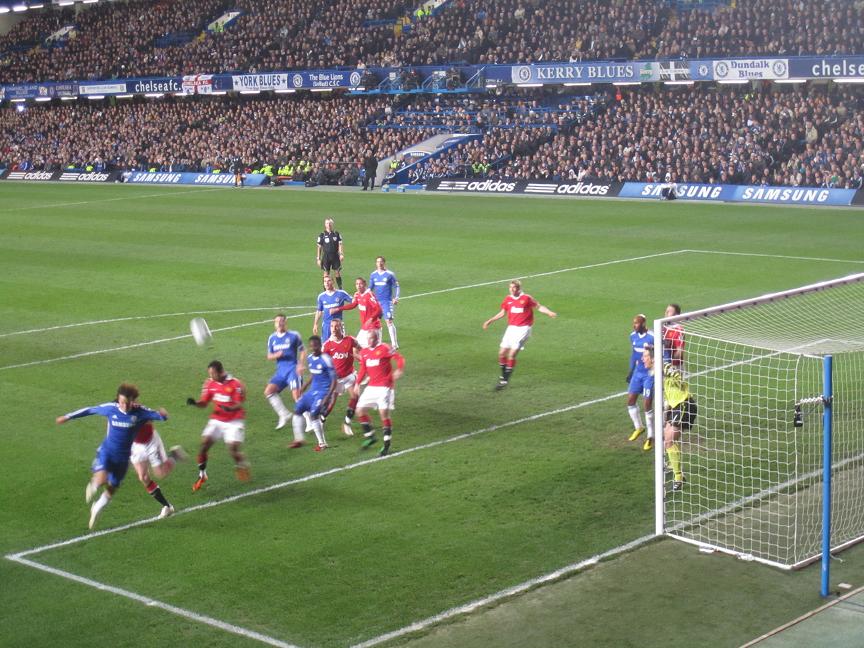 Chelsea went into this 're-arranged' fixture against Manchester United needing to secure three points and help to maintain our attempt to get into at least forth place and to qualify for next season's Champions League.
Current Premiership leaders United came out of the blocks very quickly and had us on the back foot despite a couple of decent chances that could have seen us take a first half lead. On 30 minutes Rooney shot from outside the penalty area and the ball squeezed in by Petr Cech's near post and United were one up.
The second half saw Chelsea storm into the United defence and before too long, one of our new boys, David Luiz, scored from close range and we were level. Zirkov replaced Malouda and within minutes he was taken down in the area and Lampard stepped up to score from the spot and, despite Manchester United's attempts to get a point, Chelsea held strong and a well deserved three points were secured.
Next up is a Monday night in Blackpool!
 "Win or Lose – Up the Blues
Chelsea
• 01 Cech
• 02 Ivanovic
• 03 A Cole
• 04 David Luiz – yellow card (Bosingwa 81)
• 26 Terry
• 05 Essien – yellow card
• 07 Ramires – yellow card
• 08 Lampard
• 15 Malouda (Zhirkov 71)
• 09 Torres
• 39 Anelka (Drogba 61)
Substitutes
• 22 Turnbull,
• 17 Bosingwa,
• 19 Ferreira,
• 18 Zhirkov,
• 46 McEachran,
• 11 Drogba,
• 21 Kalou
Man Utd
• 01 Van der Sar
• 03 Evra (Fabio Da Silva 81)
• 12 Smalling
• 15 Vidic – two yellow cards = red card
• 22 O'Shea
• 16 Carrick
• 17 Nani
• 18 Scholes (Giggs 70 – yellow card)
• 24 Fletcher
• 10 Rooney
• 14 Hernandez (Berbatov 70)
Substitutes
• 29 Kuszczak,
• 06 Brown,
• 20 Fabio Da Silva,
• 21 Rafael,
• 11 Giggs,
• 28 Gibson,
• 09 Berbatov
Ref: Atkinson
Att: 41,825