Brief: Chelsea 0 – Manchester United 1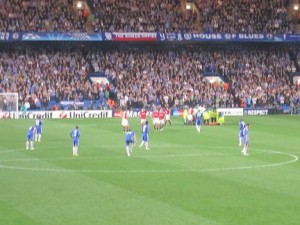 Chelsea went into this 'first home leg' of the Champions League quarter final against Manchester United knowing that only a good result would do to make life slightly easier in a week's time for our return visit to Old Trafford.
But of course, we never do things the easy way so it was no surprise when the weekends 'bad boy' popped up to score and put United one nil up after just 24 minutes, Rooney, facing a two match ban including the Semi Final game against Citee in the FA Cup, was determined to prove his worth and so it turned out to be by taking his side into a one nil lead going into the second leg and of course, getting that all important 'away goal'
If Chelsea are to progress to the semi finals then Ancelotti will need to put across all his European experiences to the team and everyone needs to be up for the battle, I know the faithful Chelsea following will be so let's hope those on the pitch follow suit!
Next up, Wigan at The Bridge on Saturday (Yes! A 3pm kickoff! whatever next?) and a chance to keep our league position secure in the top four.
"Win or Lose – Up the Blues"
Chelsea
• 01 Cech
• 02 Ivanovic
• 03 A Cole
• 17 Bosingwa (Mikel 78)
• 26 Terry
• 05 Essien – yellow card
• 07 Ramires – yellow card
• 08 Lampard
• 18 Zhirkov – yellow card (Malouda 70)
• 09 Torres – yellow card
• 11 Drogba (Anelka 71)
Substitutes
• 22 Turnbull,
• 19 Ferreira,
• 10 Benayoun,
• 12 Mikel,
• 15 Malouda,
• 21 Kalou,
• 39 Anelka
Man Utd
• 01 Van der Sar – yellow card
• 03 Evra
• 05 Ferdinand
• 15 Vidic – yellow card
• 21 Rafael (Nani 51)
• 11 Giggs
• 13 Park Ji-Sung (Smalling 90+4)
• 16 Carrick
• 25 Valencia
• 10 Rooney
• 14 Hernandez (Berbatov 78)
Substitutes
• 29 Kuszczak,
• 12 Smalling,
• 23 Evans,
• 17 Nani,
• 18 Scholes,
• 28 Gibson,
• 09 Berbatov
Ref: A Undiano Mallenco
Att: 37,915