Brief: Chelsea 1 – Wigan 0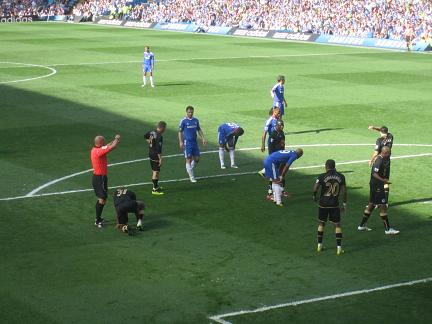 Wigan came to Chelsea today intent on not conceding and, to try and catch us on the break, however, it was the Wigan defence that very nearly came unstuck after only 30 seconds when a simple chance was wasted when Drogba raced through to cross to Lampard who fluffed his shot and then Ramires who miss kicked!, was it to be another game of wasted opportunities.
This was another frustrating performance from Chelsea, Wigan made things very difficult for us and kept a lot of possession in the midfield making it difficult to get the ball and, to then attack them in numbers.
The only goal of the game came from Florent Malouda on 67 minutes, much to the relief of the home support especially as it looked like the keeper was fouled by Torres in the build up to the goal.
So, not the best preparation for our Champions League encounter at Old Trafford on Tuesdaynight againsy Manchester United but, a must win game it is and let's hope we can all get ourselves up for the challenge.
"Win or Lose – Up the Blues"
Chelsea
 • 01 Cech
• 02 Ivanovic
• 03 A Cole
• 04 David Luiz – yellow card
• 19 Ferreira (Alex 75)
• 07 Ramires
• 08 Lampard
• 12 Mikel (Benayoun 46)
• 15 Malouda
• 11 Drogba
• 39 Anelka (Torres 59)
Substitutes
• 22 Turnbull,
• 33 Alex,
• 05 Essien,
• 10 Benayoun,
• 18 Zhirkov,
• 09 Torres,
• 21 Kalou
Wigan
• 26 Al Habsi
• 03 Alcaraz
• 05 G Caldwell
• 17 Boyce – yellow card
• 31 Figueroa – yellow card
• 04 McCarthy
• 08 Watson
• 10 N'Zogbia (Di Santo 62)
• 15 Cleverley
• 21 Diame (Moses 85)
• 20 Rodallega (Sammon 62)
Substitutes
• 12 Pollitt,
• 02 Gohouri,
• 23 Stam,
• 11 Moses,
• 14 Gomez,
• 07 Di Santo,
• 18 Sammon
Ref: H Webb
Att: 40,734