Brief: West Brom 1 – Chelsea 3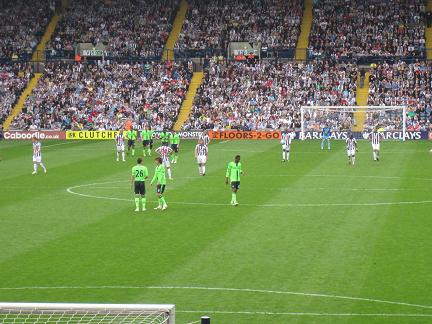 Chelsea needed to bounce back after our Champions League exit to Manchester United on Tuesday night and our second trip up the M40 in a week didn't disappoint.
From a very lacklustre display last time out we saw a regenerated Chelsea side at The Hawthornes and, despite an early goal from West Brom by Odemwingie on 17 minutes, much against the run of play, we went on to dominate the match.
Once Didier Drogba equalised on 22 minutes it all seemed to just fall into place. Kalou made it 2-1 just 4 minutes later and Lampard hit the third on halftime. So 3-1 at the break and the game, and The Baggies 7 game unbeaten run, was effectively over.
The second half saw more convincing play from the away side and West Brom struggled to come to terms with the pace and drive of Chelsea's new attack force of Drogba, Kalou and Malouda. We did get to see our £50M man Torres with ten minutes to go and all the travelling support thought he had broken his duck when rounding the keeper to score, only for it to be ruled out for offside, his time will come!
Next up is another Midlands battle with the re-arranged Birmingham City home game on Wednesday night.
"Win or Lose – Up the Blues"
West Brom
• 01 Carson
• 03 Olsson
• 20 Shorey
• 23 Meite – yellow card
• 07 Morrison (Vela 72)
• 11 Brunt
• 12 Reid
• 14 Thomas (Tchoyi 82)
• 21 Mulumbu
• 33 Scharner (Jara 72)
• 24 Odemwingie
Substitutes
• 13 Myhill,
• 30 Tamas,
• 36 Jara,
• 05 Tchoyi,
• 18 Vela,
• 28 Fortune,
• 31 Cox
Chelsea
• 01 Cech
• 02 Ivanovic (Bosingwa 63)
• 03 A Cole
• 04 David Luiz
• 26 Terry
• 05 Essien
• 08 Lampard (Benayoun 77)
• 12 Mikel
• 15 Malouda
• 11 Drogba (Torres 82)
• 21 Kalou
Substitutes
• 22 Turnbull,
• 17 Bosingwa,
• 19 Ferreira,
• 10 Benayoun,
• 18 Zhirkov,
• 09 Torres,
• 39 Anelka
Ref: Probert
Att: 25,163
"Opinions expressed in post content are those of the writer and the CSG holds no responsibilty with regards to content, we will however monitor all posts and edit as deemed appropriate"