Match Report: Chelsea 0 – Manchester United 1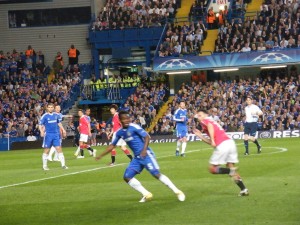 Wayne Rooney's first-half goal gave Manchester United the advantage in a 1-0 win over us in the Champions League.
This was their first win at Stamford Bridge since 2002 and put them in pole position to reach the semi-final in the second leg at Old Trafford next week.
We are by no means out of it, a repeat of the 2-1 success on our last trip 12 months ago will be enough to send us through. However, we will have to do far better in front of goal – and Fernando Torres really needs to start scoring after yet another frustrating display ended with an injury-time yellow card for diving.
At Upton Park on Saturday, Rooney completed his hat-trick and then headed straight towards a TV camera to deliver his ill-advised reaction that means as of today he misses a place in the FA Cup semi-final with Manchester City. As his effort clipped the base of Petr Cech's left-hand post and rolled gently into the back of the net, he again ran towards the cameras, but this time slid to his knees and waited to be mobbed by ecstatic team-mates.
Michael Carrick had delivered a cross field pass which Giggs' first touch took him careering past Jose Bosingwa, and the coolness of his second pass left Rooney with an easy tap-in.
So the precious away goal Ferguson had demanded in the first quarter of the game and Carlo Ancelotti could only urge us on into some kind of response.
It should have come in the final minute of that opening period. Didier Drogba went for goal from an acute angle but his shot lacked power. Torres closed in, yet somehow completely missed the ball from a central position on the edge of the six-yard area. As the ball bounced back off the post, Frank Lampard who was making his 500th appearance for Chelsea went to tap home, only for Patrice Evra to clear off the line.
United suffered a hammer blow within minutes of the restart when Rafael went down after a seemingly innocuous tangle with Drogba. He tried to continue but eventually was stretchered away, Ferguson substituting him with Nani.
We were able to get up a head of steam though.Ramires having an excellent chance when he glanced Drogba's effort wide of the far post. Drogba was not too far away with a speculative overhead kick. United's defence – which has not conceded an away goal in this competition this season – held firm and came agonisingly close to grabbing a second when Nani drilled a cross to the far post that would have allowed Javier Hernandez to head into an empty net had Cech not gambled in a desperate attempt to claw the ball away.
The departure of Drogba for Nicolas Anelka 20 minutes from time seemed to place even more weight on Torres' shoulders just after Michael Essien had gone close. Torres so nearly scored when he rose to meet Jose Bosingwa's far-post cross and sent a header curling towards the corner that Van der Sar was at full stretch to claw away.
The most controversial moment of the match came in stoppage time when United breathed a sigh of relief as Patrice Evra sent Ramires tumbling but referee Alberto Mallenco failed to award what seemed to be a clear penalty.
There was still time for a Torres yellow card for what was considered to be diving under Valencia's challenge, ending an unhappy night for the Blues and all to do next Tuesday at Old Trafford.
Gill Reeves – disabled rep CSG
Chelsea
• 01 Cech
• 02 Ivanovic
• 03 A Cole
• 17 Bosingwa (Mikel 78)
• 26 Terry
• 05 Essien – yellow card
• 07 Ramires – yellow card
• 08 Lampard
• 18 Zhirkov – yellow card (Malouda 70)
• 09 Torres – yellow card
• 11 Drogba (Anelka 71)
Substitutes
• 22 Turnbull,
• 19 Ferreira,
• 10 Benayoun,
• 12 Mikel,
• 15 Malouda,
• 21 Kalou,
• 39 Anelka
Man Utd
• 01 Van der Sar – yellow card
• 03 Evra
• 05 Ferdinand
• 15 Vidic – yellow card
• 21 Rafael (Nani 51)
• 11 Giggs
• 13 Park Ji-Sung (Smalling 90+4)
• 16 Carrick
• 25 Valencia
• 10 Rooney
• 14 Hernandez (Berbatov 78)
Substitutes
• 29 Kuszczak,
• 12 Smalling,
• 23 Evans,
• 17 Nani,
• 18 Scholes,
• 28 Gibson,
• 09 Berbatov
Ref: A Undiano Mallenco
Att: 37,915