Chelsea: London F40 Legends Champions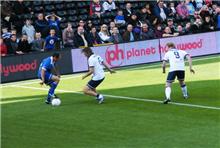 The London F40 Legends Cup provided the perfect opportunity for fans from Fulham, Spurs, Arsenal and Chelsea to see past players in competition together again showing people what they are still about. 
Whilst Masters is synonymous with 5 aside this was the first ever competitive 11 a- side Cup tournament played on a full pitch. 
Matches were 40 minutes in length and with no limits to roll-on-roll-off subs they could come off and have a rest at any time which was probably just as well bearing in mind the physical conditions of some of those concerned!
However the entertainment value and the quality remain at a high level with the F40 concept appeal giving supporters the chance to see their more mature heroes playing in a format that suits them.
For Chelsea there was Pat Nevin, Kerry Dixon, Jimmy Floyd Hasselbaink, Tor Andre Flo linking up with Captain Franco Zola, voted by the fans as the most popular player of all time (and we look forward to seeing many of the Chelsea Old Boys at the 2011 Fans Tournament at Cobham on July 10th – Ed) –  Tommy Docherty as Manager with Johnny Vaughan, Help a London Child assisting.
Results as follows:-
Chelsea 5 – Fulham 1 – including Jimmy Floyd hat-trick!
Spurs 2 – Arsenal 0 – including very little at all really!
Final – Chelsea 4 – Spurs 0 – including a Zola beautiful classic free kick!
A really well attended event with the ticket prices at a sensible level of £10 for adults and £5 for children and senior citizens.
Gill Reeves – CSG disabled rep