John Terry's Chelsea Megastore Signing Session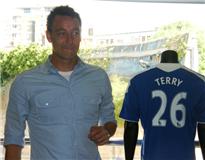 We went to meet JT before attending the Player of the Year awards in the evening.
We always "arrive early" in the words of the Chelsea website to "avoid disappointment" and the good thing is that you get yourself a place at the beginning or early on in the queue.  Once you are settled and given a raffle ticket there are no worries that you won't get to meet the player and providing someone keeps your place for you it is ok to go off and get snacks or look around the megastore.
It seems a lot of effort to give up 4/5 hours, but the time passes by really quickly as you get to chat to other fans around you about Chelsea.
JT arrived at 4pm and by then the line was around the side of the shed wall with around 250 or so people.  
When I got to meet John as he signed my new shirt he said "Oh, Kent Blues, West wall, we know you alright!!"  I like the chance to be able to tell JT about anything I have enjoyed from the season.
We also gave him a card from the children at school as he had been voted their "Kent Blues Player of the Year"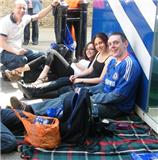 He spent a lot of time with the young and disabled fans and you could get photos taken, but I wish the megastore could sort out some screening across the big window behind as lots of the pictures I took got spoilt by the light.
I was pleased that I was able to go to this during the day as in the evening at Player of the Year it was impossible to get near any of the players for autographs or pictures and even if you do it is rushed and at best you get a scribbled signature.
Good on JT because although the signing session was meant to be from 4.30 for just an hour, not only was he early but he was still there until after 6pm.
Article posted by Graeme Reeves