Match Report: Chelsea 2 – Newcastle 2
After the disappointment of seeing the league trophy go to Manchester United only a victory over Newcastle would secure us second place thanks to our superior goal difference over Arsenal.
Although we seemed to have missed that opportunity with a 2-2 draw all was resolved later in the day as Arsenal were beaten at home by Aston Villa and we are now secure in the knowledge that we cannot be overtaken.
Fernando Torres was given a start at the head of a completely new front three which included Nicolas Anelka and Yossi Benayoun.
David Luiz was replaced by Alex, whilst there were starts for Ramires and Josh McEachran alongside Frank Lampard in midfield.
We were the victims of a 36 second goal last week, but it didn't take us much longer to take the lead in this match.
After two minutes, a Lampard corner from the left was flicked on by Torres for an on-rushing Ivanovic to knee-in from a few yards out.
It seemed for quite some time to be a one-sided match until Newcastle managed to pull themselves level in fortuitous circumstances.
A mis-placed pass by Alex to John Terry was stolen by Peter Lovenkrands, who was brought down by the Chelsea captain just over 25 yards from goal.
The free-kick was taken by Ryan Taylor from just left of centre and it deflected off Gutierrez to wrong-foot Petr Cech in goal and find the back of the net.
Alex, looking to redeem himself, then volleyed wide from the edge of the Newcastle box after a free-kick wasn't cleared.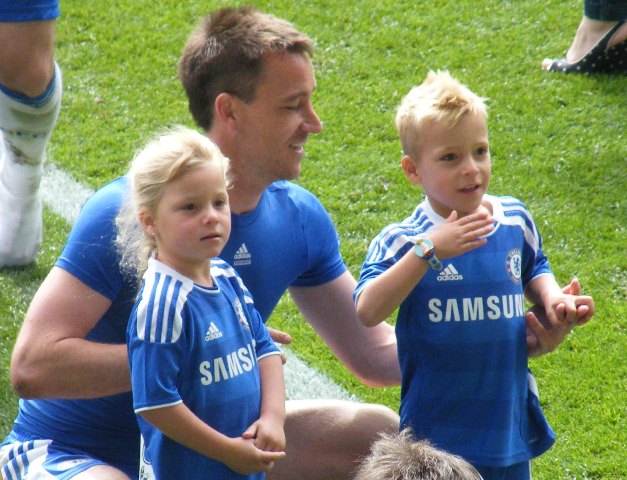 Josh McEachran had made a solid start in midfield and his pass down the left to Ashley Cole split the Newcastle defence, whose cross was kicked by Jose Enrique against Ryan Taylor, but fortunately for both players the ball went out for a corner.
However, after a lively 30 minutes, the first half petered out without either side being able to create a clear opening.
Chelsea players were out on the pitch early after the break and Benayoun had a chance to reciprocate Ivanovic's early strike of the first-half, but after drifting in from the left he chipped wide of Tim Krul's goal.
We were having more possession, but were creating very little. Ashley Cole's header from a tight angle and a long-range Ramires shot were about all we were able to muster on a Newcastle defence who were proving resilient.
With the away side enjoying a good spell and having a number of dangerous free-kicks, Ancelotti brought on Didier Drogba, Florent Malouda and Michael Essien for Benayoun, McEachran and Ramires in a bold move to try and regain the initiative.
It almost worked, but Drogba wasn't expecting a pass from Cole who was expected to shoot when in a good position, then Terry headed over an Ivanovic cross under heavy pressure.
With seven minutes to go we took the lead. 
Another set piece and Alex headed home a Frank Lampard free-kick from the right after Krul had mis-judged the flight of the ball.
But disappointingly with just one minute of three stoppage time minutes left, Taylor was left unmarked in the Chelsea box six yards out and scored after substitute Nile Ranger had headed back a Ryan Taylor corner.
Sadly then as many supporters left Stamford Bridge a rather subdued group of players accompanied by children and families went on a slow lap of appreciation with Carlo Ancelotti receiving a good if not great reception.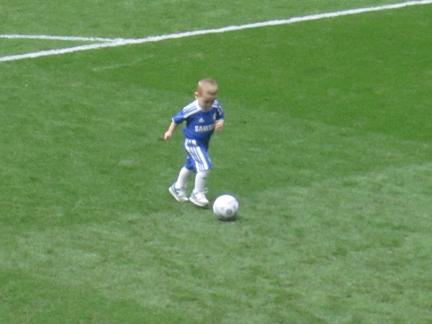 The highlight was Stefan Ivanovic son of Branislav who dribbled the ball around the pitch and twice scored a goal to massive roars of appreciation.  He then raised his arm and punched the air before running back into his dad's arms.
It was a lovely moment to bring the home season to a close with just one more away match to be played next Sunday at Everton.
Gill Reeves CSG disabled rep
Chelsea
• 01 Cech
• 02 Ivanovic – yellow card
• 03 A Cole
• 26 Terry – yellow card
• 33 Alex
• 07 Ramires – yellow card (Malouda 64)
• 08 Lampard – yellow card
• 10 Benayoun (Drogba 64)
• 46 McEachran (Essien 64)
• 09 Torres
• 39 Anelka
Substitutes
• 22 Turnbull,
• 04 David Luiz,
• 19 Ferreira,
• 05 Essien,
• 12 Mikel,
• 15 Malouda,
• 11 Drogba
Newcastle
• 26 Krul
• 02 Coloccini
• 03 Jose Enrique – yellow card
• 12 Simpson – yellow card
• 16 Taylor
• 27 Taylor – yellow card
• 07 Barton
• 18 Gutierrez (Ranger 76)
• 31 Ferguson (LuaLua 69)
• 11 Lovenkrands (Ameobi 82)
• 23 Ameobi
Substitutes
• 33 Soderberg,
• 34 Tavernier,
• 17 Smith,
• 25 LuaLua,
• 44 Ameobi,
• 30 Ranger,
• 42 Kuqi
Ref: Mason
Att: 41,739