Match Report: Chelsea 2 – Tottenham 1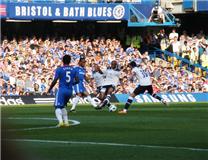 We closed to within three points of Manchester United ahead of the leaders' trip to Arsenal thanks to two very controversial goals from Frank Lampard and Salomon Kalou.
 
Spurs were on course for their first victory at Stamford Bridge for 21 years after a first goal for the club from Sandro.
But goalkeeper Heurelho Gomes added another entry to his ever-increasing catalogue of howlers when he spilt Frank Lampard's 35-yard strike, with assistant Mike Cairns ruling it had crossed the line.
Tottenham, who needed to win to stay in the hunt for a top-four spot, looked like holding on for a draw that was no good to either side until substitute Kalou (offside) scored in the 89th minute.
The watching Sir Alex Ferguson would not have been amused about us being gifted the most controversial of victories that put the pressure back on his United side.
Carlo Ancelotti retained the 4-3-3 formation, with the inclusion of Fernando Torres which meant Drogba playing on the right, a move that produced mixed results. Torres' long-awaited first goal for the club had an obvious effect on his confidence but he never really had a sniff in the first half.
 
Drogba was also more subdued than of late but he almost opened the scoring with a blockbuster 35-yard free-kick that crashed off the crossbar. Michael Essien – declared fit despite hobbling off against West Ham last week and the in-form Florent Malouda also went close.
Otherwise, Spurs belied their recent form of one win in 10 and their miserable record at Stamford Bridge with Roman Pavlyuchenko dragging wide after a Branislav Ivanovic slip.
But no one could have predicted the manner or scorer of their opening goal. Sandro was bought as a defensive midfielder but there was nothing defensive about the 30-yard half-volley that thundered through the fingertips of Petr Cech after 19 minutes.
The Brazilian instinctively ran to manager Harry Redknapp to celebrate only to receive a monumental telling off!
We piled on the pressure and  should have levelled when Gomes tipped over Essien's header and the resulting corner saw Drogba flick the ball on for Torres, who stooped to nod over when he should have used his foot.
Sandro produced a tackle on Frank Lampard to deny him what looked a certain equaliser before all Tottenham's good work was undone on the stroke of half-time by Gomes' latest howler and the "did it or didn't it?" cross the line goal which was subsequently given.
Gomes who was subjected to taunting of "Let's all do the Gomes" with flailing arms from the Matthew Harding end took no chances after the break when he parried a 25-yard shot from Drogba, who was then booked for refusing to give the ball to the referee.
With just under half and hour, Ancelotti substituted Torres and restored Kalou to his attack. Kalou's first touch was almost a goal as another Gomes blunder saw him punch Drogba's 40-yard free-kick straight at the striker, who had no time to react.
It looked like we had been denied a clear penalty when Younes Kaboul brought down Malouda but replays showed the tackle was clean.
John Terry scuffed a disguised Drogba free-kick straight at Gomes before the pressure finally told, with Drogba's shot deflecting for Kalou to stab home and delirious celebrations around the Bridge.
This was a 500th milestone for John Terry who in his captain notes said "We have an all round togetherness and fighting spirit here that is second to none – and I'm talking about the players, coaches, staff and supporters who have always been behind us.
That will always set this Club apart and we will continue to compete right until the end of the season".
Gill Reeves – CSG Disabled rep
Chelsea
• 01 Cech
• 02 Ivanovic – yellow card
• 03 A Cole
• 04 David Luiz
• 26 Terry – yellow card
• 05 Essien (Ramires 57)
• 08 Lampard
• 12 Mikel
• 15 Malouda (Anelka 73)
• 09 Torres (Kalou 62)
• 11 Drogba – yellow card
Substitutes
• 22 Turnbull,
• 33 Alex,
• 07 Ramires,
• 10 Benayoun,
• 18 Zhirkov,
• 21 Kalou,
• 39 Anelka
Tottenham
• 01 Gomes
• 03 Bale
• 04 Kaboul
• 13 Gallas
• 20 Dawson
• 22 Corluka (Pienaar 78)
• 07 Lennon
• 11 Van der Vaart (Jenas 85)
• 14 Modric
• 30 Sandro
• 09 Pavlyuchenko – yellow card (Defoe 58)
Substitutes
• 23 Cudicini,
• 19 Bassong,
• 08 Jenas,
• 25 Rose,
• 40 Pienaar,
• 15 Crouch,
• 18 Defoe
Ref: Marriner
Att: 41,681