EFL Cup Round Three: Leicester City 2 Chelsea 4 (AET) – Tuesday 20th September 2016 19:45
Did You Ever See Such a Game of Two (Well Four) Halves?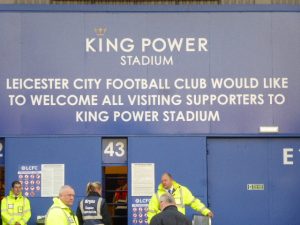 The others: quick round up of the weekend's action in the league: Pogbawatch. I'm adding £500,000 and I can't actually give a reason why he should get anything, as I just remember him getting booked and not a lot else, so this a token amount for seemingly being able to lace up his football boots without assistance. In the words of The Artist Formally Known as Cookie Monster  (because he's blitzed off four stone – applause)who would now like to be known as '&' "0 goals (from 13 shots), 0 assists and 4 haircuts so far this season." I think that takes his value so far up to £6.5m
Three defeats in a row eh? Someone summed it up succinctly to me lately – when HHWNBN arrived on the scene, he was a revelation, but the world has caught up with him and now he looks old fashioned. Go on, laugh, you know you want to. Judas really isn't special anymore. Even Wenger has beaten him now. Look at us and look at United. There is no magical formula for almost-instant success in the Premier League anymore. Because everyone has got money.
Urgh. Ian Wright. Moaning that the Fabregas banner is still up at the Emirates. Firstly, we did not buy him from Arsenal, and Arsenal did not exercise their right to buy him back, secondly you respect the players that have served your club, especially when they are not at your club because you don't want them anymore. (Cech, case in point) Lastly, the illiterate goon seems to be forgetting that he played for Palace as well as going across London to join West Ham. Does he think Arsenal should write him out of their history too? It really is basic common sense, which applies to everyone, not just Ian: unless you are categorcially unimpeachable and a paragon of virtue and conscience, when the urge to gob off about people rises you should just keep your trap shut and sit your arse down.
Last Night: A debut for Alonso, which meant that (shocker) we had two actual full backs starting on their right sides. No Courtois – yay! (Presumably that's why he has had so much time this week to moan about wishing he was in Spain) and a cup tie meant starts for Batshuayi, Moses, Fabregas and Pedro (Pedro is nowPesto, not because I am racist but because every apple device I own autocorrects him to this and I just, don't, have, the energy to fight it anymore.) I doubt we would have picked a largely different side given the job.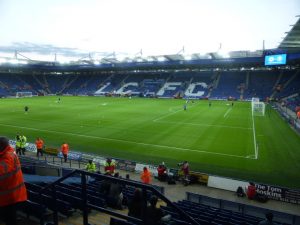 The rollercoaster of emotions suffered at the King Power last night is quite hilarious in retrospect. My notes from the first half go from "pretty balanced start – we looked to have put a better attack out," to "why the f*ck do we do this to ourselves EVERY. TIME." There is my usual moaning about our complaints of rubbish corners apparently falling on deaf ears and some pretty ranty and mispelled waffle when as usual we conceded as soon as someone has a shot against us. (Good effort to hook it out by Dave, but no cigar. The ratio of shots on target against us and goals conceded continues to be woeful.) Then is all goes a bit hairbrained. I think you'd have a case for saying Begovic could have done more for both goals, but the defending was embarrassing  Again. Two shots. Two conceded. Sigh. But we appeared to wake up a bit, and I honestly don't think we deserved to be two behind, so the timely goal before the break didn't exactly cheer me up, but made me think maybe we weren't complete bellends after all.
Gary Lineker chose half time to tweet the most pointless stat in history. Apparently, if Cahill were to be awarded our goal, then it would be the first time in a league cup match that three goals had been scored and none of them had touched the back of the net. Go and get a beer out of the fridge you sad case.
As of when we scored I think we were the better side. Which is a nice surprise so far this season, the capability not to roll over and die. Think of it in Rocky terms. Last season was Rocky V. Turgid, slow, completely void of any entertainment and you ultimately came out of it wishing it had a.) never happened or b.) that you could just erase it from your brain. So far this term we are Rocky IV. It ain't pretty, but you are slightly hopeful that no matter how many times we get punched in the face we might actually come out on top at the end.
Never in doubt for Dave, we were level with him and you knew it was hitting the back of the net as soon as he booted the equaliser. There was more energy all round. Leicester had their fair share of going forward too, including a hilarious penalty shout that was rightly waved away from where I was standing. (at the complete opposite end of the stadium with large bald head obstructing my view) There was some solid defending (at one point Captain Cahill tracked back so fast I thought he was Dave). We didn't look like faffing every time the ball went into our box. Enter Diego. The chances kept on coming. Look at what he can do when there is a brain behind him feeding him the ball! Their substitutions brought them renewed intensity and you wondered if we had wasted our chance to nick it. But then, (and we're getting into Rocky II territory here) we started slugging our way back. Shot followed shot, and we had a couple of corners that CLEARED THE FIRST MAN. (I know, breathe) Alonso crossed the ball so well at times I had to do a double take to make sure it was one of our players. Their red card just reinforced my opinion that right now, when he gets the service, Costa is unplayable. Like Swansea, Leciester's only option was to kick him, which resulted in their red card. And, (pause for effect) Scrappy-Doo walked away from a potential ruck. Twice!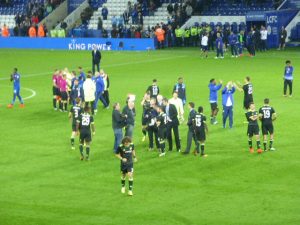 With Hazard on for Pesto, there was a rare tingly feeling that we might be the more deserving team. We had 27 shots with 11 on target verses 12 and 4 last Friday. (OK there was half an hour more play, but still the difference is huge) And Fabregas was that difference, and on account of far more than the netting of two goals in two minutes to kill the tie at the beginning of extra time (the second of which he celebrated by running the length of the pitch for the ubiquitous "Primary School Disco Boys Knee Slide") He was sublime last night, and would have deserved a third and the match ball. And do you know what? #1 on the list of songs that you thought you'd never sing again might have been "du-du-du-du Victor Moses." But he was great too.
We were our own worst enemy again in the first half, and yet again proved that when there is no Terry, there is not enough discipline at the back, but in fairness we are conceding too many with him there too. But then we dug ourselves out from 2-0 down for the first time since 2002. Far from the fierce phone screen punching of the first half on the notes and wanting to throttle most of the team, by the end of it I couldn't say that any of ours had had an awful game. I thought the Chalobah sub was an odd one at the time, but he didn't look out of place at all. Really solid showing. For me the one disappointment was Loftus Cheek. He wasn't bad, you couldn't say he failed when he had the ball, but he didn't do anything great either. Sooner or later he is going to have to take one of his chances (all the more limited with less fixtures this season) and blow everyone away. It's difficult, because we fans want him to succeed so badly, to see someone come all the way through at the club, but it just feels like we want it a whole lot more than he does at times. That's probably not true, but he needs to find a way to convert his promise into something tangible, and he could certainly start by working harder off the ball.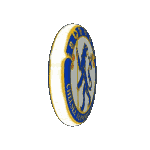 Posted by AC
You can see all ACs Blogs here
DISCLAIMER: All articles written for the Chelsea Supporters Group 2005 (CSG) are those of the author and do not represent the views of the CSG. The views and opinions expressed are solely that of the author credited in the article. The CSG do not take any responsibility for the content of its contributors.