MATCH Five: Chelsea 1 Mickey Mousers 2 – Friday (Arrrgh!) 16th September 2016 20:00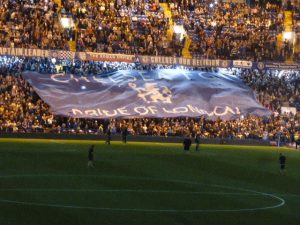 Two Steps Forward, One Depressing Leap Back
Customer Comment of the day: Where's Peter Osgood? (Me:) Sorry to break it to you mate, but he's dead. (Tourist looking for the statue to collect a ticket, it turned out)
Oppositon insult of the day: "You'd be fit if you weren't Chelsea." Me – "Even if you were you'd still be f**king ugly." I give him 4/10 for trying.
Wank, wank, wank. That is all.
I'll keep it short, because none of us want to relieve this. Essentially we were just guilty of not showing up and as a result it was a pretty miserable night. Too many shades of last season. One thing that did make me smile. This was the first (I think) game where there is a ban on unofficial clothing bearing the word "Chelsea." The vile half and half scarves now read: "Chelse4" and many, many plebs were wearing them. I love that it is THAT easy to out-brain some of the f**ktards In charge of our football club. Not so funny was the fact that Gonzo was stone, cold, sober. I'm not angry with you, just disappointed.
I was at a complete loss as to why there were THREE of their players open for that first goal. I haven't been able to bring myself to watch it. Talk about caught napping. Conte said that they had worked on many scenarios defensively. I can only assume that none of them actually involved marking the opposition. If not, at least one of our lot got a kicking from some expensive Italian shoes at half time. And much deserved it would have been too. So. Having gone behind we continued to not do very much going forward. It all seemed far too negative for a home game, especially against a team that is as flaky as the Vermin. If you are insistent on only having one player up front, then surely you would concede Matic and have Fabregas on to at least ensure he gets some decent service. When we did get in their box there were as little as 2 or 3 players in blue shirts up there to try and make a difference, against their nine or ten. That's not going to work, is it?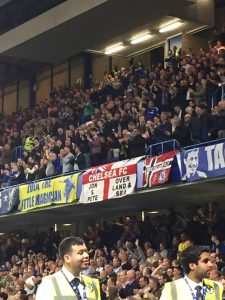 Whatever that bellend of a lino was smoking in front of the West Stand, I want some. He was truly attrocious. When your perfomance warranted a massive cheer every time you actually got a decision right, you are either a member of the red mafia or you are more incompetent at your job than Michael Owen trying to entertain a TV audience. Have you noticed that Jordan Henderson can barely even move his face? Either he is a botox whore it just requires to many braincells. Either way, never will you hear the words "Jordan Henderson" and "world class" in the same sentence again. If it wasn't for Kante, we could have been four down at half time.
What was increasingly frustrating as the game went on, is that they weren't great, they just weren't as terrible as us. Every time we managed to get out sh*t together and run at them we DID look like we could split them open. Oscar, no comment. Willian, meh. (I will say though, on behalf of Lew Zealand, who is getting increasingly ranty about this: he set an amazing standard last year and he's not shit, and he is trying, but he's not fully fit, and his mum is critically ill, so his head isn't massively in it either. I can forgive him that for now. He will improve.) That said, it a spirited return from Sideshow, who had already started bleeding for the cause. Hazard seemed well mashalled as opposed to crap but came into the game more after the break, Costa, I couldn't really fault when he was involved but he was so bloody isolated he was given very little to try and make something of. When it fell to him in the box, he did put it away. It was truly sad that Kante couldn't be everywhere, because he was great. Again. You can see why Leicester seem to be lacking something now he has departed their midfield.
It felt like a goal was coming, but we still looked like we lacked a spark. I was typing the words "we just aren't dynamic enough with Matic" into my blog notes having already mugged him off on Facebook when he did the unthinkable, dancing through the opposition's defence like a Serbian ninja in ballet shoes and setting up Diego. Fair play. I'll lay off him for a week now. That's another sentence you won't ever see again: "Matic runs the length of the pitch, dances round the Scouse defence like a Serbian ninja in ballet shoes" and "results in a goal" (as opposed to a shot that goes 30ft over the bar.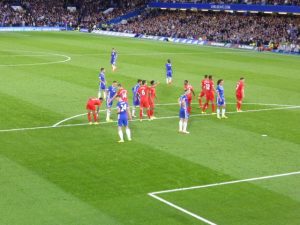 Too slow on the subs tonight and then doing a triple with eight mins then go was all wrong. We needed to either go two up front at that point or to bring on Fabregas sooner. There's no point making sure before anything else that you don't concede again when you're losing at home with less than ten mins to go. Shoving him on and going "make magic happen" at that point is a bit harsh. I don't even think Klopp outdid Conte, (definitely not in the hair stakes) just that not enough players were on it and like most of last season we were our own worst enemy. The sides pretty much cancelled each other out. We've been done by some unforgivable napping and then by an unstoppable shot. In the words of another Shed Upper regular: "A world class shot from a shit Steven Gerrard." All of this reinforces my view that they are more hapless and reliant on luck than serious challengers for the title.
We have a scapegoat tho, in the face of "Kermit," who didn't shave. We all have our superstitions, but he knew when he rubbed his face at 0-2 it was all his fault. He claims that he began looking round the West Upper thinking "I hope they won't kill me." His companion, Bunsen Honeydew was asked "How do you feel having come all the way from Norway for this pile of sh*t? His answer? "If my bloodstream wasn't 90% alcohol right now I'd be dying inside."
Still work to do. Evidently. Many of the same issues as last season on show for Conte. But it is still early days. You've seen it live, fix it now please boss!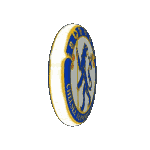 Posted by AC
You can see all ACs Blogs here
DISCLAIMER: All articles written for the Chelsea Supporters Group 2005 (CSG) are those of the author and do not represent the views of the CSG. The views and opinions expressed are solely that of the author credited in the article. The CSG do not take any responsibility for the content of its contributors.