Hull City 0 Chelsea 2
Saturday 1st October 2016 15:00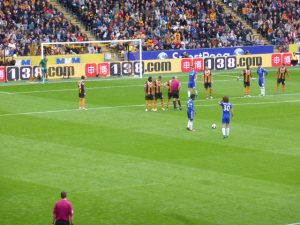 Rocky III today – first half completely forgettable, only interesting when we got to the end bit where the punch up happens.
Whilst everyone else was getting up at the crack of dawn to travel to Hull, I was bunging a fat cat into a small box and lugging all 7kgs of him to the vet to have him put down after a week of turmoil and being peed on by the poor sod. Except 'JT' (joyously) made a more miraculous comeback than us at Leicester in the cup and he lives – he might have to be renamed Lazarus if his recovery continues. Anyway, it meant that for once I got to experience the comfort of viewing our game in a not entirely legal fashion with said cat by my side as well as a cheeky rum and pepsi max and some peanut butter chocolate birthday goodness courtesy of Janice. The down side was simultaneously having to listen to Steve McLaren (it was that or man screaming in Arabic) commentate on 5Live Extra in a manner that made me want to euthanise myself by half time.
The others: If Carlsberg did smug football moments eh? Allardyce has lasted about as long as England Manager as he evidently did on his last journey into slimming world. Ta-ta c**tchops, don't let the door hit you in your wobbly arse on the way out. No such creature deserves to manage England – and for it to get such a rise out of me, when I couldn't give a crap about international football, is really saying something. Entrapment hasn't won, you moron, your lack of judgment and (want of) intelligence has failed. Next stop a contract with the F*ckmuppet Factory (AKA the BT Sport panel). Although what with 'Arry and Savage already there I'm not sure they have got a big enough studio for that much bullsh*t. Oh and I love Jimmy Floyd, but if he thinks that the market value of his wisdom is £55k for a talk, he possibly has a slightly inflated sense of his own motivational skills. In the meantime give me the England job. I'll make my team selection by gathering them all at St. George's and having them spend the prep week doing Jackass style team building challenges such as seeing how many toy cars they can wedge under Jack Wilshere's scrotum.
You can almost hear the shouts of "It's our year" coming from all the Scouse, though they've conceded more than we have so I don't think anyone need be traumatised by the fact that they are second yet. And yet with just three points between us, behold how the press plebs tout them as title contenders and we are a laughing stock. Sigh. Lallana limped off with a dubious-to-prove injury that will rule him out just long enough to get out of England duty, but be back for their next fixture. Shocker. I'll be more surprised if I ever see an international break where they don't pull this constant ploy with at least one player crying 'groin strain,' 'thigh twinge' or 'ingrowing toenail.' I'll be even more shocked though, to see a game where the Vermin aren't assisted to three points by sending offs and dubious penalties in their favour.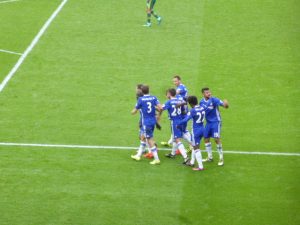 That nonsense is almost as annoying as Ivanovic's revelation (even allowing for press pleb selective interpretation) that the players either ignored, or just didn't bother to do as Conte had asked against Arsenal. Either way, the result was the same, and may all who started (bar the three I exempted last week) spend the international break with gushing (yes GUSHING) diorrhea; incapacitated on the floor whilst somebody plays them a Taylor Swift album with twelve annoying songs about being dumped on a never-ending loop.
Our game: I'm guessing that either Branna's revelation, or his performance last week, or a combination of both is what a) led to him being dropped and b) raised Conte to Defcon 2 with an angry scowl and dishevelled hair. As much as it saddens me (let nobody forget what he has done for our club, starting not least with two headers in 2009 against the team we never dirty this blog by typing the name of, in case you hadn't noticed ) it has been a long time coming now. Today was the first time (apparently) that he has been dropped since the days of AVB – whoever he is. (Possibly one of those management temps we hire from August – November every year.)
The thought of another game with Sideshow and Gary Cahill at the heart of defence was about as terrifying as acknowledging how close Donald Trump is to being the leader of the free world. But Conte decided to stick with the formation he began experimenting with when the game was out of reach last week, so the two were joined by Dave at the back. Thrilled to see Alonso and Moses get well earned starts as wingback-type people. Last season was so frustrating when we kept seeing the same under achievers getting on the pitch every week, but this selection today, to my mind, rewarded the ones that have proved they deserve a chance as well as playing to the squad's strengths if you were trying to move towards this particular way of playing. This includes Chalobah with his place on the bench. There have to be consequences for failing and rewards for playing well, else all is anarchy as we saw under HWWNBN last season when everybody got fat and started taking digs at each other in the papers like a bunch of schoolgirls.  I'm pretty sure Cahill would have been dropped if not for JT's injury too, and I felt for Fabregas, but it was an away game. I get it, as far as the starting XI goes. The dilemma continues as far as finding a place for him goes.
So it started with Hull, Hull, more Hull and by the 7th minute McLaren had written us off for dead in his monotone drawl. It was a new system and it showed. We were not quite on it in terms of where to pass the ball and who should be where, and we just looked outnumbered in midfield, with Matic and Kante being smothered. But after ten minutes, Willian and Hazard seemed to twig that if this is going to work, they need to drop back further than they have been used to. Abracadabra. The possesion starts to turn, it starts to look a lot more promising and suddenly most of Hull's effort is in trying to win the ball back. If there was a down side to this system it seemed in the first half that Costa was cutting an isolated in the box at the other end.  Again.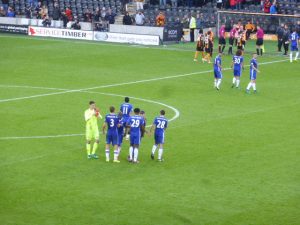 I think Moses should have had a penalty. It turns out that they have this witchcraft which involves replaying things in slow motion on television for the armchair fans and having watched it from 47 angles, I think the referee was a bellend not to spot it in real time. If I didn't care so little about Steve McLaren that I'd forgotten he'd existed until today, I'd be pissed off that he basically spent the whole of first half in commentary willing Hull to score. They didn't, and neither did we. Hull had conceded nine in their last two games (albeit with ten men in both, I think) but we couldn't even fashion a decent attempt. Oh, and they had midfielders at full back. Possibly explains one point from a possible nine. The highlight of the first half was that when I got bored I was free to go and pour myself more Morgan Spice, and thenI was able to follow the cat to the litter tray to see how long he peed for. Fifteen seconds. This is as exciting as Drogba's Munich penalty in this house at the moment. (This is vet instruction, to clarify, not some weirdo cat toilet fetish)
The now (I'm assuming) standard Conte 'opening-a-can-of-whoop-arse' at half time yielded instant results. Within two minutes (praise the Lord, Hallelujah, etc.) we had a shot on target. The best chance fashioned thus far was then punted over the bar by Kante after Costa hit the post. Hull were defending doggedly and (shockingly) we weren't doing bad on that front either, so it was going to take a moment of individual flare to break the deadlock. This came from Willian on the hour mark when he curled one into the top right corner and left the goalkeeper staring at it as it went past him. I can't say anything mean about Hull. (although doing Tiger impressions at them last season was a good five minutes of amusement) I feel for their players, their manager and most importantly their fans, but as soon as they had to come out the game well and truly turned in our favour. I'm guessing that this sudden phenomena of Matic running through the whole of the opposition is because of the rest of the league's assumption is that he will either take 500 touches and trip over the ball, pass it back to Courtois, give it to them, or blaze it into row Z. So they just leave him to it. (I would) But it paid dividends for us again this afternoon when his ambling run ended up falling to Costa, who put the ball exactly where Willian had. The latter had a penalty shout that was more blatant than Moses's in the first half, but we dont wear red (well he dosen't anymore) or wear shellsuits so we don't get given them.
So: CLEAN SHEET! CLEAN SHEET! No you have not been sucked into a parallel universe where we voted to remain in Europe and it is socially acceptable to wear Crocs. Some players are evidently going to take longer to grips with the new system than others (Dave springs to mind) but I'm OK with that. It took several years of misjudgement and epic failure in the transfer market (De Bruyne, anyone?) and a systematic management comedy of errors from board level (mostly) down to players who couldn't be arsed to put us in this position, so it isn't likely we're going to be fixed overnight. Costa's blinding start to the season continues, yet another stellar game from Kante (we won't mention the shot) and Chalobah gets his long awaited Chelsea league debut. Will he make the grade instead of Loftus-Cheek? Will commentators stop lazily amalgamating Conte and Kante into one hybrid player/manager at any point this season? Will Gary Lineker ever be able to comment on anything, ever again without mentioning Leicester? He's really starting to get on my tits now.
We are sixth as we head into another abomination of an international break – although we will get lots of mileage out of laughing at Big (mouth) Sam over the coming weeks – and we are three/four (depending on tomorrow) points off second place. I'll take that. On that note, I'm off to force feed JT (feline version) some more painkillers and measure the size of his last piss puddle.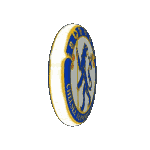 Posted by AC
You can see all ACs Blogs here
DISCLAIMER: All articles written for the Chelsea Supporters Group 2005 (CSG) are those of the author and do not represent the views of the CSG. The views and opinions expressed are solely that of the author credited in the article. The CSG do not take any responsibility for the content of its contributors.