Chelsea 4 Manchester United 0 – Sunday 23rd October 2016 16:00
I predicted 3-0 and I said if we scored early we would smash them, but I was taking the piss, before you start asking me for next week's lottery numbers.
The others: By kick off today, everyone had either done us a favour or potentially saved us from ourselves, depending on your level of optimism. Anyway, f*ck 'em, let's get on to the good stuff!
Our game: The muted reception pre-game for He Who Will Not Be Named was akin to the smattering of half-arsed applause you get when someone drags you to see their kid's school play, when by the time it ends, everyone clapping is already mentally at the bar, a Wetherspoon's if necessary, thinking about what kind of alcohol they are going to use to dull the pain.
They turned us around at the toss, which was annoying for about, say, thirty seconds, by which time Pesto (ok autospell, I concede, you clearly know what I am trying to type better than I do)  made two defenders and a goalkeeper look as silly as a Scouse Nivea ad by running round them and scoring. Turning him into The Booked One for celebrating with the fans seemed a shade petty less than a minute in.
Oops.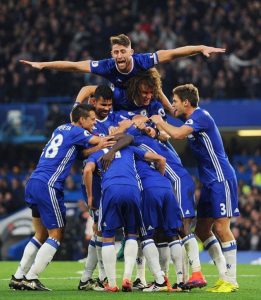 This blew HWWNBN's famous bus-parking tactics, employed to such great effect at Anfield earlier in the week, completely to sh*t. Despite this his team settled well, with Ibrahimovic narrowly heading one over the bar, but there was no real dynamism in the final third. At the other end, we had a couple more shots before in the twentieth minute, Cahill ran away from anything resembling a defender and picked up a lucky deflection to net another. On the half hour mark they looked ropey every time we got in their box, especially when Blind just let people walk past him, but they did still get forward on occasion too, prompting at least one save by Courtois, who isn't quite The Redeemed One in my estimation after today but he admittedly had a good game. We did particularly well in our own box, given recent performances in defence and the height that they had in there. There was a distinct lack of Flappy Ones trying to prevent a meltdown.
Fellaini's hair is one of life's existential questions. (Bear with me, I've been on the celebratory gin)  How and why? He dyed it blond and ended up ginger months ago. I can only assume that it's the fact that nobody likes him that has led not one acquaintance to say: "Mate, you look like a complete bellend. Shave your head." And therefore, I suppose, is why it is. (Must stop watching philosophical factual programming when insomnia strikes) More importantly, why is he allowed to foul everyone and not get carded? "He fouls, therefore he is:" coming to a cheap Manc t-shirt stall near you. Anyway, all of this means I did not feel in the slightest bit guilty when Sideshow somehow sidestepped a red card after crashing in at knee height. Fellaini gets away with it three times a game.
I think we all just wanted half-time after that, without fouling it up and conceding. Apart from the fools who were BOUNCING at just 2-0 and before the break! (This is tempting of the bad juju on such a basic level that you all deserve to be slapped about the face with a mouldy kipper until you learn the error of your ways) Martin Atkinson's low point today was moaning to the players that he couldn't see everything as an excuse for ignoring Bailly literally straddling Cahill and tea-bagging his face to prevent him from defending a United attack. Other than than he was mostly fair, in that he made a few clangers against either side. We almost got a third right before the break, but though The Scrappy One (Diego) got round Bailly his shot was blocked.
Costa was just marginally offside after the break, (ok, more like the length of Courtois's hooter than marginally, but I suppose it was worth putting it in the back of the net in case the officials had smoked a spliff at half time). They looked much better without Fellaini, who had gone off for Mata at half time, but they soon lost Bailly at the back to injury. Blind went across to take his place in the centre of defence. My notes on this just say: "Yay." "Clearly either on the sauce or on the take" was one assessment. He was woeful, not least for the tackles he refused to make. Perhaps he just lost the will to live after he saw his own topknot in the mirror.
We were trapped in our own half somewhat and very nervy by the hour mark, and what we all wanted was to break away and put the game away with a third. Which is exactly what we got. After Moses (The Rejuvenated One) had got all the way up the pitch only to be denied by Smalling, in the next attack Hazard slid it straight under De Gea's arms for a third.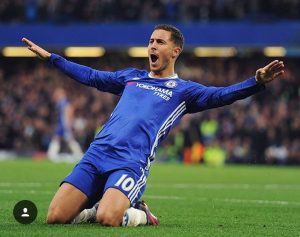 For all the possession they had today, United crafted results out of it for the most part as masterfully as a chimp smearing a turd on a canvas and calling it art. Ibrahimovic was impotent, though he was cutting an isolated figure with little support. Pogba was truly awful. Which brings me to Pogbawatch: I had marked down to bung him up to a value of £9m after his midweek goal, but I'm seriously considering whether or not it is legitimate to take his value down after today. He's apparently worth three Kantes. (Pause for canned laughter) When Pesto is robbing you of the ball repeatedly, and his tackles are apt to come along with all the frequency of a Southern Rail conductor bothering to turn up for work, you really are up sh*t creek.
When they gave Kante (The Miniature One) enough time to get in the box and aim it in the right direction (considering his hair trigger usually results in a shot at least thirty feet over the bar) then you might as well go home. If I'd been closer to HWWNBN I would have given him my snotty white Starbucks napkin to wave. We even tried to hand them a goal right at the end and they still f*cked it up. He got off with some witty chants of "you're not special anymore" and "we want you to stay" but there was no malice in any of it, which was quite a relief actually. It's always easier to be gracious when you're tanking him!
Had Costa not hit his strike straight at De Gea, it could have been five. The only remaining joy at the other end was a brilliant cross by Mata and then a save from Ibrahimovic's ensuing shot. HWWNBN standing in front of the away dugout in the 85th minute, at 4-0 down, trying to orchestrate that clusterf*ck must have been up there in the demoralisation stakes with Adolf Hitler sitting in his bunker staring a handful of cyanide pills and a revolver in 1945 and debating which one would be more enjoyable. To paraphrase Pepe the King Prawn (new muppet alas) "If you're Nathaniel Chalobah (The Promising One) and you are getting away with Cruyff turning in your own box with Pogba and Ibrahimovic standing in front of you, it really is a sign than f*cks are no longer given."
Whose fault is it? Torres? No, but seriously, (ok not that seriously) he's gone down a different route post match. HWWNBN says they were the better team. (Pause for more canned laughter) We defended with nine men and counter-attacked occasionally with two, apparently. (Pause for canned laughter of increased intensity with loud cackling woman in foreground close to microphone reserved for things like Del Boy falling over in the bar) Apparently he's had a pop at Conte for engaging with the fans too. Our keeper and defenders were the harder worked, he says. Apart from being a sore loser, he's obviously forgetting that part of Cahill's heavy workload was scoring against him. (There were a lot of goals, he may have forgotten) Oh and he has obviously not factored in the amount of effort De Gea had to expend in repeatedly picking the ball out of his own net.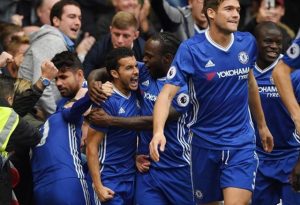 So: None of ours had a bad game today, not even the oft-maligned Matic or Courtois. I still think we are enjoying a bit of a free reign as far as people being able to research and deploy against this new system is concerned. It will get tougher. To single out just a couple: Moses was probably just about my man of the match for his work in defence as well as in attack. I really hope (now that we have realised that he is only 25?!) that this is him proving that he has served his apprenticeship and that he is not just having a good run that will fade. Alonso (The Fit One) thinks quickly and acts decisively under pressure. I'm tempted to say we have not had a left sided defender this good on set plays and getting things calmly out of danger since we said goodbye to Ashley Cole. Long may that continue too.
HWWNBN is not new and shiny anymore, and he's not evolving. As it stands, his best days are getting further and further behind him and if he doesn't begin to adapt he's going to end up The Forgotten One. But in matters about which we still give a sh*t: I'm loving the conducting of the crowd on Conte's part. We are fourth. And one point off the top. We are physically in a position to quite literally sh*t on the Sp*rs below for the first time in way too long. I'd be amazed if Southampton are that easy to turn over next week, but in the meantime we've got a trip to that lovely new stadium that we all paid for to get out of the way on Wednesday. Till then, this Happy One is going back to her gin.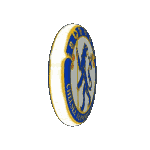 Posted by AC
Pictures from Chelsea FC Instagram page
You can see all ACs Blogs here
DISCLAIMER: All articles written for the Chelsea Supporters Group 2005 (CSG) are those of the author and do not represent the views of the CSG. The views and opinions expressed are solely that of the author credited in the article. The CSG do not take any responsibility for the content of its contributors.