Middlesbrough 0 Chelsea 1 – Sunday 20th November, 16:00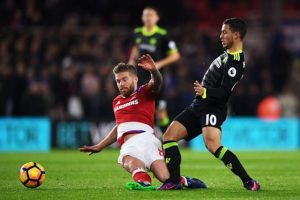 That it was only 0-1 was almost as surprising as the fact that I got away with inadvertently being a sex pest all day without being arrested.
Well that was a thrilling International Break. First of all there was the shock that Pepe Reina still exists, not so shocking was the fact that he is still sh*t. I've just about finished laughing at the Spain result. That's what you get when you bring on Jagielka when he couldn't out run a milk float stuck in reverse. Either that or the chump chose the worst possible moment to pretend to be an f*cking mannequin. Twice.
The Others: Most results went our way this weekend, starting with the draw at Old Trafford. My brother and I were torn between watching HWWNBN suffer and L'arse dropping points and eventually settled on the former as a preference. It was a borefest, but The No Longer Special One is fully on his way to Defcon 5 and it's not even Christmas. Excellent. He made some statement about how he doesn't get any respect when he won the league eighteen months ago, not eight years. Might have something to do with his immense meltdown last season, and the fact that wild-eyed, rambling and unkempt, he appears to be one denied penalty shout or sh*t result away from going full native, smearing himself in faeces and running off to live naked in a cave in the Lake District, scalping Chris Smalling or some other scapegoat on his way out. Wayne Rooney has been moaning too. He was said to have commented that he is disgusted with the media, who have been disgraceful in their treatment of him and shown him no respect. Firstly, there are too many big words in that statement for Rooney to have made it, and secondly, f*ck off pisshead.
City didn't have it all their own way, but came through against Palace, and Harry F*cking Kane had the audacity to ruin my Saturday evening by helping the Sp*ds to come and take West Ham from behind. (Titter) The Scousers, whose superpowers, it seems, are diminished when their crappy man buns get wet, failed to score at St Mary's though and came away with a draw. Not since the heinous days of those bright white Wembley suits has a team looked quite so ridiculous.
Elsewhere, Sunderland won 3-0 (no, I'm not pissed) at the expense of Hull and unlucky Swansea eventually got only a draw against Everton who were flat, again. Leicester lost away from home, again, and Stoke were turned over by Bournemouth which leaves the Swans, the Black Cats and Hull City propping up the table and the current champions just 2 points above the drop zone. Boro, West Ham and Palace are all in the sh*t too, and if they don't turn some half decent football into points soon their Christmas periods are shaping up to be as depressing as the idea of sitting through a festive episode (well, any episode) of Eastenders.
Our Game: So everything was aligned for us to retake top spot if we could get past a tricky Boro side who have already proved this season that they can more than competently frustrate teams at the upper end of the table. Conte went once again with the same eleven, because if it ain't broke, why would he risk effin' it up? I'd never been to Middlesbrough before.
First impression: F*ck this is grim
Second impression: F*ck this is cold
Third impression: They've got a drum. Oh yay.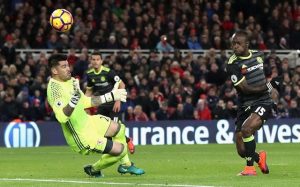 Boro came out fast and pressed with a lot of energy, determined not to concede early or get caught on the back foot. We settled down somewhat after ten mins but our passing was sloppy and wayward. Fabio I get. I understand why he's ended up at Boro, But Valdez? I was speechless and have come to the conclusion that he is a) suffering from amnesia having been bonked on the head and has forgotten who he is b) they're paying him an eight figure salary a week or c) Boro are holding his wife and kids hostage in exchange for his goalkeeping services.
By the 25th minute we had turned it up a notch, which led to a good break and an off target attempt by Alonso. Then we were denied by Valdez just before we reached the half hour mark. This was Victor Meldrew's reaction (sitcom aliases now, we're running out of Muppets)
Me: "Outstanding save"
Victor: "Yeah I'll give him that.
C**t."
Shortly afterwards Pesto (I yield, autospell, I yield) fired another attempt into the hands of The Boro keeper. They had a good opportunity of their own in the 35th minute too, but Ramirez's header was about as convincing as Barbara Windsor doing Shakespeare. We kept pushing, and in the 41st minute Diego Costa took advantage of some pretty hapless defending to tap the ball over the line as it dropped into the box.
There was much amusement at halftime over incessant ads for Mercedes-Benz Teeside, which we imagined to consist of a weed covered concourse showcasing the burnt out hulk of a 300 se cabriolet without any tyres.
There was a renewed impetus about our play as soon as the second half began and within a minute we had fired one over the bar. I don't think either set of fans would have given Jon Moss much of a rating today. His performance was his usual bonkers (and breathless) mix of silly interference and failing to punish the infractions that really mattered. In the first half he was so erratic that I can only assume he traded his cards for a spliff before kick off. Conveniently he found them again to book Dave on 50 minutes for possible the most innocuous foul of the match. Someone also needs to tell him that there's no advantage that he played when it's 7 against 2. I'm sure Boro fans have got their own list of transgressions. To his credit though, even Moss could f*ck up giving Luiz a yellow for an appalling challenge, even if it did take him twenty minutes to get around to it.
Boro tanked a prime opportunity to equalise in the 54th minute when Ramirez faced an empty goal and somehow managed to put it way over the bar. By this point Diego, who don't forget was sitting on four yellows with Sp*rs next week, was getting muchly tired of being fouled and I feared for his temper. I was half contemplating a pitch invasion to go and do the chin scratch I use on my cat when he trips out at the sound of the lawnmower. Negredo is another one that must be wondering what he's done wrong in life to end up at Middlesbrough. Probably explains why he moans more than my mum if I try and have an adult conversation with her when Poldark is on.
There then followed half an hour of Chuckle Brothers style carnage where we created chance after chance and could not put the ball in the back of the net for love nor money. Almost immediately after his shocking tackle, Luiz showed the opposite side of his game and wound all the way up the pitch to play Pedro in. The resulting shot smashed down off the crossbar. Two minutes later Moses missed a sitter. There was a certain amount of jamminess (if this is not a word it should be) about some of their clearances, but we were not taking our chances and even if we should have been three or four up, the fact is that we weren't, and Boro made changes with a genuine hope of getting something out of the game. As if Stewart Downing was not a big enough embarrassment to the football world, his introduction saw him reborn as "Stewie," which gave us all a good laugh. As the home side built momentum we were still plentifully hacking it over and wide when we got forward on the counter, and giving the ball away in potentially dangerous areas. Our play certainly didn't flow like it had been doing before the latest heinous and soul-destroying international break. By the 76th minute we were all panicking about getting stung. Courtois made just about his first saves since September as we approached the final minutes of the game, and in truth our attacking was halfhearted at best by then and our subs reflected the idea of hanging on to what we had. I suppose it's understandable when you've only had everyone back a couple of days and your got some jet lagged legs, you just want to get through it somehow without dropping points so you can get back to work next week, but that doesn't make it any easier on the fans' blood pressure.
Four minutes of injury time felt like an eternity, but we saw it out. And so it ended, finally. Boro probably feel hard done by. They were a feisty lot on and off the pitch. Delusional too. (We were only there to see the Boro, apparently) I can't believe for all the crap they came out with about us being rentboys that it collectively took the Chelsea support till ten minutes from the end to remember (and then exploit the idea with mockery) that Adam Johnson is indeed, one of their own.
We've all talked loads about our attackers of late. It was a difficult day, and Cahill was a bit immense at the back. Had it not been for some of his timely interventions on two or three occasions we could have been in trouble. 8/10. Dave continues to grow into his new centre back role in style too. Luiz had one of his more scatterbrained outings, great mixed with terrifying, but I give him 5/10 purely because I'm disappointed that he has had a haircut. I was loving his burgeoning Brian May tribute. I was also getting into the hilarious habit of singing "Just let your soul-glo" every time I saw his frizzy mop.
https://m.youtube.com/watch?v=CGrasobHcKA
I've never appreciated a police escort out of a place so much in my life. If a penchant for running water and indoor toilets makes me a soft southern b*stard, then sign me up. Have me a t shirt printed.
So. Six wins out of six now with not a single goal conceded. Bodes well when Thibaut will have that dribbling, monosyllabic slight on evolution running at him next weekend. A hard fought and satisfying win. <Insert patronising platitude about having to grind out results like this to win titles here>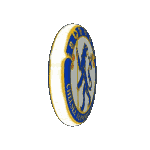 Posted by AC
Pictures from Chelsea FC Instagram page
You can see all ACs Blogs here
DISCLAIMER: All articles written for the Chelsea Supporters Group 2005 (CSG) are those of the author and do not represent the views of the CSG. The views and opinions expressed are solely that of the author credited in the article. The CSG do not take any responsibility for the content of its contributors.