Game 13: Chelsea 2 Rottenham Effin' Hotspur 1 – Saturday 26th October 2016 17:30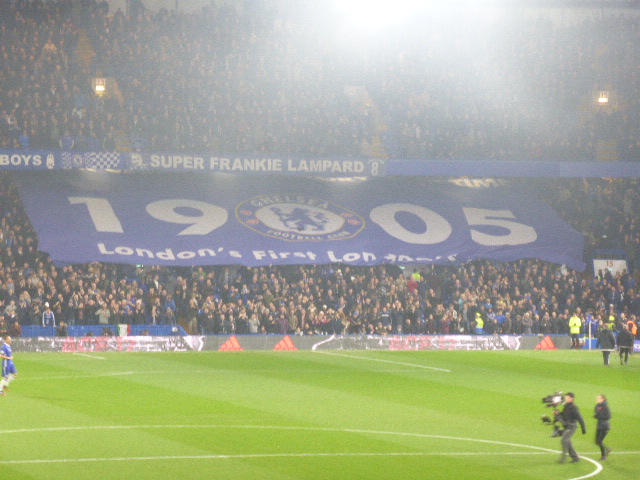 Sp*rs prove for the second time in a week that they've got all the backbone of a jellyfish that's downed half a bottle of absinth on an empty stomach. Hurrah.

The Others: At the top end, Coutinho got stretchered off with his foot on backwards, while Burnley have a right to be somewhat disappointed that they didn't get anything out of their game against City, because they did enough to. Elsewhere, Hull and West Brom shared points, and poor Palace, four goals today and they still haven't won. They're now hovering just above the bottom three but you have to believe the results will come for them soon. Sunderland will end this round of games at the bottom of the table, Leicester did enough to claw back to 2-2 at home to Boro and… and I'm trying to pretend I give a crap about what happened anywhere else today but let's just cut the b*llocks and get to the bit where we beat Sp*rs. Again.

Our Game: When Sp*rs last won at the bridge, 17 of their current squad hadn't been born. Since that heinous day, we've had six Prime Ministers. America has elected four new presidents, including a black one for the first time, and a raving lunatic. The Channel Tunnel opened. The Soviet Union broke up. ER aired for fifteen seasons, winning 116 awards and launching the career of George Clooney and still ended as long ago as 2009. The World Wide Web was invented. Take that formed, ruled the charts, Robbie left, they split up, went on a holiday for several years, reformed, Robbie came back, left, again, and since his blessed second departure they've recorded two more albums and set up two more tours. There have been 462 Fast & Furious films. Katie Price has had twelve kids and worked her way through nine husbands. Harry F*cking Kane (try saying it without inserting an obscenity, it's impossible) has produced enough drool to fill Lake Ontario.

Jesus, last time they beat us at ours Ray Wilkins had hair!

And happily, nothing has changed. Even more happily, for nigh on 45 minutes they believed it would. Again.

Remember a few weeks back when I said you'd never see such a game of two halves? Chalk that off already, because this was as two-faced as Trump sending Hilary Clinton a Christmas Card.

The team was the same for the sixth consecutive match. I had my own personal hot water bottle, Boycie, (muppet or sitcom aliases, remember) we had a bonkers light show, Gonzo was so excited he could barely contain himself, there was a cautious air of optimism, as well as mad contingent hoping to fulfill their 6-0 prophecy. And what happened? The f*ckers outplayed us for 45 minutes, that is what happened. They shot out of the blocks, while we sort of ambled forth. We found it difficult to get enough time on the ball to settle and do anything with it. We had a good laugh at their muppet fans when they had a goal chalked off, and we looked as if we were starting to motor a bit. But after just eleven minutes we were behind. There was the odd flash, such as when Hazard broke but played the ball in just the wrong side of Costa, (still not been booked, funny how the Press Plebs haven't noticed) but after fifteen minutes we were pleading with the players to kick on.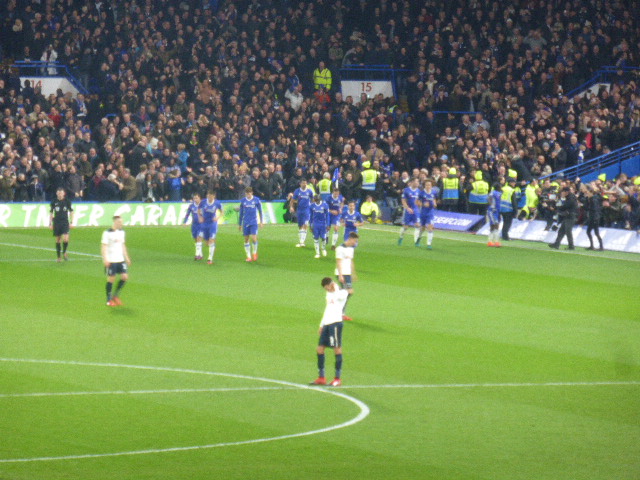 But it didn't get much better. When we did get anywhere near the ball we were sloppy, mainly because we were rushed into making stupid decisions. My Arsenal mate (I have one – I'm selective, we'll call him Knobhead) sent me a text that said "For the love of God please beat them." Quite. I'm pretty sure that David Luiz's free kick on the half hour, one that was picked up easily by Lloris, was our first shot on target. Likewise I don't remember a corner until the 35th minute. As the half ticked down most people went in search of beer. We hadn't been good, but it was because they hadn't allowed us to be. (I can say this like I'm the bigger person because I know we shafted them later on) They had basically packed the midfield out and significantly, Kante couldn't do anything that he normally does to get us going forward, resulting in his worst 45 minutes so far in a Chelsea shirt.

But luckily sometimes these things don't matter. Most used phrase at Stamford Bridge at about 18:15? "I take back everything I've said about Pesto in the last forty minutes." (autospell is that determined to rename him, I have given up) He came, he saw, he left Lloris on his arse. It was one of those goals where you know it's going in as soon as they hit it. He couldn't have had more empty space to wander about in if he had turned up at a meeting of the Robbie Savage fan club. And he used it to do a flashy turn and strike a perfect long range effort.

Knobhead was feeling significantly better at half time, even if he had upset his son by celebrating a Chelsea goal like he'd won the lottery. While he most likely spent the break grovelling, I spent half time eating chocolate with Boycie and contemplating in my head how filthy Tottenham are. Although, obviously, we all hate Sp*rs on principle, I don't think I have ever disliked so many individual Spuds as I do currently. Dembele is a thug, who like Fellaini gets away with it because everyone assumes it is out of stupidity as opposed to malice, I'm firmly convinced that Harry F*cking Kane is medically incapable of closing his mouth. (or counting to ten) If they weren't footballers, Lloris would be a smackhead sitting in a Wetherspoons in a tracksuit, while Kyle Walker and Alli would be trying to pick the pound coins out of shopping trolleys in Asda. We were at least spared Danny Rose, who God blessed with fastlegs to make up for the fact that he is destined to go through life running away from people who want to punch his face. Which brings me to my uncontrollable hatred for Jan Vertonghen above almost anyone else in football. I've seen nothing today to convince me that I'm wrong about him having started life as a botched science experiment that later got consumed by some toxic/chemical spill that turned him into a bastardised misprint on humanity up there with the elephant man, but minus his charm. Vile cheating c*nt.

We came out for the second half and did what everyone knows we are capable of. Thankfully. I don't know what they got up to in their dressing room at half time, but it appears that F*cking Harry Kane's IQ is catching, because they were no longer at it. Kante was reborn, and fired a shot off within two minutes, Hazard was key as always. On 51 minutes, Sp*rs gave it away in midfield, Diego ran it all the way in, taking four defenders out of the game to cross to a thus unmarked Moses. It was even inches away from smashing Vertonghen in the nuts on the way in. Lovely. Then we were all over them, and we could have really driven the knife in when the ball shot into the box courtesy of Diego shortly after the second goal. But it fell to Alonso on his weaker side. I love him, he's pretty, but not only does he not have a right foot, he doesn't even have a ragged stump where a right foot should be. But did I mention he's pretty?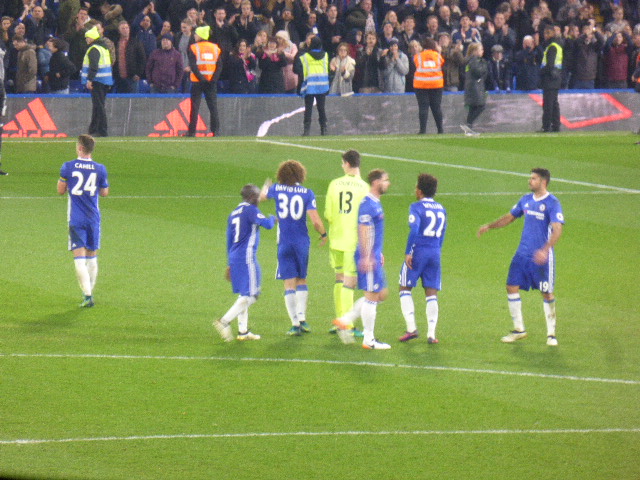 They started to play their way back into the game, but I think I believed that if they were going to equalise, it would have to be with their starting eleven. I wasn't convinced that once they were forced to start changing up the personnel for their well drilled game plan, that they would come through unless there was Chelsea f*ckmuppetry involved. And it wasn't quite f*ckmuppetry, but we encouraged them to pour everything forward by going defensive for a lengthy stretch at the end of the game. Willian, came on for Hazard, who was understandably spent, but then Ivanovic arrived (this season's Mikel, it seems, when you want to bank a result) and Pesto went off too. Which equalled a quarter of an hour chewing my nails and praying we could hold out while they threw the kitchen sink at us.

It makes me sound like a sadist, but I enjoyed the fact that the likes of Cahill and Matic collapsed on the pitch at the whistle. Bugger the first half, the second was the team we have all been enjoying watching of late and they ran themselves ragged to get the result. I'm glad they were as physically and emotionally wasted as I was by the time it was over. We finally beat another team in the top five. And not only that, we did it by coming from behind – a scenario everyone has been curious about seeing since we changed systems. The fact that it was Sp*rs getting a rodgering has made my weekend. I dare to dream that we can nail a place in the top four if we can keep this up. Dier gave it large afterwards about all the games left to go and everyone having slip ups (ha, Gerrard) but I'm not scared. I don't feel like we've poked a bear here, just kicked a sad little puppy. And now I'm off to drunkenly pick some photos for an article on WW1 in Mesopotamia. Right now I can't even say Mespot… Mesapot… ah f*ck it. Have a look at Thibaut's hair, it looks like he gels it with his gloves on.

Top of the league.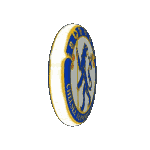 Posted by AC
You can see all ACs Blogs here
DISCLAIMER: All articles written for the Chelsea Supporters Group 2005 (CSG) are those of the author and do not represent the views of the CSG. The views and opinions expressed are solely that of the author credited in the article. The CSG do not take any responsibility for the content of its contributors.