Stoke City 1 Chelsea 2 – Saturday 18th March 2017 15:00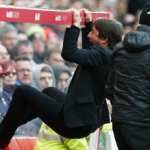 Be warned. This is going to run long. Because I have ranting to do.
In The News: It may not be justifiable to call HWWNBN a loser. Or a Judas. (He really isn't) But if he honestly thinks that Pogba was the best player on the pitch against us on Monday night then he is a monumental bellend. And he needs glasses. But still, we'd all be suspicious if suddenly we didn't get to play Post Match Excuse F*ckwit Bingo with his interviews week in, week out. For the record, Pogba completed twenty passes in the whole game. Less than Thibaut. Fabregas completed 20 passes in nine minutes. The most? Dave with 79. Silence, grumbly little Portuguese man. Get back in your laundry basket. In that hotel where you've entirely outstayed your welcome.
Possibly the only thing Wes Morgan could have done to atone for how shocking he has been this season is score in the Champions League to help the sly (backstabbing) Foxes through to get a pasting in the last eight. I can't feel remotely warm and fuzzy about anything Leicester do in Europe. End them Fernando. I'm just disinterested after what the club did to Ranieri and the players instant winning reaction when he was shown the door. F*ck 'em. Those are Judases.
Speaking of managers lacking a clue, of all of his players, Wenger reckons Coquelin bears the most similarities to Kante. I'll give him three. They are both French. They both have a penis. And two legs. It ends there.
The Others: I wonder what the ratio of viewers is in terms of Arsenal Fans vs. Those Who Want to Laugh at Arsenal Fans on their sad little tv channel. You could hear a stampede of fingertips on smartphones in Stoke after their demise was sealed, rushing to watch the #Wrexit meltdown. My favourite hysterical tweet came from @cjohul
"In Africa we have Mugabe in Europe we have Wenger"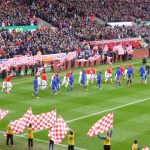 Moron. Anyway. West Brom beat the limp Goons, which lined my betting account and made me laugh. A lot. I watched a fair bit of this in the pub and I now know what all of those stats re how much distance Sanchez covers are about. They quite clearly include all the miles he flounders after the referee bitching and whining. They could be 6th by tomorrow evening. Let's paint their humiliation by numbers. In the middle of the second half they were losing. They had completed, at this stage, 512 passes. West Brom had completed just 93. The home side had had two shots on target. Wenger's muppets? More than double that. And yet somehow they got spanked. Is he to blame, or are his players for being woefully inadequate and listless? Who cares. This probably all equals one manager who shouldn't be in a job come August, but obviously, long may he reign. I reckon he's a Gooner goner though.
Our Game: Oh goodie. Time for our annual bout of "who can get kicked the most by the red and white donkeys" somewhere in the frozen wastes of the north. Stoke is never a pleasant place to go, but for some reason the whole place smelt like the ar*e end of a cow today. Hazard stayed at home with a muscle strain. I envied him. Probably not a bad thing either as I have it on good authority that Stoke spent the whole week kicking a papier-mâché model of him to pieces in preparation for this afternoon. Willian, whose afro had returned, started along with Pesto. (Look at you auto-spell, isn't it clever) Matic was preferred to Fabregas in the starting lineup, no doubt because the more big buggers we could field against their bumbling carthorses the less likely they'd be able to flail their way through us.
It was a pretty even start. Notable for me was the fact that Luiz looked sharper than I've seen him in a number of weeks. There were no attempts on goal. Already though, the thuggery had begun, and the referee didn't seem to want to lay down a marker against it. He finally found his whistle in the twelfth minute and penalised Arnautovic for a foul outside the box on Alonso. The resulting Willian free kick made Lee Grant look like a complete f*cktard when our Sp*rs hating favourite slid the ball in through his hands on the near post. It was pretty much downhill from that point on as far as the lead official was concerned. Costa was booked for having the audacity to protest at being fouled numerous times in the opening minutes. It was quite clearly part of the Stoke game plan to send him off the deep end and to some extent it worked. In all, I was actually mighty proud that Diego did not completely lose it today in the face of such cynicism.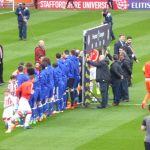 The fact that his yellow was for dissent and not for anything retaliatory to the constant fouls he was subjected all afternoon proves to me that we were not mistaken in thinking that he has grown as a player. A bit of a lapse, but understandable under the circumstances. I'm just going to get Refwatchout of the way. At the beginning of the afternoon Stoke City provided a mobile number and asked us to text in details if we saw anything indecent or offensive at the match today. At halftime I sent in two words. Anthony and Taylor. I quote myself from two other bog entries earlier in the season:
"The usual Anthony Taylor clusterf*ck of inconsistency and just grateful we came out on the right side of it for once"
and
"True to form, his grip on the game today was about as vice-like and convincing as an old woman trying to arm wrestle The Rock… The minutiae that he chooses to get involved in has no logical correlation at all with all the important stuff that he pretends not to notice. Hence a punch up at the end, and players kicking the sh*t out of each other. And players booked for pretty much nothing, whilst Aguero knocks out a more stringent diving programme than Tom Daley and Fernandinho is swaggering around having kicked every in Chelsea blue for 90+ minutes as opposed to the ball."
Nothing has changed. Both Taylor and Kevin Friend are said to be under scrutiny following shockers last week after the former's stag do. Friend hasn't been given a game this weekend. Instead he'll be fourth official twice, at the Hawthorns for that delightful result today and at Sh*te Hart Lane tomorrow. So what do they do with Taylor? They send him to a match that will undoubtedly be fiery, physical and require a referee with substantial balls to maintain order. I was not surprised that he was Wenger-like in his observational capacity. I expect it. Neither does it shock me that he failed to remain consistent across a ninety minute football match. Because when does he ever? But added to this he got in the way of the game on more than one occasion, he needed his Lino to make big calls because he lacked the guts, but more galling than any of that was the fact that at numerous points he threatened to completely lose control of this football match. Within half an hour he had let so much pushing, pulling and kicking go that you genuinely believed someone could get hurt. Conversely, Stoke were being given free kicks for falling over the ball. Absolutely woeful from start to finish. Pesto, Dave, Luiz, to name a few, were all doing their nut because time and time again, and a fair bit of it was off the ball, they ended up face-planting the pitch at the hands, elbows or the feet of a Stoke player in front of the referee and he wasn't interested. When players like Alonso are getting involved in scraps you need to reflect on how the game got to this point. I guess what I am saying is that when they get paid something like £100k a year all in, is it so unreasonable to expect to have referees who aren't consistently moronic officiating premier league matches when the result could quite easily be injuries to players? High stakes requires high performances.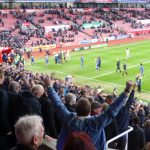 As you can imagine it was difficult to try and beat a path through this f*ckwittery. There were a couple of instances of some great play that rounded out the first half hour. The home side's disallowed goal was no more than their thuggery deserved. I was only amazed that Taylor actually chalked it off. Oh no wait. His Lino put him in a position where he had no choice but to. A few minutes later the referee seized on the first mediore opportunity to level it up by awarding a penalty. For me, the supposed push by Cahill was softer than a nonagenarian's knob. So 1-1. Annoying. But not insurmountable as Stoke had not really created much in open play. But nothing doing our way either for the rest of the half.
I pause here to salute the semi-naked and rotund Blue who spent the whole of halftime singing "Charlie Adam he weighs more than me" at the Stoke fans. It was so funny because it was true.
All we needed to do against these lumps in the second half was play football. Because they are basically an out of condition pub (darts) team on ketamine. "We've got the best team in the world" sang the home fans.
… Tumbleweed…
Far from being a Welsh Messi, Joe Allen looks like a wino hobbit who should be begging for change in the doorway of The Prancing Pony. Shawcross's Pieters's (insert half a dozen other names here) sole accomplishment in life is to give every dumpy, slightly unfit bloke in the crowd who never so much as made their school team a lingering hope that they could still be a professional footballer. My spell check turns Bardsley into Beardsley. It doesn't even know he exists. Spell check regards Phil Bardsley as a typo. Which is in slightly higher regard than he gets from Victor Meldrew (sitcom alias) next to me, who made my swearing sound amateur every time the great oaf touched the ball. Silver lining? We were spared Charlie Adam, who was presumably sleeping off a hangover on the bench.
We did start the second half better. I wouldn't say we took it by the scruff of the neck, but we actually managed to get some football going. Maybe this half Taylor will get his sh*t together, we said. Nope. Alonso got punched in the face. Nothing. Taylor floundered about making irrational use of playing advantage when there was none and pulling the ball back when there was. Alonso cracked a free kick off the cross bar but no cigar. Matic struck one on target but it went straight at the keeper and there was not enough on it. It felt like we might finally be gaining momentum with the introduction of Fabregas, but for the love of God, said Marlene on the other side of me, just don't slip up at the back. Then the f*ckwittery cranked up a notch. Grant spilled a corner and acted like Costa had headbutted him. Bardsley went down like he'd been run over by a Sherman tank when Pesto (half his size) didn't even touch him. Conte switched to four at the back to try and snatch the game, but then the time wasting began, and the frustration mounted in the away end. Pieters was hunched over acting like he was in cardiac arrest. Next time suggest forgoing chips with the Friday night kebab.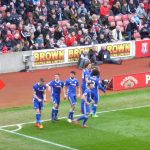 I thought it was interesting that Ruben came on for Matic. A lot of responsibility for the youngster to enter the fray in a shaky position and help to try and turn the tide. I think it showed trust from the manager. Many will have you believe that this left Batshuayi listening to sad Celine Dion songs and crying at the back of the team coach on his way home. I honestly think it was more about Loftus Cheek's bulk. Did he hold up against their bully-boy tactics? Yes. Did we look better after he came on? Yes. He could have had a goal too in injury time. Well done kid. Now if he'd just shave off what looks suspiciously like a mini-topknot…
Finally the job was done as the whistle approached. Luiz headed it in, Pieters knocked it out and Cahill scored a captain's goal by slamming it into the back of the net after it fortuitously dropped to his feet. The away end went literally mad. Utter, utter relief after sitting through that dross to have come out on top in the end in the face of 90 minutes of negative, turgid, stop-start sh*t. Spaguin's (special alias) lucky hat did the job. Taylor did have the last word. Just for supreme, ridiculous irony before the final whistle, Cesc got booked in the corner for time wasting when waiting for the Stoke players three yards away to get back to the appropriate distance.
I give you a pithy ditty for Kante from the pub. (Fellaini has a f*cking song and United fans hate him, lets sort this out)
"He's here, he's there
He's every f*cking where N'Golo, N'Golo"
So: Of course none of this was conveyed in the 2% of the game shown on MOTD. It was borderline insulting listening to some know-nothing pundit on the radio talk about work rate and effort and Stoke in the same badly formed sentences as if they actually played a game of football as opposed to utilising their energy to try and kill our players. I'm glad that's over. A triumph over much-anticipated adversity. No banana skin, lead maintained at the top of the table. The press plebs think they have cause to slag us off again, which will make their day. You can see them sitting at their laptops with looks of maniacal glee as they seek out the most "offensive" pictures they can find of spittle flying out of Diego's mouth or of him with an angry look on his face. Led by the Daily Fail, who it seems learned the concept of a football match from the Wenger Academy for Nonsensical C*nts (WANC) we have every plausible adjective one can imagine used for a wild animal being flung Diego's way, whilst apparently, Shawcross and Martins Indi were just grafting and doing their jobs. Honest guv. Utter b*llocks. At least one of them escaped a red card of his own by the skin of his teeth. Their article does not mention Bardsley's red card. Or Stoke attempts to kick people off the ball for 90 minutes. Or the slew of bookings shown to half their team for dissent and thuggish behaviour. These are the same press plebs who gave literally no coverage to yet another display of nasty b*stardness by Rojo on Monday night, instead they buried another stamp under photos of him eating a banana on a Thursday. "Hard to tell a player's intent in those situations" said the BBC. Unless your name is Tyrone Mings, (which in itself warrants sympathy) in which case you are tried, convicted and banned for five games in 24 hours. Media coverage of Xhaka and his red cards is strangely absent by comparison too. He accumulates them like Katie Price does husbands and yet he is not referred to as a snarling monster. Diego has been sent off once since he arrived in London and the media's Costa agenda is just boring now. And quite sad considering that he's been about as "snarling" as my ten-week-old kitten in the course of the last six months.
Anyway, Rant over. Three more points. Top of the league. Pass the gin. And up the Chels.
AC
*Hilarious picture of Conte swinging on the dugout comes from somewhere on the internet. I know not where it originated, but whoever took it, I salute you.
Posted by AC
You can see all ACs Blogs here
DISCLAIMER: All articles written for the Chelsea Supporters Group 2005 (CSG) are those of the author and do not represent the views of the CSG. The views and opinions expressed are solely that of the author credited in the article. The CSG do not take any responsibility for the content of its contributors.
'Chelsea Supporters Group' can be found on Twitter and Facebook