We Won AND Chelsea Gave Me Cake!
Chelsea 4 Southampton 2 – Tuesday 25th April 2017 19:45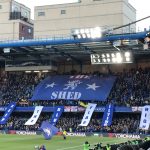 After Saturday's match report, when people moaned, I've been ordered to go on an equal opportunities course entitled "Living With Gingerism: They Have Feelings Too." I'm only going for the free tea and biscuits and because it's a day off proper work.
In the News: In the most unsurprising news in football, our very own Kante twins have been named PFA Player(s) of the Year, and one of the humble, tireless little chaps was given a trophy bigger than he is to dead lift on Sunday. Guardiola says that Sanchez is just one step below Messi. This is clearly the judgement that has led to him having no real defenders. And Bravo in goal. And dropping Aguero for a length of time. And winning no trophies in a season where he was supposed to blow the Premiership away. As you were, my shiny headed friend – you rock on with your nonsense. I love the Drog. He's put in for a two day loan for May via Twitter so he can come home and do some more damage to Arsenal. And to think Wenger could apparently have had him for 250k. He's probably spent that on therapy over the years to erase the memory of all the times Didier has bent him over and shafted him.
The Others: We are first out of the traps in this round of midweek catch up fixtures. Let's be honest, there is only one "other" at the moment and when they've finished crying like little b*tch babies over Saturday they've got to go to Palace tomorrow. Don't put it past Fat (Crooked) Sam to throw this one now they've got to 38 points and worry about picking up a couple more that will definitely take them over the line in the fixtures against the likes of Hull or Burnley to follow. Minimum of eight changes, I reckon. Git.
Our Game: I said to Mini-Mowgli (special alias) before kick off. "If we lose this today, I will sh*t my pants. Right there in Corporate. For I had a very kind invitation from the Fancast/Voice artist legend that is Mr Kydd to join him in the East Middle at Ossie's. (Hence the photo of the most unviolated bit of celery you will ever see within reach of Chelsea fans. The people there actually eat it. Yes, eat it. There's not one bit trod into the carpet or flying across the room. It will never catch on)
It was a more recognisable lineup today than Saturday, with Hazard and Costa coming back into the starting eleven. Pesto (I yield auto-spell, I yield) dropped to the bench in favour of Fabregas who pretty much dragged us over the line after his introduction at Wembley. Captain Cahill returned to the side after illness. This was not going to be a walkover, Southampton are an able side with some great players, and praise baby Jesus, and Mary, and Joseph, and even the f*cking donkey, they are a side that will actually want to play football instead of time-wasting the living crap out of a ninety minute slugfest like Stoke. Nevertheless I was determined to be less of a pessimistic nappy sh*tter than before kick off on Saturday. A win to send us seven points clear again, please, for we all know how Sp*rs like to fold like a house of cards made out of wet toilet paper at the first sign of pressure.
It was a bright, determined start from our FA Cup finalists (who beat Sp*rs, just to say it again) and we could have broken through in the first two minutes. As it was, it only took Eden five to fire us ahead. Costa laid the ball off to him in the box and he made slotting the ball in right at the far corner look stupidly easy. After that we went a bit wayward, resulting in nobody marking Southampton's striker properly in the box. He brought the ball down and played it to a melee of legs. It was luck more than anything that saw the ball rebound off Romeu's legs rather than the opposite way off a defender, but still, rage. We sort of attacked, but not really, and in the meantime, as our tempo died off, Southampton felt their way into the game and ended up dominating it. Their passing was quick, fluid, and very precise, whereas ours lacked on all three points. We despaired. But then trust Dave to kick everyone up the a*se with a mammoth run at the most distant of chances to set the example. From our perspective the game was sparked back into life. Some outstanding play by Kante that saw him weaving past half the Southampton team was worth a goal, a furious penalty shout by my Shed Upper brethren came to nothing. After a full minute more of madness, finally Matic got a shot off but it was sadly not quite as spectacular as his effort on Saturday. Hazard could have had another, but he passed when he could have shot and the attack fell apart. Finally, after the world's worst bicycle kick, Alonso atoned by putting the ball into the box properly second time round. Cahill was that determined to get on the end of that ball that he would have headed it whether he was decapitated in the process. He even wiped Costa out on the way to it. Leave it to the Captain to grab us the lead right on the stroke of half time. Don't watch his celebration though, watch Luiz swinging off the crossbar a la Munich. Priceless.
At some point during the break somebody clearly connected up the dots and realised that every time we maintained pressure on Southampton and kept the pace of the game high, we scored, because we came out with real intent in the second half. Having set up our first, and been bulldozed out of the way by a giant, rampant Yorkshireman for the second, Diego stood his ground against Bertrand to head the ball to the side of Forster. He scored. Yes, he scored. Afterwards, as Southampton continued to look for a way back into the game, they left themselves open at the back. Alonso struck straight into Forster's arms, Diego was blocked off in the box but I don't think even he was convinced that he was actually going to get a penalty. I just wanted another one before the inevitable happened – that is Shane Long coming on and the little sh*t inevitably swanning into our box to score against us. Costa had a great chance to make the result certain but outfoxed himself with fifteen extra touches. Finally, a minute from time he made an absolute mockery of the Saints' defence and danced into the box like a very scary looking prima ballerina to thump it home. That's what I'm f*cking talking about. Just as even my patience with him was running out, after he seemed to be a yard off giving a sh*t for most of the first half, he's back. For a few more weeks at least until he moves to China. We were in such a good mood by injury time that even a Bertrand consolation goal couldn't dampen our spirits. We even sang for him. Fair play to Southampton, they never gave up and they contributed to an entertaining game, but their quality off the ball nowhere near matches when they are on it.
Refwatch: Lee Mason. There were times I wanted to fling my complimentary programme at his big bald dome-head, but ultimately he was pretty anonymous, which we all know by now in my world equals a decent performance by an official. I shouldn't even notice you're there. I can't argue with the cards he gave our players, they deserved them, and he wasn't faffy and didn't interrupt the flow of play too much. My main criticism? His limp wristed hand action with his special spray. He looks like Phil Mitchell, and sprays like Peggy.
So: Over to you lot. I await many choruses of "Chelsea rent boys we're coming for you."

Not unless you drive for Uber. Because I've never seen you back this up yet.
Things I learned tonight:
Despite the hairy last couple of weeks we have not gone "Sp*rsy"
Celery is actually edible
The East Middle is full of rather spiffing Chelsea fans who know their stuff and get fed cake at games. This has produced much envy on my part.
Conte shouts really, really loud and in a confined space like a dressing room I would take refuge in my locker.
At each game Chelsea produce this nifty little booklet called a "programme" with pertinent information and the opposition players listed on the back so you can better direct abuse at them. It costs the same as a gin though so it isn't likely to catch on as far as I am concerned.
Diego Costa has not, in fact, been abducted by aliens to front a mercenary army of little green psychopaths in a galaxy far far away, and been replaced by a sh*t robot clone.
Our last few weeks of JT are going to be ridiculously emotional
Don't forget you can also follow the blog on Twitter:
Posted by AC
You can see all ACs Blogs here
DISCLAIMER: All articles written for the Chelsea Supporters Group 2005 (CSG) are those of the author and do not represent the views of the CSG. The views and opinions expressed are solely that of the author credited in the article. The CSG do not take any responsibility for the content of its contributors.
'Chelsea Supporters Group' can be found on Twitter and Facebook