AFC Bournemouth 1 Chelsea 3 – Saturday 8th April 2017 17:30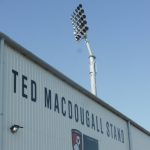 In the News: Harry F*cking Kane is the Sp*rs equivalent of Messi, according to their manager. There are so many things wrong with this ridiculous statement that it could be a blog in itself. So I'll just settle for this response: Shut up. You fool. Speaking of managerial verbal diarrhoea: "Ten draws is better than five wins and five losses in the long run" says HWWNBN. He's obviously been sniffing whatever Pochettino has, because I failed GCSE maths three times and even I know that 5×3=15. Which is more than ten. What running has to do with it, God only knows. I'm putting him at Defcon 4 on the eponymous scale used to calculate a manager's wellbeing. In blogland, Defcon 1 is fine and dandy. 5 means the Russians are coming. I cannot wait to see how he reacts to another season of Ropey League (thanks Janice!) Thursday night action.
Which brings me to the supposed ruck in the tunnel after Wednesday's game. City's staff were apparently crowded outside the Chelsea dressing room looking like something rather camp from West Side Story and waiting for a punch up. (Or a dance off) I have it on very good authority that Pep kitted himself out in full matador regalia complete with mini-cape and a moustache drawn on in guy-liner. He says "City are so polite in defeat." Well they've had a lot of practice this season. But polite isn't the way I'd describe the shenanigans that lead to an all out brawl when we beat them at theirs and David Luiz ended up having his leg strapped for several months. Chelsea are the only side ever to do a double over El Sobrevalorado in a season (This is Spanish for "the overrated" according to infallible word of Google translate. This is my new name for him, because in my head, Pep is a name for a spaniel, not a man old enough to have lost all of his hair who wants to be taken seriously in life. At least in blogland he now sounds like a pantomime villain in said matador costume. Which is far more amusing.) Having mugged him off at every opportunity for the last eight months, I did have to have a chuckle on HWWNBN's behalf over some whiny press pleb saying that journalists deserved courtesy/respect from him because "they are just trying to do their jobs." That may be so, but when members of your profession earn a living out of harassing, stalking, and writing derogatory stories about HWWNBN and his peers, surely you don't expect a f*cking cuddle off them. Bellends.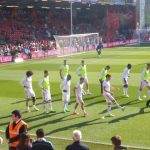 The Others: The R*ttenham w*nkfest on the radio as we made for Bournemouth was more nauseating than the notion of Harry F*cking Kane embarking on a dribble porn career (I'm sure such a thing must exist somewhere dodgy in Scandinavia) You'd have thought that they were seven points clear, not us, the way they lauded over Sp*rs's demolition (at home) of Watford (who were missing twelve players) This was hardly the Alamo. The gap was down to four points, but still, do our job and who gives a cr*p what they get up to at what's left of their ground.
Our Game: Bournemouth were going for a third home win in a row, but the last time they beat us on their own ground was in 1988, at a time when Jack Wilshere's hopes and dreams had yet to die. Having been sick in my mouth listening to the Sp*rs game on route, and knowing they were singing such nonsense as "Chelsea rent boys we're coming for you" the BBC did not diffuse the angst among the blue contingent at Dean Court by pointing out that only once has a team with as many points as we have at this stage failed to go on and win the league. So no pressure then. Fabregas was out for Matic – and Victor Meldrew and I wondered if Conte would have done the same if the timing of the fixtures had been different and Sp*rs hadn't won at lunchtime. More importantly, Moses had recovered from his international toe injury (it makes it sound less wimpy) and returned to the starting lineup. Whoop whoop.
Like most of the crowd I was more interested in the Grand National as the game kicked off in front of a slightly depleted crowd, but the seats soon filled up as and when people's horses fell over or turned out to be the equivalent of Charlie Adam on four legs. Two minutes in and Thibaut (so many potential jokes about the nose and horses but I can't bring myself to do it) made his first save from Luiz, resplendent with his luxurious mane tied back in a ponytail, who managed to turn a clearance into a shot on target. The excitement of my having picked the winner in the National subsided and in its wake was bonafide fear. Because fail to win and the press will be unbearable, not to mention Sp*rs, and more importantly the Blues Beachy Head Cliff Dive 2017 might start to become a realistic possibility. Either that or there will be an exodus from West London this summer the likes of which the world hasn't seen since all those b*stard Nazis tried to make for South America.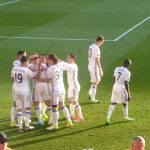 I like and respect Bournemouth because you know that Eddie Howe will not put out a team that doesn't intend to play football. They had had a fair amount of possession, including a promising run on goal before we went ahead. Complete mis-kick by Diego (Faltering Finisher would be his Grand National/ racehorse name – or Fighty McFightface) that deflected in off the opposition. Soon we were two ahead. The Kante Twins (a little horse, but a hardworking favourite) put the ball sublimely through to Hazard who galloped through, past the Keeper and slotted the ball in.
From now until we hopefully sew up the title I will not be content with anything less than a three goal cushion. I have forsaken my own advice (stop being a dick) thrown at the pessimists such as Grocer Jack and have become a full on, glass half empty, the end is nigh (albeit temporary) "nappy sh*tter". Until we lift a trophy, I will be fearing the worst. A slip by Cahill almost let them back in it, and Pesto scooped it clear (f*ck off auto spell, besides, today he shall be known by his racehorse name of Tenacious P)
But Bournemouth were growing in confidence. Another effort was cleared off the line by Thibaut (Though someone needs to explain to Pugh what goal-line technology means as braying at the referee won't get you anywhere) We had our chances too. Pesto hit one on the outside of the box, but the contact was wrong and it was always on the rise. Another ball was brilliantly won by the Kante twins in midfield and ended up with Costa but a defender just got in the way. Victor Moses (Racehorse name – Wandering Prophet) headed wide just after the half hour, showing no signs of his injury.
Unfortunately we were then guilty of exactly what cost us a goal against Palace. In the words of Victor (Meldrew, not Moses) "w*nking about with the ball." 1-2 thanks to a pretty special strike from King just before half time. But there may have been a foul in the build up, and this brings me to Refwatch: Marriner – Could it really be our turn again for this punishment? This game did nothing to change my opinion that he is the most rampant f*cktard of an official in the Premier League. Which horse would he be riding today I wondered? Sir Nag the Incompetent? Stevie Wonder's Sidekick? Negligent Nobby? A combination of all three, apparently. Meldrew was so angry with him in the second half that he was just making up words. Pricknob was Father Ted's favourite. I always feel we have won in spite of him.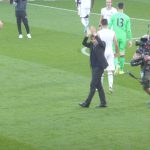 The beginning of the second half ebbed and flowed. First the ball was doggedly held up Alonso, but the cross just found the keeper instead of an incoming Costa. A minute later they shot just wide at the other end and so began a spell of Bournemouth passing the ball around neatly. Then it was our turn. The ball was dug out in the corner by Pesto and deftly crossed in by Hazard, but Diego's head was inches away from making contact. His luck was not in. On 55 minutes another cross flew at him, but was at a slightly awkward height and his instinct was a sort of jump, back heel that didn't come off. The Press Plebs want a contest, I understand. They want the league to be as entertaining as possible, I get it, but I don't give a rats arse how pretty the sp*ds' goals were today. Frankly, I'd be jumping up and down just the same if Costa pulled his pants down and tea-bagged it over the line, but as it turned out, anything that bolshy little diving sh*tbag Dele Alli can do, Marcus Alonso (Rocket Man, if he was on four legs today) can sh*t all over. I think I remember him taking four free kicks like that now. One was saved, one hit the bar and two have been goals. Not bad for someone that we all doubted was of the calibre we were looking for when we signed him.
"Don't forget they were 1-3 down against the Scouse," said Meldrew.
"Yes," says I, "but they had Ake. And we took him back."
In fact Moses almost made it four but for a fantastic save by the goalkeeper. Diego hit one straight at the keeper on 84 minutes, as Conte took the time to freshen up the personnel and run the clock down with his substitutions. It seemed like, valiant as they were today, Bournemouth had run out of ideas. Though it almost dropped for them in the box on 90 minutes, the ball was booted clear by Cahill and the result was done and dusted.
So: The stats about Victor Moses – how our win ratio plummets when he is not in the side, continue. He's been sensational this season, a better player than we ever thought possible. But it's not that he is the most incredible player on the pitch – it's that we have nobody else who can play that position right now. If he isn't there, there is no right wingback. And then there is the Costa Conundrum. Don't get me wrong, there were times today when he infuriated me. There seemed to be a lack of intent on running down the ball, and no, he is not on the scoresheet and some people view his role as a striker in black and white. He's not scoring. But you cannot dispute but that he was inches away on two attempts today, or that he won the free kick that Alonso smashed home. Also, but for an awkward ball that didn't quite fall to him, he could have had another. The fact remains though that it doesn't look like he puts in 50% of the effort that we see from the tireless likes of Pesto, Dave, Alonso or the Kante twins.
Five fences left to jump, I'm reliably informed. (For reasons why I can't be trusted with anything numerical please see above) We go again at Old Trafford next week, where of course the most likely result is a draw. It's what they do best. Adequate, but terrifying all the same if Sp*rs gain on us. Shout out to Sybil (Fawlty) for saving the day with her multitude of phone chargers. You rock. And lastly, I feel the need to clarify something. It may have been the beer, the sun, or the sheer excitement of being at the seaside. But we are waiting for R*ottenham. We're not coming for them, because we don't need to move. We're top of the league.
Don't forget you can pre order the e-version of the blog book for £1.99 via the link here (a paperback will be available too)
Posted by AC
You can see all ACs Blogs here
DISCLAIMER: All articles written for the Chelsea Supporters Group 2005 (CSG) are those of the author and do not represent the views of the CSG. The views and opinions expressed are solely that of the author credited in the article. The CSG do not take any responsibility for the content of its contributors.
'Chelsea Supporters Group' can be found on Twitter and Facebook