Where's Your Ginger Gone?
Chelsea 4 Sp*rs 2 – FA Cup Semi Final, Saturday 22nd April 2017 17:30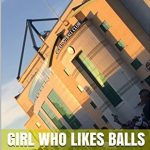 Actual quote from me today at The Green Man: "I'm really sorry I threw that celery in your face, but I got extra points because you are a ginger."

In the News/The Others: F*ck 'em. Nothing this week, apart from maybe the humbling of UEFAlona and the cheek of Pique complaining about Realgetting help from the officials, is worthy of taking any of my word count away from what happened at Wembley today.

Our Game: Despite the fact that Sp*rs have not beaten us twice in a season since beehives were fashionable, despite the fact that we have played in EIGHT FA Cup finals since Sp*rs last made it to one, it was with marked trepidation that I set off to the dark side of London with Mowgli (special alias) and Mini-Mowgli today. In the words of my Smutbuddy on the Fancast, I had gone full nappy sh*tter. In my defence, so had everyone else, apart from Mini-Mowgli who was drunk, suffering from concussion and hungover all at the same time. Good fun was had by all at The Green Man. Beaker (Muppet alias) and I cracked open a bag of celery and played hit the ginger whilst a chunky lad with bitch-tits danced topless on a table. Jumbo (sitcom alias) was disgusted by him purely for the fact that having had about twenty plastic pints thrown at him, he didn't lick himself clean. (This is seemingly what years of living in Australia does to a man 😉

If any of our players had anything resembling the plague I dragged round Northern France and Belgium last week I truly pity them, but thankfully Moses and Alonso appeared to be fine. (I'm pretty sure I'd let the latter vomit on me anyway) There was a perfectly legitimate reason for the exclusion of Hazard from the starting line up. I firmly believed that Conte had done the right thing in bringing Ake into the side in place of Cahill. We were clearly prioritising Tuesday, but there is no room for sentimentality and JT in a back three against their forwards would not have worked. As for the last change, inclusion has to be based on effort and on commitment, because otherwise all is anarchy. I've defended Costa strongly, but in the last couple of weeks my patience has evaporated faster than Dele Alli going to ground looking for a penalty and could giving Michy a shot be any worse? I didn't think so.

I need to start with a "Depth Perception Disclaimer" for the first half. We could basically see f*ck all of who was where. That said, obviously, if you disagree with me, I am right. Because I am a girl. And we are never wrong. Nathan Ake put his first crunching tackle in on Harry F*cking Kane ​(say it without swearing, it isn't right) after two minutes, and it set the tone for his performance. The fact that Alderweireld even had the gall to protest his tackle on Pesto (f*uck off autospell) was hilarious. (Have you seen the Belgian's hair? He's got that much wax in his hair his fringe looks like Cameron Diaz in There's Something About Mary. So it possibly isn't wax) Anyway, Willian proved how much he actually hates T*ttenham by curling his free kick round the whole wall and making a prat out of Lloris by slotting the ball in the bottom right hand corner of the Sp*rsgoal. Bring on Mikel! Quick, before it all goes wrong!

"For the first fifteen minutes it felt like although they passed the ball around in midfield, Sp*rs were either void of a coherent plan or baffled by the shuffling of our personnel." Obviously as soon as I typed that the f*ckers went and scored with the only attempt I remember them having thus far. Harry F*cking Kane had already fallen over his own snail trail of drool twice when he managed to get the better side of the defence to head it in. Another 200 brain cells dead that he can ill afford to lose. Cue a massive amount of galling celebrations coming from the Sp*rs corporate w*nkers above, especially a ginger with a big mouth who was then a marked man in terms of potential future mockery. We'll come back to him.

As the half hour approached, it had all got a bit scrappy. There was a sad little half a*sed attempt for a penalty by Harry F*cking Kane, who presumably just tripped over his own chin, and an even worse dive by Alli who gave it the full dying swan air flick to no avail. They were on top and on 35 minutes Courtois was left standing when Dier headed on out goal but thankfully the ball skimmed past the far post. Then the lily-livered Lilywhites gifted us another lead before halftime when Son (who the f*ck put him defence and expected any better?!) went flying in like a massive bellend on Victor Moses. After what from our rubbish vantage point appeared to be a massive amount of debate about who was going to take it, Contedemanded that Willian was to rub the Sp*ds' faces in it a bit more and In fact, we could have had another before the break after his conversion thanks to one of Lloris's frequent and epic brain farts which saw him handle the ball outside the penalty area. When you go into Intermarche in France there is always a wino in a tracksuit walking around smelling of old cheese and loading his trolley with tinned green beans and vodka. If he wasn't a footballer, this is what Lloris looks like he should be doing for a living.

Being the massive nappy sh*tter that he is, Granville remarked at halftime: "Just imagine the possibilities of the second half if we play for more than seven minutes." Things were destined to get a lot worse before they got better though. The first ten after the break consisted of Kante trying to tackle everyone at once, Harry F*cking Kane rolling round on the floor and the referee having an epileptic fit with his whistle in his mouth. Then the b*stards scored again. Apparently the pass was sublime but if you ask me it clearly looked like a fluke. Do you know what I love about it now though? The joy on Alli's face when you watch the replay. Knowing that it counted for absolutely nothing in the end.

Their penalty shout was ridiculous, as were the two or three more that came after it but we were not even in the game at this stage. They were running about like Charlie Adam let loose behind the counter in McDonald's and we were always a yard behind. We finally got forward on 57 minutes, but Willian squandered the chance and that was enough for Conte. Hazard and Costa began stripping down. By the time they entered the field of play we were hugely lucky not to be behind. My notes as he went off say that Michy put a sh*t in. I'm pretty sure that that means shift. Because I have no gin-addled recollection of him curling one out on the pitch.

Sp*rs's reaction to the introduction of Hazard was to immediately bring Walker on to kick him up and down the pitch. The game was now tortuous, mainly on account of our total inability to win a second ball. Pressed back and back, our only hope now was a counter-attack. This may well have been the plan, giving the personnel we had available and the nature of their play, and the fact that we have another game on Tuesday. But that doesn't mean that it was not f*cking terrifying to watch, and I was on the verge of cracking out Douglas Haig's "Backs to the Wall" speech when on came Cesc, and all was right with the world again. With fifteen minutes left to play and the score level, almost immediately after his arrival we had our first corner. There were nine Spuds in the box. Not one of them had noticed Hazard lingering on the 18 yard line. All the time in the world to thread it through the legs of about five of them and makePochettino go full metal angry ferret with his snivelly face. You can't kick him if you don't even bother marking him. Mugs. First thing we did? Turn around to find the T*ttenham ginger. He hid. Which prompted loud choruses of "Where's your ginger gone?"

For the love of God, I said to Frasier (Dad's Army nappy sh*tter) next to me. We can't let a lead go again can we? Still they wouldn't roll over, but with ten minutes to go Matic hit a 25 yard screamer that cannoned down off the crossbar to surely send us into the final. "What a goal" my mum text me instantly. My response? "He hits them every week and usually misses by miles!" Easily, the best thing about the goal is Kurt Zouma's reaction as the rest of the squad celebrate on the bench. At some point Sp*rs made substitutions. In all cases some c**t in a white shirt replaced some other c*nt in a white shirt but by this time I couldn't have cared less. I was too busy hugging people I don't know and looking for the ginger above, who looked like he was dying inside by this point. Possibly they had a tame attempt on goal in injury time but none of it amounted to anything. The ginger sidled off early.

Refwatch: Martin Atkinson. I have it on authority from Mrs. Brown that we have never lost with him in charge. First half I thought he let a couple of things go against us, and there was Lloris's bumbling clusterf*ck outside the box that he missed, but he also took no interest in their diving so he came out about even to my mind. The second half was baffling. But we survived his half an hour mid life crisis in the middle of the match so I forgive him.

So: They huffed, they puffed and they got nowhere. That is the seventh FA Cup semi final they have lost in a row. Excellent. Better than smashing Sp*rs? Beating them when they possibly deserve to have won. The Chelsea Gingers are happy, the Sp*rs one isn't. I bonded with one of their mob on the train home from Victoria. (We'll call him Spuddles – I was being benevolent. It's easy to be benevolent and regal and gracious when you win. This must be why everyone thinks Roger Federer is a saint) He (Spuddles, not Roger) couldn't believe they hadn't won. He did not expect to lose like that today on their run of form and he still couldn't figure out how it had happened. He has a point. We had five shots on target and we scored four goals. Shame. I'm coining the phrase "hapless ruthless execution." F*ck knows how we pulled this off, but we did. It was the kind of precision that won us thirteen on the bounce, that we could have done with against Palace and that was completely absent last week at Old Trafford.

Apparently Willian stomped off down the tunnel angry on being substituted. The fact that he was back on the bench watching the game in minutes leads me to believe that the nappy sh*tting has spread to the BBC, because I'd think you'd consider something basic, like his needing a p*ss before you start having a meltdown. "To the Manor Born" was how the commentator described Ake today. I thought he was outstanding. How David Luiz got man of the match over him, I couldn't say, but I can at least savour the fact that it would have wound their lot up after he annoyed them today by having the cheek to get stamped on, accidentally or otherwise, by Alli. Michy too, although he didn't score was quite at home considering his lack of game time. His time will come. Probably.

Sp*rs are a better loved London club than us or Arsenal says Pochettino. (Who, it was revealed on the highlights, spent the game drinking from a hilariously tiny, camp little bottle of water in the dugout as his afternoon fell apart and his ferret face got progressively more angry) Let me break it to you gently. Ok, not gently at all, Poch. Chelsea and Arsenal (more Chelsea) have been winning for twenty years. People resent winners. The last time you won anything at all TV hadn't even caught up. Everyone went round to the managers house to watch a shadow puppet highlight show on the living room wall. If that's the case, that you are more popular, it's because you are in a category with all those sad, beaten donkeys on charity appeals on daytime television. People don't "like" you. They pity you. There's a difference.

Spare a thought for Jumbo. He got kicked off the train for singing too loud and he's probably bus w*nkering his way round Cricklewood without a clue even now.

Don't forget you can follow the blog @CFCgwlb

I think (but I am quite drunk now) I am on the Fancast on Monday, but no doubt @ChelseaFancast will keep you better informed.

And the ebook version of the blog is available to preorder on Amazon. There will be a paperback too when it is released after the FA Cup final!
https://www.amazon.co.uk/Girl-Who-Likes-Balls-Following-ebook/dp/B06XH3Y8XZ

Don't forget you can also follow the blog on Twitter:

@CFCgwlb
Posted by AC
You can see all ACs Blogs here
DISCLAIMER: All articles written for the Chelsea Supporters Group 2005 (CSG) are those of the author and do not represent the views of the CSG. The views and opinions expressed are solely that of the author credited in the article. The CSG do not take any responsibility for the content of its contributors.
'Chelsea Supporters Group' can be found on Twitter and Facebook