Chelsea Reserves 4 Watford 3 – Game 37: Monday 15th May 20:00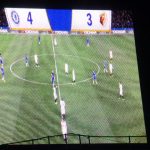 In the News: Just f*ck off already with this nauseating Sh*te Hart Lane vomitfest. They're moving out for a few months. And they're going three feet up the road. Also, nothing of note has happened at that dump since my mum was at primary school so I don't know why the press plebs have spent the last few days mourning like someone ran over their childhood pet with a lawnmower. Having said that, I give you a picture of the pitch being savaged by diggers. Because I'm not going to lie, it turned me on just a little bit.
The Others: I just need to pause to reflect upon the greatest moment in Manchester United's history.
…… I think I might actually die laughing. Just when you thought HWWNBN couldn't come up with anything more f*cking ridiculous he declares that a Europa League fixture (the competition he's spent his whole managerial life scoffing at) against Celta Poxy Vigo is the seminal moment in his new club's history. There was a moment towards the end of the game where it looked like the Spaniards might nick it and you could see him crapping his pants live on BT. I'm slightly drunk on the train with Uncle Albert (who henceforth shall be known by the special alias of Royus Decimus Meridias – all will become clear) and we're gunning for a Bertrand Traore brace in the final. Come on Ajax.
I did a mini jig around the living room when Hull joined Boro and Sunderland in the Championship. Not because I'm a c*nt. Well, ok, but mainly because from an away travel point of view next season the sh*ts at BT and Sky have far less opportunity to send us halfway into the Arctic Circle on a weeknight or first thing on a Saturday morning. I think Hull worked a miracle staying in touch as long as they did with all the f*ckwittery going on at the club. Poor b*stards. But for me, apart from potential chuckling when someone I don't like inevitably misses out on top four, I'm only interested in keeping an eye on the Goons now on the run up to the cup final. Seeing as we've left them all for dust in the league. Because we're Champions. It was only away to Stoke, but we know first hand that that can be about as enjoyable as a day trip to Chernobyl.
Four out of six sh*ts on target, I've written in my notes yesterday. Presumably that's shots, although I could have been referring to the goalscorers I suppose. They took their chances, but Wenger's mob didn't look impenetrable at the back and I wonder if with our defence they'd have manufactured the attempts they did. Unless we have a repeat of the Emirates of course, and without some act of God (or a bellend referee) I don't think we are that side anymore. We lose now when people suffocate us and get lucky. (Palace case in point) Arsenal won't (can't) do that. 1-4 flattered them, and for a spell Stoke threatened quite convincingly to nick a point before the rolled over. I still don't think that anyone but Sanchez would get anywhere near our team this season. But then I occasionally still wake up throttling the kitten and rocking back and forth in the foetal position when I think of the 3-0 in September. Hilariously. Arsenal fans were singing "We've got Ozil, Mesut Ozil, I just don't think you understand.." Oh no, we do. You pay him shedloads of money and he turns up once every couple of months. And moans that it's not enough. Then pretends to have the flu for weeks at a time. And they've taken Frank's song for "Super Robbie Holding". Who the f*ck is Robbie Holding?
Our Game: Multiple changes tonight, and unsurprisingly after Friday's heroics. Dave is on for playing every minute, which is a rarity, so obviously he remained and other than that, it was only Hazard that kept his place. Deserved run outs for the likes of Ake, Chalobah and our league winner Batshuayi who have waited for chances few and far between this season. Pretty sure there were some medal connotations going on too. Apparently the low number of players that we have used makes some difference but I have hears so many versions of the rules now that I intend to do a Wenger (stick my head in the sand) and just turn up with a stack of chocolate coins to dispense to any player that looks like he might cry on Sunday. Kenedy's appearance served at least one purpose. (Other than confirming that we haven't packed him off to a monastery somewhere) We now know who the random blond bloke was in all the celebration videos on Friday. A reliable little bird tells me Loftus Cheek wasn't fit, before the press plebs start writing his absence up as a weepy sob story of him being kicked aside like an unwanted puppy. It was novelty to see Gomes applaud the home fans, which proves that either he is thick, and didn't know where the Watford lot were, or that psychologically and in terms of humanity there is a way back after having played for a bunch of c*nts like Sp*rs. I'm pretty sure he asked to leave too which at least shows some intent at saving his soul.
Watford did a huddle. They meant business. If by business you mean pulling at the opposition's shirts and kicking them when the referee is not looking because you can't match them at football. Michy fluffed a shot in the opening minutes and although Hazard got a foot in on the rebound, it cannoned straight into a defender. This was the limit of the excitement in the opening phase of the game. In one lull we were discussing how ugly Steven Gerrard's new baby is. he looks like Phil Mitchell on the slide back into the booze.
"They've named it after Messi," I said.
"What? Arsehole?" Said one wit.
On the pitch it remained basically a repeat of the fixture at theirs early in the season. Us trying to play, not doing too badly, but not really getting anywhere. The stand out moment came after twenty minutes when, challenged on the edge of the box, Michy held up the ball. Like a baby Drogba. OK maybe not quite, but isn't it marvellous what a bit of confidence could do. On 22 minutes came the elation of JT scoring at the shed end to put us ahead, just like days of old. That was the 1000th Premier League goal since Abramovich took the reins at Chelsea. About a minute later came the agony, OK, nobody really gave a sh*t because we've won the league, but still, Watford equalised. Perhaps a bit emotional after scoring, not 100% focused but it was a clusterf*ck of a defensive header. Ah well, how often has JT been guilty of that? I'll get over it. 1-1. There is just no redeeming point about watching Watford. If they were a sandwich filling they'd be some supermarket value brand, sweaty tasteless cheddar on the turn. On stale bread. With no butter. If Vicarage Road fell into a sinkhole over the summer and was no more I doubt the world of football would even notice when they got back from their holidays. There were a few half a*sed cries for a penalty on the half hour, but none from Hazard, who was the man taken down. Shortly afterwards Kenedy muscled his way past his opposing number and into the box, even managed to get a shot off which went out for a corner. The result was a ball in that rebounded out to Dave, who, ever reliable, smashed it diagonally into the bottom right hand corner for a second
We'd already fizzed one across the face of goal shortly after the break when Michy got a second. Hurrah – 3-1, game over, let the celebrations recommence. Or not. Minutes later Daryl Janmaat ran round everybody like he was Hazard and put one past Begovic. I couldn't pick him out of lineup of three random men if you gave me a million pounds.
"How sh*t must you be, we've scored two goals," they sang.
Firstly, this is our B Team. Secondly, you're not winning. Because we've scored three. That's how this works. So shut up.
Gonzo's more pithy response? "Chelsea Reserves, we're better than you."
Shortly after the hour mark Gomes pulled off a brilliant save. Didn't he get the memo? Possession was pretty even, but they weren't really threatening. They had taken two goals out of four attempts, which is the nicest thing I intend to say about them. Gomes pulled off another dramatic save before Watford brought on a bloke who scored. He was so f*cking massive he looked like he had eaten all their other subs. Apparently Mason didn't see all the defenders being held in the box. Which brings me to Refwatch: Lee Mason must have been in a diet, because we thought he was Anthony Taylor for the first ten minutes. If he was a sandwich he'd be some dubious looking egg mayonnaise that smelled of fart. A testament to bland mediocrity who even managed to tackle Kante at one stage. He's the office creep officiously blowing his whistle at nothing and p*ssing everybody off. In another life he'd be a traffic warden. We brought on Aina, and Chalobah, who was solid once again, departed for Fabregas with ten minutes to go. Batshuayi rightly got an ovation after his heroics on Friday and Pesto (no, autospell still hasn't fathomed this with only one game left) replaced him. Gomes had one of his flappy hand moments straight after this change but we couldn't put a winner away. Highlight of the closing minutes, Kante taking down Okaka, the beast and the eight foot monster crying about it. At least that was the highlight until Fabregas scored a fourth and half the Watford team collapsed on the pitch and started sobbing. You can't say they didn't put a shift in. By this point Watford who were confusing the end of the match with a Saturday night in Croydon. Prodl, whoever he is, saw red, and two bouts of shoutiness and fronting up followed. No Chelsea players were booked for any of this nonsense scrapping. But the Daily Mail won't tell you that.
Somebody pressed the button and set the fireworks and the streamers off early, but I'm sure they'll find some more by Sunday.
So: I think that's the first time we've conceded three goals this season since that heinous day at the Emirates. Ake was impressive on a difficult day when the entire back three rotated. Chalobah, too, was as composed as always. It's one of football's mysteries how Zouma lollops about like an ungainly rhino with two left feet trying to perform the Nutcracker and yet somehow manages to control the ball with finesse. I like him, but I don't know if he can play this system. I'm not offended by the notion of potentially sacking three points off so that some guys who have waited patiently in the wings this season could have their moment or secure a winner's medal. I care more about our best players being in optimum condition for the cup final than winning these two dead rubbers. Watford had a couple of ok chances after the equaliser, but it not for the heroics of Gomes we would have been clear by then. All's well that ends well, five days left till we get the trophy.
Don't forget you can also follow the blog on Twitter: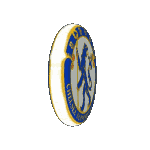 Posted by AC
You can see all ACs Blogs here
DISCLAIMER: All articles written for the Chelsea Supporters Group 2005 (CSG) are those of the author and do not represent the views of the CSG. The views and opinions expressed are solely that of the author credited in the article. The CSG do not take any responsibility for the content of its contributors.
'Chelsea Supporters Group' can be found on Twitter and Facebook