Michy Batshuayi Just Won Us The F**king League
West Bromwich Albion 0 Chelsea 1 – Friday 12th May 2017 20:00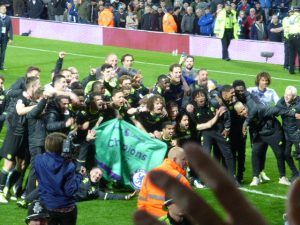 He came on. He gave away three free kicks that made everyone shout at him and then the bloke that's been slated from one end of the season to the other sealed the title for us. Get the f*ck in. Instagram reveals that as I write this, Antonio is covered in champagne, Diego is walking round the dressing room with his a*se crack hanging out and Marcus Alonso is a doing a half naked filthy dance in the middle of the floor that not only makes me happy but makes me want to shove a fiver in his waistband and slap his backside. Well, makes me want to do these things more than usual.

In the News: Losing Conte now would be like the man of your dreams ditching you a month after your honeymoon. After he's knocked you up. I really wish the press would piss off with this one. If (big if) they've got all their facts straight (for once) is he only worth half of what Pep and HWWNBN get paid? Absolutely not. Will this get addressed after the chips have fallen now that we're champions and we've still got the cup final to play? You bet your arse it will. More importantly, too, because us getting back into the Champions League after last years' debacle was the very least of what was expected of him last summer – and he spanked that out of the park with months to spare. In the meantime – I note that the owners of Inter are Chinese. Is tapping up a completely free unknown concept in the land of the dragon? It's starting to wind me right up now. And why has nobody done anything about it?

Elsewhere, real news has been thin on the ground since we played on Monday. The only thing worthy of mention on a night like tonight is this – because it will make you all laugh. Coutinho parks expensive car outside Anfailed for player of the year do. Windows get done in. Brilliant. Oh and he didn't win either. He did come close in the best hair category though.

The Others: There are no others. Because we've won the title. Let them fight over the scraps. I wonder what the other managers are doing right now? Pochettino will be on the SleazyJet website looking at flights to Barcelona. HWWNBN is ordering 50,000 calories of comfort food from room service at the Lowry. Whilst practicing saying that United have been the better team over the whole season because of their boring unbeaten streak. (The one that took them from 6th to… er… 6th) He'll be repeating it over and over again in the mirror until he thinks he looks half convincing. Pep will be sobbing into a San Miguel and wondering how Antonio made his first season in England look so easy. Klopp apparently reckons that the Scouse are pretty much level with us in terms of performance and that the league isn't an actual representation of their quality. So presumably he won't learn about tonight's result until they let him out of his padded cell tomorrow morning.

Our Game: Was sh*t. The excitement had been building all week – half the job done against Boro; win tonight and we were Champions. I even inappropriately borrowed a policeman's hat on the way into the ground and copped a feel. (a tame one) Unfortunately all of this merriment distracted us from one key point. We were going to the Borethorns. To face death by a thousand time-wasting goal kicks at the hands of Tony Pulis and his soulless band of also rans/has beens.

After thirty seconds, Thibaut was forced into action, which was a punch in the face that reminded us all that we actually had to win three points tonight. Against a team that would be willing to drag the game into the footballing gutter to stop you doing just that. Fortunately, this was as convincing as West Brom got during the first half. We settled down very quickly and the opening ten minutes was a dominant display, during which if we did lose the ball, we reclaimed possession quickly. The rest of the half was basically a litany of squandered chances on our part. Hazard fired one shot into Foster's arms, Maticorchestrated a great counter attack but the final attempt was well blocked. Another bobbled wide, but there was nothing that took our breath away. We were a bit susceptible on the counter, but West Brom being utter morons offensively helped, as they proved on numerous occasions why they have sucked at scoring goals of late. In the first half hour, (at the risk of sounding like a Sp*rs statistician rewriting a match to make it look like they deserved the glory they haven't managed to achieve) 70% of the possession had been ours and we'd had seven shots versus one half effort for them. But still it remained 0-0. This should not have been a surprise against a Pulis side. As the clock ticked on, the away end of the Borethorns was a cauldron of conflicting emotion: There was mounting trepidation that we might have endured five hours of traffic agony to spend a Friday night in West Bromwich for no good reason. Then disbelief that Darren Fletcher hasn't yet been farmed out to the knackers yard. How have they not had him turned into dog food yet? Add a dose of the usual rage at the sight of James McLean and a healthy measure of amusement that Foster was awarded player of the season before kick off. For what? Stringing goal kicks out to new, world record lengths? And there was pity, at the club flogging a dead horse, (not Fletcher) trying to get people to commit to another 18 games of this sh*t next year at £20 a match. I assumed Pulis donated all of his salary to paying people to watch his team. It truly is grim up north. Glancing to my left on the stroke of halftime the display of humanity resembled what I imagine a family wedding would look like for Harry F*cking Kane. Lots of vacant expressions, a large crowd breathing through their mouths and worshipping a mediocre musician/DJ like he was producing some sort of genial witchcraft by bashing his drum repetitively for an hour and a half. If we were going to get our way, and ensure a drunken, elated and glorious start to the weekend, the footballing gods were going to make us wait for it.

We burst out of the blocks again in the second half. Very much a case of: "just score a f*cking goal so we can start the party" We had one shot palmed away by Player of the Year Ben Foster. (Jesus wept, he's your GOALKEEPER, what a sad state of affairs) Diego struck one straight into his hands, Cesc put one just wide. All the fun was being sucked out of this outing. Why should this be a surprise? What else should we have expected? Still. There was some worthy chuckling in our row at this "one of our own" business. We were in West Bromwich. I just assumed everybody there was related to everyone else in three different ways, so it seemed superfluous to start singing about it. The game turned into a time-wasting extravaganza. An hour in and Pulis's sh*t on a stick tactics were working. Which brings me to Refwatch: Michael Oliver tonight. When Plan A is to kick the living sh*t out of the opposition, you can't sulk like b*tch babies when the ref keeps blowing the whistle. The yokels, sorry, locals, were raging over him, but when you subscribe to Pulis's thuglife philosophy, I don't see how you can be surprised at being penalised for it if a ref is smart enough to catch on (funny how many of them aren't) Often when we've had Oliver, I've been left thinking, "what does everyone see in this scowly looking bellend?" Tonight I thought he was pretty much spot on. I think I get it. This doesn't mean I like him. Obviously. I just dislike him less than most of the others. For now.

As we reached the last twenty minutes, West Brom were hanging out of their a*ses. And yet we almost got caught out on 69 minutes when the home side launched a counter attack. Saved by an outstanding run back from from Dave. Shortly afterwards they finally strung together a proper attack on goal, but luckily it went wide. Dave's shot on 74 minutes nearly hit me in the face. And I was in row N. Time for fresh legs? Indeed. Though I won't lie, when they came, they did not fill me with joy. Willian came on, all well and good but so did Michy. Make or break time for you young man. His opening moves (kicking people) did not inspire anyone with confidence, but I've been plugging away at "give the kid a chance" all season in terms of being too critical of him, in his first season and once again Antonio proved why he earns the big bucks (not as many as St Pep the Perfect of Yacksville, we know, blah, blah) and why we have to pay to watch his work. After the subs came on it felt like the pace had been sucked out of the side. Oh dear. This could end badly. But then from nowhere, after some faffing about on our part, The ball went over the line. Michy Batshuayimight just have won us the league. The whole of his difficult debut season has instantly been forgiven. You, my boy, are now a firm fan favourite. Three songs he had going on the coach. (My favourite was "He won us the league, he won us the league, Michy Batshuayi, he won us the league.")

Eight minutes plus stoppages to go. Where the hell is Mikel when you need him? Zouma came on instead and after this I can literally remember nothing that happened with any clarity. Apart from West Brom almost scoring, watching the six minutes of Ben Foster time tick agonisingly by, and cursing at people already singing about us being champions.

So: Conte said he wanted wild celebrations if we won the league and he got them. Not only in the stands but on the pitch, which resembled a primary school disco after half an hour: Antonio with his shirt hanging out, the players with the eight year old school boy dance moves. Loved it. Each of them got serenaded, which was great. My favourite celebration moments? Willian singing along to his song and covering his mouth in a totally unconvincing manner when he got to the bit about hating T*ttenham and footage of Bonkers Billy doing the worm on the floor in the dressing room. (Badly) Well done Antonio, too, for making sure that Steve Holland got the attention and the farewell he richly deserved tonight. God speed and ta very much for everything you've done for our club old bean.

And let's not forget our humanity. All the plebs out there that are less fortunate than ourselves. Scattered about the country roundabout the 80th minute were several thousand Sp*ds, watching through their fingers and hoping, praying that West Brom were about to nick it so that they could start singing about coming for us again in the vain hope that they'd achieve something more than the sum total of f*ck all this season. Like every other season. Better luck next time. Chumps.

In the meantime, f*ck them, I'm only half an hour away from a celebratory gin now. Would it be so wrong to just carry on drinking through to Monday night? Premier League Champions. Beyond my wildest dreams when we set out in August. Party time. But let's not get fat and complacent like last time, eh?
Don't forget you can also follow the blog on Twitter: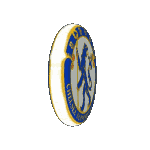 Posted by AC
You can see all ACs Blogs here
DISCLAIMER: All articles written for the Chelsea Supporters Group 2005 (CSG) are those of the author and do not represent the views of the CSG. The views and opinions expressed are solely that of the author credited in the article. The CSG do not take any responsibility for the content of its contributors.
'Chelsea Supporters Group' can be found on Twitter and Facebook