Chelsea Broke Me
Wolves 2 Chelsea Pathetic – Wednesday 5th December 2018 19:45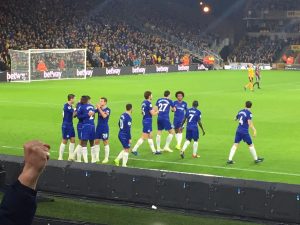 In the News: Sarri is apparently making a play for overturning the one year contract rule so far as keeping people who are over thirty, City could be looking at a Champions League ban after claims they have cheated FFP. No sh*t. Chequebook Pulis's lust for blaming other people for his shortcomings is not longer satiated by moaning about his players. MUTV are his victims this week. Lots of room for wise cracks at the revelation that United have 58 scouts. And still Phil Jones has a job would be my pick. Eleven days after assuring all that there would be no concerns over him taking his side into the top four by the end of the year, CP now says it will be a miracle.
Getting rid of Hughes has cost Southampton six million. It never looks good when you managed a draw with United and they already had your replacement lined up. Worth every penny. Unlike Pellegrini's valuation of Jack Wilshere. £100m he reckons. VAR to be used in Champions League and Europa League knockout stages this season. Can't see it will concern us much the way we are playing. And wonder of wonders, Klippity Klopp has been fined for being a dick during the Scouse derby.
The Others: I'd rather stick pins in my eyes than relive any of this. Apart from the hilarious revelation that Faillaini is a hair-puller.
Them: I defy any of you to name even half of them. I couldn't even after they wiped the floor with us.
Us: Five changes. Sarri says he only made these because we have 11 matches in 35 days, so some have to rest, and that it's not just with City in mind. Even though they are essentially the same thing, if he has got half a brain. Fabregas for Jorginho, Loftus Cheek in, Morata over The Beard, Christensen for Luiz. Not all of which I agreed with.
A fast start – I know, I said it, and it's not the jet lag talking. Wolves, however, were not about to be whipping boys. It was an open first ten minutes. They've got form for raising their game against sides at the top of the league. On 6 minutes we saw a cheeky ball from Kante after he was played in by Dave. Across the face of goal and out to Hazard it went – he seemed to have all the time in the world but his attempt to bend the ball round the keeper didn't quite come off. Conversely, none of Wolves's efforts so far had found the right man in the box. It was the most entertaining spell of football that we've had for a while – and then who should pop up but Loftus Cheek to give us the lead. His shot from the outside of the box was probably covered by the keeper, but the Wolves Captain chucked himself in the way and it deflected the other side of him. It was on target – so Ruben may get to keep it by the letter of the law.
Unfortunate for Wolves, not that I cared. An outstanding effort with a weaving free kick headed for the goal from Willian on 22, but the keeper was equally as outstanding in touching it over. 36 minutes and Wolves had their best chance yet, but lucky for us the home side were just stretching into the path of a stunning block from Fabregas to deny Gibbs-White a proper shot. Willian was on the other end moments later when he was in on goal until Ryan Bennett stormed across the face of him and dumped him on his arse. The 70% possession we'd had did not tell the story at all, for Wolves had not capitulated despite their misfortune.
And then the sht hit the fan. The second half was about as enjoyable as gargling acid, it made about as much sense from a Chelsea perspective as the last two fcking Harry Potter films. We could have scored almost immediately when Hazard, Loftus-Cheek and Morata combined, but the defender just got to the ball on the final cross before the Spaniard, who, thanks to his having spent the first half sitting down and moaning was inevitably now the butt of everything the home support could throw at him. He's lucky that Jonathan Moss is the dope of the refereeing world, possibly the only man left in England who can still be suckered in by an Alvaro Morata rollabout on the floor. On the flip side, he also thinks an advantage is Willian and Morata alone in the box with five Wolves defenders, so all the way to December and he's somehow kept his job. But then he wasn't alone in getting paid to do f*ck all at Molyneux. Great ball forward from Cesc for Willian, but the finish was like watching a drunk, blindfolded Mikel take one on the wrong foot.
Speaking of feet, we then shot ourselves in all 22 of them. F*cking hell Chelsea. Fabregas robbed in midfield, Gibbs-White runs away with it and slides it out to Jimenez to slot underneath Kepa. What a cockwombling amateur way to concede an equaliser, but concede we thoroughly deserved to by this point. Buoyant home support now. On 62 they were away again and three of our players couldn't get it back of them to stop them fashioning another chance. All. Over. The. Place. And 2-1 down. At this point I could inhaled four shots of Elderflower gin just to dull the burning pain in my eyes from watching such a pathetic display.
Cesc booked for screaming about a block on Willian, as was Little Willy himself, which was a valid use of everybody's time. Willian straight off, Pedro Pony on, good, at least he will try. The Beard on for Morata, should have gone with this in the first place against this side. If we have to have a non-scoring striker out there I'd rather it was one who plays as part of a team, doesn't spend the whole game sulking and at least looks like he gives a fck. Added to our woeful ineptitude and collective inability to pass a fcking football, the usual Jon Moss downward spiral of c*ntwittery continued, leaving the match teetering on the edge of mayhem because he can't consistently official a game of football. It didn't help that at least one of the linesmen was a complete bellend too. Kante coming off for Kovacic. I'm sure, Sarri, using your last substitution on this like for like mediocrity of tactical implementation put the fear of god into Wolves.
Fifteen to go, roughly, and no inkling yet that our three mind-numbing changes were going to have a miraculous attack on the game when all the home side had to do is sit and wait for us to f*ck it up and then have a go at a break. They all backed away from Hazard and let him run at goal on 77, but his shot was just over. They looked absolutely wasted, but not dead enough for us it seems. Fabregas had perhaps the best chance to send it in for an equaliser on 87, but it went over. You can't for one second say that they parked the bus either, until the inevitable time wasting began when they were ahead Wolves were every bit as in this game as we were.
So: We've gone from glitch to steady decline, in my ranty opinion, and it needs fixing. It needs a demonstration too that the manager isn't going to continue to do the same thing over and over again despite bad results. Because thats the definition of insanity, and we only just got rid of another loon in the summer. Calling for his head, I think is premature, but he needs to show his fangs now. "I really am very worried" says Sarri. What an understated way to describe an epic display of cumulative fckmuppetry on our behalf. I can't remember the last time I wanted to bath my eyes in bleach so badly, but, then I'd be stuck with the notion that the last thing I ever saw was that sht. Chelsea, you sucked. And you sucked because you just didn't appear to have a clue what you were doing. Do you remember JT getting knocked out and playing on? Scoring up at Burnley in the week that those allegations came out, Lampard shining in the Champions League for his mum the day he lost her, Ivanovic playing with a fcking hole in his foot. The monster up front that was Drogba raising his game to destroy Arsenal any time he went near them? Jesus Christ, BOSINGWA and his eyebrow taking over the dressing room in Munich. Those were men. Occasionally whiny and ill-behaved men we wanted to pimp slap, but grown ups. There is undoubtedly a wealth of talent in our squad but all I saw by the final whistle last night was boys. Sad-faced little boys. And with that I'm going to get shtfaced. By Saturday I would have opened 8 doors on my gin advent calendar. I intend to mix all eight minis in a bottle and down it before kick off, because this could be uglier than the sight of Sarri seductively licking tobacco off of Pep's bald head live on Sky. That said, like mugs we will all be hoping that we can pull something off. We need it now.
Oh, and if you haven't lost all faith in humanity after that, the collection is still open for the kids who will spend this Christmas in a shelter owing to domestic violence. They will appreciate your support more than the team did last night. You can PayPal alexandra.Churchill@hotmail.com or message me for transfer details. After presents we will be taking care of some winter clothing for all of them and musical equipment for the shelter.
AC
Don't forget you can also follow the blog on Twitter: @CFCgwlb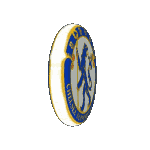 You can see all ACs Blogs here
DISCLAIMER: All articles written for the Chelsea Supporters Group 2005 (CSG) are those of the author and do not represent the views of the CSG. The views and opinions expressed are solely that of the author credited in the article. The CSG do not take any responsibility for the content of its contributors.
'Chelsea Supporters Group' can be found on Twitter and Facebook