Premier League announces Christmas Eve fixture
From the official FSA.Org website:
Football Supporters' Association response to today's Premier League announcement that there will be a Christmas Eve fixture for the first time since 1995.
The FSA said:
"The Premier League has delivered an early present which no-one actually wanted in the shape of a Christmas Eve fixture.
"The FSA and our supporters groups have consistently told the league this is a bad idea and they have totally ignored match-goers.
"They've put money first, fans last, and we'll be looking at ways to make that crystal clear to the Premier League and TV companies.
"It's shocking scheduling and we're in discussion with our members at Chelsea, Wolves and other supporters groups on the next steps."
What do supporters at Chelsea and Wolves think?
Wolves 1877 Supporters Trust strongly condemned the proposal last week, pointing out that the scheduling "shows a complete lack of consideration and respect for fans… we also feel that this is unfair on club staff, especially those with young children, who will have planned to spend Christmas with their families."
Chelsea Supporters' Trust issued the below statement: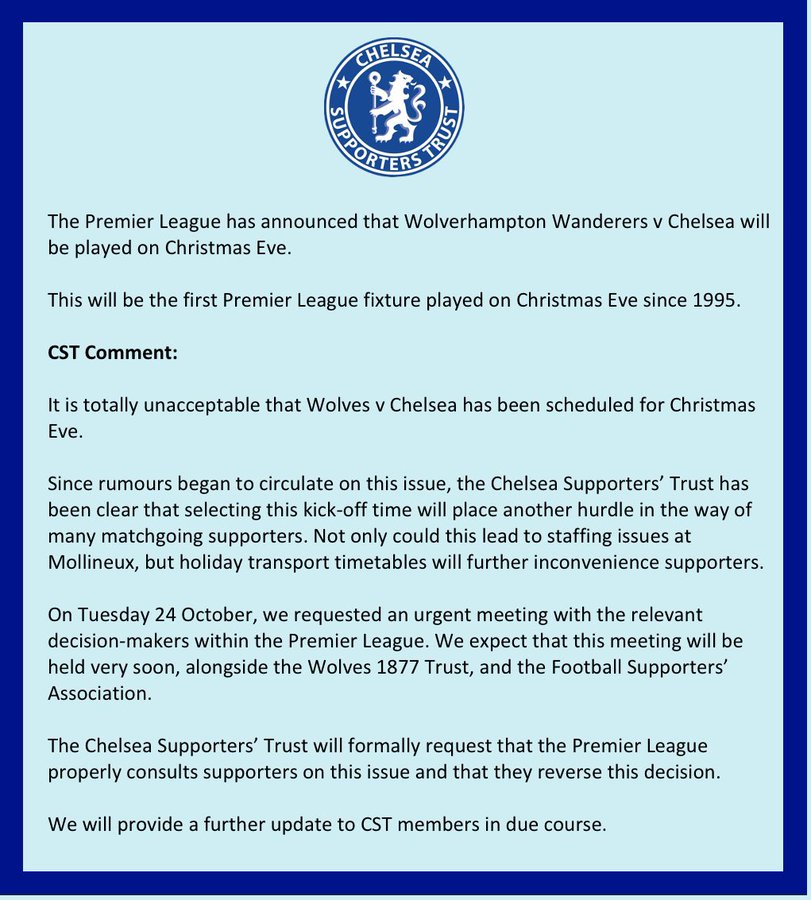 ---
---


---
'Chelsea Supporters Group' can also be found on Twitter and Facebook
Related Images: