Safe Standing – The Silent Movie
Safe Standing – The Silent Movie
Peter Burrow's Dilemma
Spreading the word
Please would you lend us a hand?
From the Safe Standing Roadshow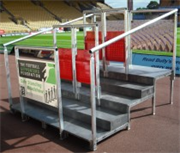 As you may know, I have been travelling the country for the last 15 months with the 'Safe Standing Roadshow' (pictured) in support of the Football Supporters' Federation's safe standing campaign.
Now the campaign is going to the movies … or at least onto YouTube!
Via the link below is a 'silent movie' that shows, hopefully in a humorous way, how daft the current all-seater regulations are (how standing behind normal seats can be unsafe and inconvenience seated fans) and how simple it would be to provide an ultra safe solution, i.e. safe standing areas fitted with rail seats.
Safe Standing – The Silent Movie: Peter Burrow's Dilemma
The movie can also be seen with some additional background details on this page of my website.
While grounds in Leagues One and Two with existing terraces should clearly be allowed to remain as they are, for all-seater stadia in the Championship and Premier League we believe that rail seats present a sensible alternative that the authorities should now look at seriously. Not least because the SPL, Aston Villa, Derby County and, as of today, Peterborough United have all come out publicly in favour of this … and many other clubs hold the same view in private.
Could you help us to spread this video around the Web? Maybe we can even get it to 'go viral'!
If you could distribute it via Twitter, Facebook, e-mail, blogs, websites, message boards and other appropriate means, that would really be a great help.
Thanks very much in advance!
I hope you enjoy the video and that you are able to share it widely.
Cheers,
Posted by Jon Darch
Safe Standing Roadshow
PS: If you have any questions, please don't hesitate to fire away!