"With the closed season now upon us, the CSG has decided to re-post some excellent articles (and pictures) that our friend 'Corby' put together many seasons back. We hope you enjoy them once again"
Here is 'Part One'
Season 1975/76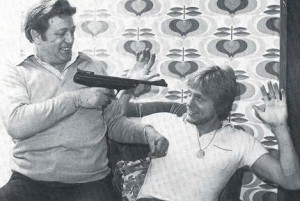 We had been relegated at the end of 74-75, swapping places with Man Utd who's 'Red Army' fans had gone round Division 2 causing problems in such partisan places like Notts County & Oxford. We'd also had our own problems, Luton and Spurs to name 2. In the home programmes Chelsea printed what were to be the normal warnings, "anyone caught causing trouble will be banned"….zzzz…zzzz
No one seemed to take notice, the early season visit to Luton bought the predictable trouble. This prompted Chelsea to announce that they were going to introduce identity cards, and the only way to get in the Shed was with one of them. For me, that was a disaster. How much were they? How could I get one? I couldn't find out much about the scheme in the local/national papers, so I wrote to Chelsea and asked how to get one. They eventually sent me back a form to fill in, which I had to return along with 2 passport photos plus 50p.
The next problem was where was I going to get 2 passport photos from? Corby was the last place on earth to get running water, never mind having such luxuries as a photo booth. The only one I'd seen was in Woolworth's, in Kettering….a full 8 miles away. Me and Raz decided to save a few valuable pennies by not getting the bus over to Kettering. So, one fine autumn morning, we set off….on our pushbikes. A round trip of some 16 miles.
Can't recall how long it took us, but we done it! We even sent the forms off from Kettering – it was nearer to London and with our 14 year old logic, that meant they'd deal with them quicker! Chelsea took about 8 weeks to return them, so we set about planning a trip down.
That turned out to be Sunderland at home, just before Xmas. This time brother Steve didn't go, but Raz did. It was his first visit to SW6, so it was up to me to show him the ropes. 30+ years on, he probably knows SW6 better than me, well, any Pubs that sell food anyway!!! After double/treble checking that we had our ID cards, we set off.
Raz's dad ran us through to Kettering Station in his car. This was great for a couple of reasons. First, it meant that we'd saved the bus fare to Kettering and therefore had an extra 10p or whatever to spend in SW6. Secondly, it was a great time saver. Whereas the bus took days to get 8 miles down the road, our car took 20mins.
For me, the best part of the journey to Chelsea is on the Underground between West Brompton and Fulham Broadway. I always try and stand on the left of the carriage, facing the front. From there, after one or two tunnels, you'd get a great view of the North Stand. When you see that, you know you're nearly there. Depending on what the time was, you could sometimes see the away fans standing by the rail at the back of the North Stand. I made sure we stood on the left that day.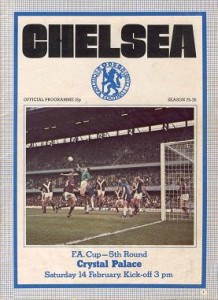 Before the game we hung around the forecourt, and waited for the players to arrive. Most of them seemed to just casually walk in. Others drove by in their trendy Capri's etc. One or two passed by without us even recognising them. We only realised that had happened when we noticed some other "too young for the Pub" fans swarming round someone. Maybe we never recognised them because they were not wearing their kit, the only time you saw them was on the telly, or a grainy pic from a newspaper or Shoot! magazine.
We then spotted Teddy Maybank strolling along towards us. Without hesitation we asked for an autograph, and he obliged by signing my programme. Cor! That was a scoop for the playground, something to shout about! Pity he wrote it upside down. Years later I kept that very quiet as Edward Maybank appeared on Blind Date.
On entering the Shed turnstiles, we asked the man if he wanted to see our ID cards. He replied something like "just get through, will you, it's busy". Charming! We bounced up the steps and into the Shed. As on my first visit to Chelsea, it was now 15 year old Raz's turn to look amazed as we made our way through the Shed up to the terracing by the West.
My previous –and only visit to Chelsea- had been on a crystal clear April afternoon. It was now a bleak mid winter afternoon. It was like a night game in a way, the floodlights were on from the start, and that gave a weird glow to Stamford Bridge. We stood and watched the game, in between watching the Shed sing and sway back and forth. A great sight.
At half time I noticed in the programme that the ID scheme (scam?) was "likely to become operative in the New Year" This was due to being overwhelmed with applications….
I'm positive that Ian Britton scored the only goal that day, though looking in the Oldham programme of 3 weeks later it's given as an own goal. I hoped no one in the playground noticed…
Regrettably for some reason I just couldn't save up to get to another game that season. My paper round money just seemed to disappear, on either football cards (I'm still looking for # 214 Frank Casper of Burnley) or Bazooka Joe bubble gum, Crisps, records etc etc etc.
I did however manage another 2 trips to Stamford Bridge though! The first one was while on a school visit to the Science Museum, we managed to sneak out and get the tube to nearby Chelsea. It was a strange feeling, I was at Stamford Bridge but there was hardly anyone about. We bought a few bits from the Chelsea souvenir Shop, then headed back to the excitement of the Museum.
My second 'non Chelsea' trip to Stamford Bridge was for the FA Cup semi, Palace v Southampton. I was staying at my Grandads in Camberwell, and he took me along. We didn't get in, he took one look at the queue and we turned back towards Fulham Broadway. I was happy, I'd seen the West floodlight pylon and got a programme.
75-76 was the season of the infamous 3-2 defeat, by Palace in the FA Cup (Steve, however, had gone down, and had come back with brilliant tales of problems getting in, no programme (BIG DISAPPOINTMENT!!) fighting in the North Stand, in the streets and all sorts of chaos. I can even remember him saying he saw this 'thing' getting a hiding from some skinheads on the Fulham Rd outside the Rising Sun pub. This scruffy looking 'thing' was wearing tight leather clothes with chains on, and a purple Mohican hair do. Weird!
Most of that season whenever Chelsea played I was tuned into Radio 2. It was the only national sports station, and could only be picked up on crackly 1500LW. With us making up the numbers in Div 2, we hardly got a mention until the full results came on at 5pm. It was the same with the National papers, they just seemed to concentrate on the 'big boys' of the day, Liverpool, Derby, Man Utd, Leeds…zzz…zzz…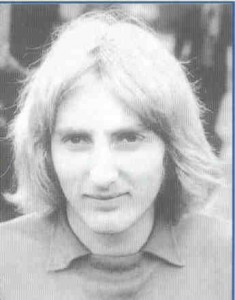 If you didn't actually go to a game, following Chelsea's fortune wasn't very easy if you lived outside London. You obviously got to know the score, but what about who was signing for us, injuries etc etc? When Shoot or GOAL! came into the shops, the amount of Chelsea info in them was nearly non existent. Butch Wilkins was the Chelsea player of the moment, breaking into the England set up. He was the only one you really knew about.
TV football coverage was also poor back then, compared to today's overkill. The only live games were the FA Cup & European finals and the odd England game, be it a World Cup qualifier or – to me – the sadly missed Home Internationals. The BBC's Match Of The Day covered only Division 1/FAC, whilst on a Sunday afternoon we could pick up both Star Soccer on ATV, and Match of the Week on Anglia.
ATV covered the Midlands, so every week we got Birmingham City, Aston Villa, Wolves, Derby or West Brom. Anglia covered….East Anglia! They only had 2 teams in Division 1 – Norwich & Ipswich, so they would bulk out the rest of the programme with local teams from the lower Divisions – Peterborough, Cambridge, Southend, Colchester and Luton.
Out of those teams, Luton were the only ones in the same Division as Chelsea. On the Sunday after we had played them, I sat there hoping that MOTW would show our 3-0 defeat. Instead I can remember cursing Tottenham, for they showed a thrilling 2-2 draw at White Hart Lane. In the round up that followed they showed the bare 3 Luton goals, and mentioned the 'Chelsea hooligans'. Anglia TV, Gerry Harrison, you're a bunch of chunts.
The Luton return game at Stamford Bridge was on Good Friday. With Ipswich winning 2-1 at Arsenal on the Easter Saturday, there was no way Anglia would show the brilliantly entertaining(?) 2-2 game at Chelsea on Sundays Match of the Week. I was right.
So, over the full season of 75-76, the only TV coverage I saw of Chelsea were the 26 seconds or so that Anglia showed of the Luton away game, and Chinny Hill's views of Kung Foo fighting up the North Stand during the Palace FAC game. There was the odd pre match glimpse of Butch Wilkins playing for Chelsea when England were on TV, but I wanted to see and know more. We also needed to get back into Division 1, I was fed up of taking stick in the playground on a Monday morning for supporting a 2nd Division team!
The only way I thought I could keep up with the latest news was getting the home Programmes, so every fortnight or so, I would send Chelsea a large stamped envelope and a 15p postal order. Most Tuesdays after the game they would drop through my letterbox, but to my amazement, on Sat 28th February the Blackburn home programme was delivered – the day of the actual game! So instead of watching Noel Edmonds Swap Shop, – an early form of eBay- I read the Programme, and knew the actual team playing that day, because it said so on the back page…
We finished mid table that season, on 40pts. Fulham & Orient also had 40pts, but we were ahead of them on goal average. Ours was .9814. It was a system that no one seemed to understand, you couldn't stand on a terrace working that out in your head. Thankfully this was the last season of goal average, from 76-77 it was to be goal difference, easy to work out. The way we ended 75-76, Chelsea's goal difference would be easy to work out, it would always be minus something!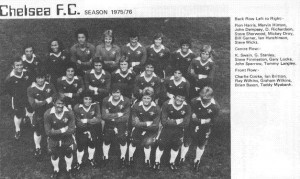 I recently was given the highlights of the Palace cup game on DVD, it shows a bit of the trouble in the North Stand, but what made me laugh was twice they showed Herr Brian Mears have his fag lit by his wife, June, who was next to him. Next to her in the 'posh' East Middle was one Michael Caine, but not a lot of people know that…
From the 15p programme…
Adverts seem to be on every other page, including many from Pubs around the ground –Goat in Boots, Markham Arms, Lord Palmerston, Rising Sun, Nell Gwynne**, Duke of Cumberland and the Swan Hotel…
**the Nell Gwynne advert mentioned the fact that it was used as the Pub in the ITV sitcom starring Hilda Baker called "not on your Nellie" In the TV programme the Pub was called "the Brown Cow"…
Firework night at Chelsea cost £1 per child, whilst Adults paid £1.50-£2.50 to see a "mammoth 40 minute display, one of the largest in London"…
2 junior players we were told to "watch out for" were Bumstead and Stride…
The Chelsea Ticket information line on 01 381 0111 provided a 'prompt answer to many enquiries'……………. Bring it back-!!
The New Years Eve gala at Stamford Bridge cost £10, whilst the Chelsea Supporters Club annual dinner/dance cost £6.50. If that was too expensive, pop along in your flares to the Chelsea Disco in the East restaurant for £1.25…
Ian Hutchinson retired on medical grounds, Feb 10th, 1976…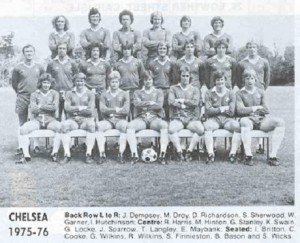 The special train to Bolton cost £4, a £1 for each hour it took to get there…
Shed……..70p, 35p juveniles
East Stand…..Lower….(£1.00 – £1.20)
………………Middle….(£2.00 – £2.50)
………………Upper….(£1.00 – £2.00)
West Stand….(£1.00 – £1.20)
Transfer to West Stand 'open enclosure'…20p
*a puzzling pricing structure –the shape of things to come- the Upper tier actually had 4 different prices, depending on where you sat. Front Centre – £2, Rear Centre – £1.50, Rear Wings – £1 and Front Wings – £1.75.
Posted by Corby
(Part Two to follow)
---

---
'Chelsea Supporters Group' can also be found on Twitter and Facebook
Related Images: