Match Report: Birmingham 0 – Chelsea 2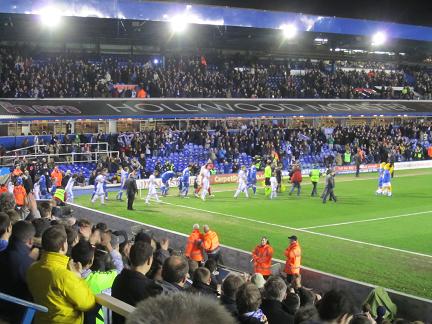 Once again a midweek game sees our regular reporter Gill Reeves having to stay with her pupils, so this report is a bit of a quick resume of last night's game.
First half, pretty uneventful apart from a Torres miss and a Juan Mata save, second half, two goals and a missed penalty that saw us through to face Leicester in the quarter finals of the FA Cup at Stamford Bridge!
New Chelsea 'till the end of the season' manager Robbie De-Matteo with his new assistant Eddie Newton, mixed it up a bit by leaving the returning JT alongside Lampard, Drogba and Sturridge on the bench (afterwards we were told it was with Stoke this Saturday in mind), and replaced these with Meireles, Torres and Obi Mikel.
Birmingham also had a weakened side due to injuries and cup tied players and it was no real wonder that the first half saw both sides struggling to break the other down, Mata and Torres had good chances but the keeper kept the first out whilst the latter was a scuffed effort when Fernando should really have scored.
Second half, attacking our end, and it didn't take too long before we took the lead.  Birmingham were starting to tire and with 54 minutes gone after a bit of a scramble in the penalty area between Kalou and Mata, eventually the ball was put away out of reach of the ever industrious Birmingham keeper, Colin Doyle.  Six minutes later and it is 2-0.  Meireles latched on to a ball back from Ramires, and from 20 yards lashed an unstoppable shot past the home keeper.
It could have been game over when Torres was bought down in the area, but Mata had his second penalty against Birmingham saved by Doyle, fair play to the goalkeeper as it was another good save to go alongside the one he made in the first game. Torres put in a great pass for Sturridge late on but he failed to add to the score line when the ball got caught under his feet.
So, two nil and we march on.  I wonder if the omens are with us?  Mata scoring in every round (Ossie in 1970) – Leicester next (been here before) – our makeshift management, RDM and EN (the goal scorers in 97 Cup Final).
All we need now for the next round is Erland back for the day!!
"Win or Lose – Up the Blues"
Birmingham City
• 13 Doyle
• 05 Pablo
• 23 Spector
• 24 Davies
• 08 N'daw (King – 72′ )
• 12 Mutch
• 14 Gomis
• 15 Elliott
• 22 Redmond
• 17 Rooney (Burke – 59′ )
• 19 Zigic – Booked
Substitutes
• 01 Myhill
• 29 Packwood
• 07 Burke
• 20 Valles
• 35 Reilly
• 09 King
• 36 Jervis
Chelsea
• 01 Cech
• 02 Ivanovic
• 04 David Luiz
• 24 Cahill
• 34 Bertrand
• 07 Ramires (Lampard – 75′ )
• 12 Mikel
• 16 Meireles
• 09 Torres – Booked
• 10 Mata (Essien – 89′ )
• 21 Kalou (Sturridge – 59′ )
Substitutes
• 40 Hilario
• 26 Terry
• 05 Essien
• 08 Lampard
• 11 Drogba
• 18 Lukaku
• 23 Sturridge
Ref: Taylor
Att: 21,822