Chelsea Plan Crackdown On Ticket Touts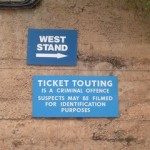 Chelsea Football Club are planning a crackdown on ticket touts for the forthcoming season.
They have asked for any match going supporter who has been intimidated by touts or who have witnessed the same in the areas surrounding Stamford Bridge to make a statement as to what happened. This can range from being constantly pestered, followed by touts to being obstructed on the way to the stadium.
Once the club have enough statements they intend to present them to the local councils and police with the hope that they will set up a " dispersal zone" under the Public Order Act 2003. With this in place the police would be able to issue the touts with notice to move away from the said area and not return for 24 hours on threat of arrest for a public order offence.
A similar scheme has been put in place for the Wimbledon tennis championships and has been very successful.
Any statement will be treated with the strictest confidentiality and if you can help please send us an email and we will forward it to the relevant people at the club.
You can also contact Chelsea FC direct here
Posted by Cliff Auger