Everton v Chelsea – Match Summary
Everton 0 Chelsea 3 – Sunday 30 April 2017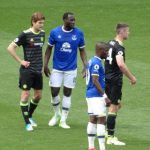 A massive game for us, but then they all seem huge right now. But the psychological boost of beating an on-form Everton at their place, arguably the toughest test in our run in, must surely be one hand on the trophy if we could win it.
In team news it was the all too familiar lineup of Courtois in goal with Azpilicueta, Luiz and captain Cahill as his trusty back three, supported by Moses and Alonso flying up and down the wings. In midfield were the dependable Kante and Matic, sitting behind Pedro, Costa and Hazard, our goal hungry threesome. On bench warming duties this week were Begovic, Zouma, Ake, Fabregas, Chalobah, Willian and Batshuayi.
It was a bitty and nervous start to the game, from our perspective at least. Was the significance of this game going to get to us? The home side seemed to be getting the better of the play in large parts, danger man Lukaku always one to keep an eye on, but we did get some good chances, goals that were there for the taking.
It was clear from early on that Hazard was being man marked by Gana (or is it Gueye?), in an attempt to play him out of the game. But that seemed to backfire when 10 minutes in Hazard managed to slip his man, a super pass from Costa sending him on his way and round the keeper, but sadly the ball ended up in the side netting.
I think we were expecting/hoping for a game settling early goal but that didn't materialise and perhaps the nervousness was felt more in the away end than on the pitch. It didn't help when 10 minutes later the erstwhile stroppy Lukaku fought off a challenge to send a low shot just wide of the post. Hand on mouth and shake of the head moment.
That was shortly followed by a loooong free kick by Luiz that was punted up towards Costa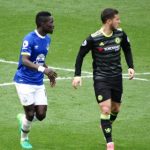 running into the box, who managed to shrug off the defender, spin round, and then balloon a shot into the crowd behind the goal. That was the one. That could have been the spectacular goal to set the game alight and put us in the lead. Alas, it wasn't to be.
But it didn't matter what was happening on the pitch, the travelling Chelsea contingent were in fine voice, keeping up the noise levels throughout the game.
There were a couple of scary moments as we approached half time, but thankfully not enough to affect the score, which remained at 0-0 as we went into the break.
Second half with no changes to report I was ever hopeful of our boys starting the half quickly. But it was still pretty cagey stuff, neither side really taking it on. We had a good chance five minutes in when a sneakily inventive corner nearly came off. We've seen Matic receive a ball at the near post before, but rather than flick it back, this time he slipped it sideways for the approaching Moses to drive goalwards. It missed by a whisker and if Costa's leg was a couple of inches longer he might have been able to divert the ball into the back of the net.
We were starting to pick it up, playing some good stuff and stringing some decent and inventive passing together. Everton nearly came unstuck when a mistimed pass back to Stekelenburg in goal prompted Costa to chase the slow ball only to end up with both on their backsides and our man receiving a yellow card for his trouble, having clipped the keeper's ankle as he slid in. Not much our man could do, he was right to go for it.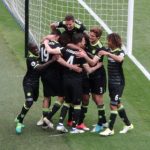 The game was still looking like it could go either way, the ball popping around the midfield with occasional incursions into each other's box. But just when the home fans finally started to make themselves heard, our fleet footed Pedro fired off a bullet of a shot from outside the box and into the top corner of the goal. Nothing the outstretching keeper could do as our boys ran over to the away section, our fans already in raptures in celebration at a belter of a goal as well as expressing a sense of relief that the deadlock had finally been broken. It was always going to take something special to break through, and Pedro supplied it with knobs on. Oh Pedro Rodriguez……
If the goal sent the travelling supporters into raptures, it also gave our boys on the pitch the confidence to relax a bit. A couple of dodgy moments to contend with, but we'd got the measure of Lukaku who, let's face it, only scores against teams lower down the league (I'm not a fan!).
It wasn't long before Hazard had slipped his new best mate Gana, who retaliated by fouling our man in front of the away fans. The resulting free kick was planted by Hazard into the 6 yard box and with everyone rushing on to the arriving ball, it was captain Cahill who got there first and bobbled it across the line before heading off in the direction of the home fans behind the goal sporting a well disguised hushing gesture before continuing his celebratory dash to the exuberant Chelsea fans in the lower tier.
Aaah, it's games like these that make the long treks so worthwhile, and with ten minutes left to play there seemed no way back for the home side as we contemplated how close we were getting to the big prize, with only four games after this, three of them at home, all very much in our own hands.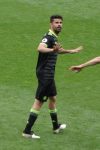 Time for our first changes; goal maestro Pedro replaced by Fabregas, and Ake on in place of Luiz who had been struggling with his leg for some time. This was shortly followed by Willian on for Hazard.
With five minutes left we could relax, there was no way back for Everton, their main (only?) threat Lukaku had been nullified. But out of nowhere came our third goal. Just minding our own business popping the ball around just outside the box before Alonso, Costa, then Fabregas combined, leaving the Everton defence gawping before chasing Cesc into the box, without noticing that Willian had switched direction ready to receive the pass that he simply slotted into an empty goal, the keeper also victim to our sucker punch.
So, so sweet, playing like champions, but as the cry of Championes went up did anyone notice Costa aiming a calm down gesture towards the away fans? I never like to tempt fate either, but it seemed odd coming from Costa given that he's often seen swinging his arms around in an effort to get the crowd going. Maybe that only happens at home games!
We were just going through the motions until the final whistle when Antonio and the whole team made their way over to the away end to celebrate that momentous victory together, a major hurdle brushed aside.
We can do this – we shall not be moved!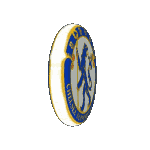 Posted by Chelsea Debs
Debs can be found on Twitter as @cfcunofficial and at cfcunofficial.com
You can read all Chelsea Debs 'Match Reports' here
DISCLAIMER: All articles written for the Chelsea Supporters Group 2005 (CSG) are those of the author and do not represent the views of the CSG. The views and opinions expressed are solely that of the author credited in the article. The CSG do not take any responsibility for the content of its contributors.
'Chelsea Supporters Group' can be found on Twitter and Facebook
Related Images: