FSF Safe Standing Campaign Needs You!
Call to action: The FSF's Safe Standing Campaign needs you!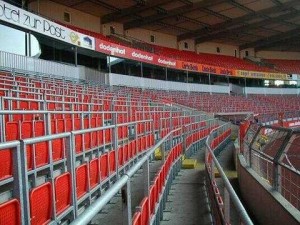 Dear Fellow Football Supporter,
It's a hugely important time for the Football Supporters'Federation's Safe Standing Campaign and we need your help and support. It's time to really push things forward!
Why now? In the past 18 months the joint  campaign between the FSF and Stand Up Sit Down has successfully brought the issue of safe  standing to the national media's attention.
Earlier this week we stepped up our Parliamentary lobbying campaign with Early Day Motion 573 tabled by  Roger Godsiff MP and supported by our friends at Aston Villa and Peterborough  United FC. EDM 573 calls for the Secretary of State for DCMS to relax the law  on standing sufficiently to allow a trial of a type of new safe standing  technology.
To support the EDM and educate MPs as to the arguments  behind safe standing we have also arranged an event in Parliament on Tuesday 11thDecember (Portculllis House, Attlee Suite) which will showcase the 'rail seat'safe standing model.
What can I do? We need you to help the campaign for safe standing:
•Step 1 – Sign the FSF's Safe Standing Petition (if you haven't already)…
•Step 2 – Email or visit your MP and ask them to sign Roger Godsiff's Safe Standing EDM 573. Find out who your local MP is at They Work For You and download a template email outlining the case for safe standing here.
•Step 3 – Let us know what response you get via safestanding@fsf.org.uk  We want to see which MPs sign the EDM and will follow up those who don't.
•Step 4 – Spread the word. Send this page to your mates via email, Facebook, Twitter or whatever other social media the cool kids use nowadays. If you're involved with a supporters' organisation, fanzine or website use your links to promote this page.
Read more about the Campaign for Safe Standing here.
Still want to do more? We want to hear from you. We need contacts at every club and in every region to act as local coordinators.
Email: safestanding@fsf.org.uk
Get involved today.
Many thanks,
Garreth Cummins
International Officer
Football Supporters' Federation