"The Red Hand Gang" By Walter Otton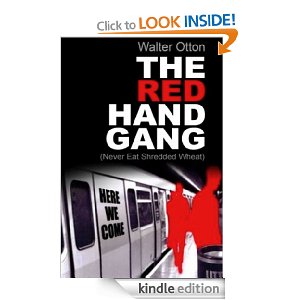 PASSION. CORRUPTION. DETERMINATION. DEVASTATION. THE RED HAND IS THE COLOUR OF JUSTICE. THIS ANTI-NESTLE, CHELSEA SUPPORTING, FOOT SOLDIER OF FAITH WILL NEVER EAT SHREDDED WHEAT.
In ten years he will be forty. Half a lifetime gone. He spent his twenties working with young people born onto council estates in South London. He has booked a week off work to walk the length of the Thames. Each night, after twenty miles of walking, he experiences wild dreams from the carriages of London tube trains: sometimes unabandoned freedom and at other times utter torment – where his deepest fears surface. The voice of his Creator has inspired him to walk. Seagull Si, the only one who can read a map, accompanies him alongside cousin Larry who has just returned from the biggest slum in Africa. As they walk the Thames path they reminisce about their spiritual upbringing, their teenage decisions to follow Jesus and subsequent discovery of Cutting Edge gigs on England's South Coast. Can they make a difference in the world they live in They know their lives are not a dress rehearsal. They only get one chance. The next ten years count.
"This is a very heartfelt piece of writing full of passion which will be passed onto the reader. The idea of parallel journeys, underground and overground, is clever and gives the story a deeper meaning. I also liked the Biblical quotes, the pride in belief, the decency of the characters."
John King, author of The Football Factory, The Prison House and White Trash.
"From the carriages of the London Underground to the slums of Kaberi, Kenya – this passionate and creative journey pushes you to the limits of both hope and despair. Anger and compassion entwine throughout – creating shocks and tears in equal measure. Though the style may at times offend, you will be inspired – because for a generation hungry for change it's a "must read then do something" book."
Paul Sanderson MBE.
"Readers familiar with the Chelsea Football Club fanzine cfcuk will need no introduction to the literary talents of Walter Otton, and SW6 folk will delight in the Blues related anecdotal stories. For those who do not subscribe to cfcuk or follow the Boys in Blue, fear not – if you enjoy the work of John King, Martin Knight, Irvine Welsh and Joseph Conrad – you will love The Red Hand Gang."
Mark Worrall, author of Over Land and Sea and One Man Went to Mow.
Available to purchase now on Amazon, £3.90 for the Kindle version here
Author Walter Otton talks about his debut novel The Red Hand Gang live on the Chelsea Fancast