Travel Arrangements For Leeds Utd From Yorkshire Police
From the FSF: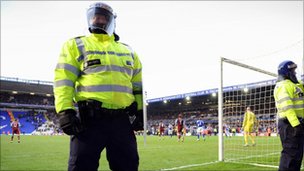 Thankyou for your email and questions relating to tomorrows fixture. We held our Policing Operation – Pre Brief yesterday to finalise details about the fixture.
In response to your questions I can tell you the following;
•         Fans travelling on the 'official' train from Kings Cross to Wakefield Westgate will be taken onto the ground by coaches also arranged by Chelsea FC. The same coaches will be outside the ground post match to take fans back to the train.
•         A holdback of away fans has been considered as part of our planning process and risk assessment for the game but this is something that is not decided on prior to any match day operation. As you pointed out further into your email things change as the operation progresses and there are many factors taken into account to decide on whether a hold back is implemented at the end of the game. Safety of fans is obviously paramount and will have a huge bearing on this decision.
Chelsea FC website should have details about the travel arrangements for this game including an RV point for coach at Woolley Services (Northbound M1) where they will be escorted in groups to the away coach park beside the away turnstiles at Elland Road.
It would be good if you could pass onto fans that whilst appreciating this game is a high profile one between two well supported clubs both sets of fans are asked to arrive in good time to get into the ground and also respect one another whilst supporting their teams. Any fans wihtout tickets are also asked not to travel to the game and take advantage of the game being televised and to watch it locally wherever they live. And finally those fans subject to Football Banning Orders are reminded that this is a designated football match and all conditions apply.