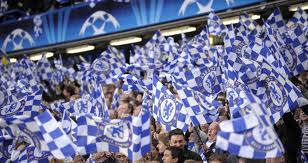 Long time since I've had the opportunity to send anything in. However I lay not claim to posting the article on the main Chelsea site, but this letter drafted by Arsenal supported by Manchester United, Liverpool and Tottenham, and sent to Richard Scudamore CEO at the FA Premier League, shows football to be a really dirty game and there are no lows at which some clubs will sink to gain advantage.
The report from Martin Samuel maybe one of only a handful of genuine hacks left in the business where their wonky eyes have not been turned by the lure of the clubs hospitality.
I've no regard for Arsenal, they are historically one of the old money establishment clubs, born of Henry Norris fame where corruption was part of the game, in my eyes they became the most hate club when David Dein tried quite forceful to get us evicted from Stamford Bridge after we had been sold down the river by Mears, many today just don't know what went on in those dark days of the 1980's their true colours show through time and time again, there is almost nothing they will sink to in trying to get the upper hand.
We are hated more than ever because of our Champions League success and being the first London club to achieve that honour. They are behind us in all manner of endeavours, recent success, quality of players, global appeal and revenue, the only advantage they hold is the ground capacity, and £62 for a visitor is taking more than the piss, no wonder City fans refused to take up their allocation. At this point I'd give great credit to the official on Sundays game who suggested to the Man City stars at the conclusion of their victory go and thank your fans £62 is beyond the pale.
Anyway on to the report…. Its a clear extension to the FFP, which the four above named clubs want taken even further, which strangely allows clubs to be taken over by rich individuals as long as they ruin them or run them into the ground aka Blackburn, and maybe Portsmouth, but its all against them expanding or developing into a better and stronger team, not that's just not cricket. In fact it's the objective to restrict new competition, new owners who can upset the apple cart further. Arsenal are the one who this nailed more than most, in all truth they are not a football club anymore, they are just a cash raising business who benefit owners and shareholders, stuff the supporters, and funny enough lots of them still can't see it.
Whilst almost everyone is of the same thinking to prevent another Portsmouth situation, none of the 4 named clubs want more competition, what really has them scared is more challengers from wealthy owners, but also to maybe loose the power base they have in their own clubs to keep up with the new challenges. Now this is were the murky under cover world of football cloak and dagger comes in.
Gill Manchester United Chief executive is also on the board of the FA…. strange that, we get rid of David Dein a few years back under the question of suspect influence and replace him with another old establishment man who can be argued is doing the same, funny since Dein left in 2005 Arsenal's success has some what dried up, maybe just a coincidence.
Some of Gill's comments were a direct attack on Abramovich and Sheik Mansoor, with more restrictions and limitations put upon wealthy owners. Its okay I guess that the Moore family bank rolled Liverpool through 20 odd years of success, and that Man Utd share issues had them spending £20 to £30 million on players when nobody else could, but now others can its all wrong because they can't call the shots anymore.
The thing is why would Gill be supporting Arsenal's proposal, well simple it keeps Manchester United at the top, they already have the revenue stream, so can spend as much as they like with no competition, Oh other than the new rich owners. So why did Arsenal want to propose such a measure, maybe they are losing ground fast on ourselves and Man City where 10 years ago the PL was just like La Lega a two horse race year after year. Even the Man Utd left overs would be enough for Arsenal to be able to start challenging again.
The mystery is why Liverpool and Tottenham want to be involved in such a scheme, with Tottenham going all out to obtain a new ground or expanding White Hart Lane, it appears that they are shooting themselves in the foot…. maybe but no, Levy knows a good thing, for more rivals to appear on the scene, its likely he will have to give up more control over the running of Tottenham to keep them up with the outside challengers….. thrifty he is, foolish he's not. Liverpool the old lady of English football, long gone are her looks and beauty, the club acts like it will grab on to any hope of a last curtain call or an anti aging solution. The go-ahead of a new ground will hurt the on field investment so what better to hold back any potential new challengers to their mid table obscurity.
The darker forces of football….. Michel Platini has put his allegiance in with a chap called Jean Luc Deheane chief investigator and chairman of the chamber of the clubs financial control body. This is the man Gill wants all our clubs having to answer too. However Deheane is a colourful individual, he resigned as chairman of Dexia bank in July 2012 because his bank required £3.45 million bail out from the Belgium government that was on top of the £5.18 billion when Dehaene took over in 2008. Maybe that's bad enough, but it's deeper than that as Dexia bank scandal had loaned £1.3 billion to two of their biggest institutional shareholders to keep their stock price afloat. Since Dehaene left the bank has spent another £70.2 million on resolving their problems.
Dehaene also failed to declare interests of £4.41m in share option in a Belgium / Brazilian beer company….. sound like a really nice trust worthy person to be in charge of the FFP…. the bonus for Manchester United, power, money and friends, good don't you think? For Gill to present UEFA with a gift of the English clubs all signed up and the extra restrictions, works alongside his campaign to be elected to UEFA's executive committee in May 2013….. plenty of back scratching going on here.
So with FFP you an spend a percentage of your turnover, so with the biggest turnover and the addition of limiting other clubs from expanding their turnover you will always have the biggest pots of money to spend…. clever eh?
So back on to Arsenal, Dein's gone but there is Gazidis, the man who's behind the new Arsenal, he's already on the executive board of the European Clubs association and holds a position on same Legal advisory panel, lets add his position on the FA's professional game board, the FA Council, the FA's dispute resolution chamber, and the Pal's  working group for elite player performance…. quite a lot of jobs really!
You see our game is riddled with so much off the field activity, you need a Sherlock Holmes to keep tabs on the sticky under world of football people placements that clubs can and do influence the running of the game. Not only do you have to beat these teams on the pitch, you have to beat their dirty tricks off it.
(Credit Martin Samuel of The Mail for his article 13th January 2013)
Posted by Voltaire