Glass Half Empty (by Gary Watton)
GLASS HALF EMPTY; GLASS HALF FULL [by Gary Watton]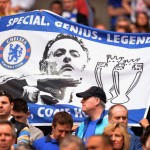 Ahead of the recent skirmish in Istanbul, Petr Cech commented in one of those awful pre-match interviews that various footballers and managers must participate in that Chelsea have "been having a good period". I thought that this was an exaggeration. Certainly, the big guy and his defence have excelled themselves with a whole host of shut-outs since our wobbles in November/December against the likes of Stoke and Sunderland. However, the worst-kept secret in sport is our toothlessness in front of goal. Our draw in Turkey was another fine illustration of our ever-growing frustrations with a team that refuse to score more goals.
It's actually hard to blame Torres when the guy does the correct thing and get on the end of a fine square ball from his compatriot Azpilicueta. Even in the second half, Fernando nearly doubled his tally when he muscled past a defender and saw his goal-bound effort expertly turned around the post. On the evidence of last night, I would stick Torres up front ahead of the disappointingly misfiring Eto'o. The trouble is that the Spanish maestro [and the Cameroon legend] is very injury-prone. Neither striker really benefits from the lone striker role and worse still neither is able to enjoy a lengthy spell in the team without getting injured.
Our problems are not exclusively with our strikers. I am especially concerned about Ramires and Willian. Their work-rate is a source of much admiration, but Willian has been impotent in front of goal, excepting one glorious effort at Norwich. He had a tame twenty-yarder in the first half which the opposing goalkeeper went down in slow motion to collect! Ramires is even worse. Aside from the occasional eye-catching goal, he lacks conviction when he shoots. He has developed Mikel's habit of blazing over the bar. I honestly think that the guys should have a training session where they are encouraged to shoot low at the goals, even if the effort is straight at the 'keeper.
They must get out of the dreadful habit of blasting their shots high into row Z. Last night, after all, Schurrle pulled the ball back to Ramires just inside the penalty area, and from not much more than fifteen yards, the Brazilian skied the ball over the bar. That was just not good enough.
Even Mourinho's patience has worn thin. It is noticeable that the apparently selfless manager who asks to be blamed when his team fails is now more vocal in his criticism of our attacking impotency. He stated that our movement in the final third was lacking and we just did not find the correct final pass against Galatasaray. It is one thing to identify the problem. It is quite another to cure the symptoms after a diagnosis has been made.
There are problems. Now that Lampard is slowly disappearing over the horizon, who is going to fill the void he leaves in terms of accurate and stinging shots from outside the box? That was his party trick, and now we have a midfield that tamely shoots or is just plain inaccurate. Hopefully Oscar will re-discover his form and step into Lampard's role on a lengthy basis. Oscar still seems a bit too lightweight and peripheral in big matches, a fact not lost on the watchful eye of Jose who likes his midfielders to man up against other top teams.
Schurrle still concerns me. Like Ballack before him, he doesn't do much wrong, but he doesn't do much of great value either. Neither the German nor Willian seem able to beat a defender. Willian after all admirably tried to run beyond an opponent, but was dispossessed about thirty yards from goal, leaving big Cech to tip a dangerous shot over the bar. That moment typified Chelsea's inability to dribble or sprint past an opponent. We are now so heavily reliant upon the trickery and pace of Hazard. However, his reputation is preceding him, so now he has about three opponents closing him down. Others must take the burden of creativity off the Belgian superstar. I do hope that Salah gets a start against Fulham, but I wouldn't be surprised if he doesn't. Is he going to emulate Marin by being constantly overlooked?
He needs to be blooded sooner rather than later.
As for Schurrle, he is not Chelsea quality. We are back-to-back European champions with a rich benefactor. As one of the biggest clubs in Europe, we should be purchasing the best that money can buy. Schurrle scarcely fits that category. Heaven knows there must be many outstanding players in the Bundesliga, so why does our Stevie Wonder scout recommend Marin and Schurrle? Bizarre choices, and not good enough! Schurrle is barely worthy of a place at Everton, Newcastle, or Tottenham. He will chip in with a few goals and a few assists, but he is scarcely in the same class as vintage Cole, Duff, and Robben. It's all very well playing a 4-3-3, but do we have someone on the right flank who can be as effective as Hazard on the left? No wonder Ivanovic gets into so many attacking positions, because the right flank desperately needs his assistance!
Oh I could go on, but I just wanted to throw this grenade of dissatisfaction out there. Galatasaray were in disarray in the first half hour last night and we should have fully capitalised, as Real Madrid would have done! This contest is far from over. I would not be at all suprised if they score at our ground and we perhaps just squeeze two goals in reply. God knows it is an effort for us to score twice nowadays! We are also back in the old bad habit of being caught out, after leading one-nil. We got stung by West Brom. We got dumped out of a cup quarter-final by Sunderland. We now have got hauled back by the Turks. Somebody needs to remind our hapless troops that the best way to defend a one-goal lead is to score again and add to it. I even shudder to think what would have happened if we had scored much earlier against Everton. Would we have gone on to rout them, or would
we have been pegged back? Answers on a postcard!
Mancini reckoned that Chelsea had an eighty per cent chance of qualifying for the last eight. This of course was just a case of playing Mourinho at his own game. Personally, I think that Chelsea's chances of progressing past Galatasaray are about fifty-five per cent. After all, we are so goal-shy that we will be in bother if/when we concede.
As long as we take too many touches and construct attacks with too much deliberation, then we will fall just short in both England and Europe. It's almost as if we are emulating Arse-nil by knocking the ball about too much and trying to score the perfect goal. It's high time some of our wimpish midfielders struck shots with venom and pretended that the round object is their worst enemy.
I hope that the brilliant but erratic Luiz returns for the second leg. He at least is capable of a bit of acceleration with the ball at his feet. Otherwise, we remain too predictable, lacking the x factor, and defences like West Ham can just pile numbers behind the ball and watch us pass the ball back and forth.
The thing that annoyed me most from our recent setback at West Brom was that someone suggested we threw two valuable points away because "we lost control in the last twenty minutes". Oh for crying out loud. That is totally missing the point. It is almost impossible to control a match from start to finish. The trick is to be lethal when you are in control, and if you're dominating for seventy minutes with only one paltry goal, scored by your right-back, then that is the issue, not the fact that we eventually surrendered "control." It's time that we made our control of matches pay off. Our shooting is abysmal. Our lack of pace is a concern.
At least I am thankful for one thing, that Mourinho did not make a knee-jerk reaction in January and sign another striking misfit.
We have had one too many of them recently.
Gary Watton can be stalked at http://sporthistorian.blog.com/Chelsea