Chelsea Terrace Talk – Irish Examiner Article By Trizia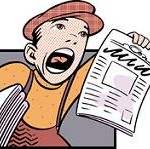 The PSG game demonstrated the very best of the Chelsea team & the support – we knew we could over-turn that 3-1 deficit – it wasn't just bravado – we KNEW. Even as time was running out I could sense a goal was coming – although not many would have guessed that Ba would be the hero of the hour. We seem to be able to get ourselves motivated for the "big" games but we still seem to approach the "easier" games with a mix of complacency & fear – which was what we saw at Swansea. Even the early dismissal didn't relax the team into playing the way they are capable of; instead we enjoyed plenty of possession and with little else. If ever a game demonstrated how blunt we are up front then the Swansea game was it – 26 shots with only 3 on target. That's taking nothing away from Demba Ba as he has sat patiently on the bench and has stood up to the plate when called upon but we can't forget that this was against a struggling 10 man Swansea.
The title is now a three horse race & the momentum is undeniably with Liverpool. You can say what you like about this game or that – but over a season the league table doesn't lie so whoever eventually wins it will have earned it. I have to admit to being envious at how Liverpool attack teams at 100 miles an hour – right from the off & keep that pressure on throughout – we are capable of that but we just don't seem to do it very often. That said if we do manage to somehow claim that title you can bet your bottom dollar that there will be a queue as far as the eye can see waiting to tell you that we didn't deserve it.
I'm not quite sure what to expect in our crucial game at Anfield – what Jose will do tactically. When we played City up at the Ethiad, the general consensus was a home win, yet we comprehensively & meticulously took them apart. But then we lose games to the like of Palace & Villa – you'll have to find a brave Chelsea fan that is willing to call this one with any sort of certainty.
Of course before we can even think of that game we need to face Sunderland at home & play the first leg of a Champions League semi-final – no pressure lads!
Inevitably Mourinho was fined in the week for his behaviour at the Villa game – this once again demonstrates why the FA attracts so little respect from those of us who watch the game. There were a number of people who were on the pitch that day who shouldn't have been or said or did things that they shouldn't have done but only one individual gets charged & fined. I'm not sure why I've even bought this up – in his last tenure at Chelsea the FA used the club & manager as their own personal ATM when dealing with "disciplinary" matters yet similar misdemeanours from Mourinho's counterparts were ignored. Jose is said to be furious and who can blame him – meanwhile Foy's appalling display goes unpunished. No wonder Mourinho refused to speak to the press after the Swansea game – no doubt that'll merit another donation to the FA Christmas party.
But the FA's brand of adjudication looks positively benign when compared to UEFA. Chelsea have been threatened with sanctions should they try & enforce a clause in their contract with Athletico Madrid in relation to keeper Thibaut Courtois. The clause states that the Spanish side would have to pay Chelsea (no one seems quite sure of the amount – but it's in the millions) if they want the Belgian to play against us – money it is said they cannot afford. Now UEFA have stated that this is not enforceable – so why was it permitted to go in the contract in the first place? The governing body's statement also said that the "Integrity of sporting competition is fundamental" – now I agree but surely integrity would be more in doubt should a player actually take part & so is able to affect the outcome of a game rather than not play & so not affect it at all? Or am I missing something?
Chelsea have publicly stated that there was no question of Courtois being permitted to play but are meant to be privately furious. I'm not surprised – Athletico have had the services of the highest rated goalkeeper in the world thanks to Chelsea – a goalkeeper who has been absolutely fundamental in their successful season – now are weeping & moaning about the unfairness of it all & effectively biting the hand that feeds them. How's that gratitude for you?
What happens if Courtois makes a series of horrendous gaffs in the semi-final games effectively handing us a by into the final – then returns to Chelsea in the summer – how would the integrity of the competition be viewed then? Even using the words integrity & UEFA in the same sentence reduces me to a fit of giggles. Bring it on anyway – that and your Scandinavian referees – we've seen it before.
But first things first – carry on in our attempt to upset all those "neutrals" by doing our damnedest to beat Liverpool (and City) to the title.
Posted by Trizia
(You can see all the Terrace Talk articles here)
Related Images: