You'll Never Walk Alone! (by Gary Watton)
YOU'LL NEVER WALK ALONE!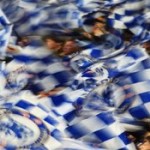 I was amazed on my internet travels to discover that Chelsea supporters used to sing 'You'll Never Walk Alone' in bygone days. Check out the following two YouTube links.
Exhibit one:
http://m.youtube.com/watch?v=WjasofV0ZtQ Notice how at 1:44 the Chelsea faithful have scarves aloft whilst chanting YNWA in the 1970 FA Cup semi- final trouncing of Watford on the beach of White Hart Lane!
Exhibit two:
http://m.youtube.com/watch?v=PmZj-IcZiqo Listen out at around 2:56 for about twenty seconds. This London derby took place on Boxing Day 1981, so presumably YNWA survived into the 1980s. [Oh and that was a great goal from Mayes at the end. We soaked up pressure and hit them with two late sucker punches, back in the days when we were loveable underdogs, even against QPR!]
I started attending Stamford Bridge in March 1994 and I have never heard such an anthem sang by the Blues faithful, so the question that I would like to put out there to longstanding Chelsea followers is when did we ditch this tune from our terraces' repertoire? My guess is that either the song just petered out in the 'eighties, or more particularly Chelsea fans elbowed the sing-along after the Heysel disaster in 1985. What makes me think that? Well, I seem to recall that a number of silly Scousers or their media apologists were mischievously suggesting that the violence at Heysel was partially caused by Chelsea Headhunters! Quite why Chelsea 'supporters' would be attending a Liverpool European Cup final is beyond my comprehension. Anyhow, YNWA is admittedly a great, passionate song, and I think that it's a pity that we let it go. Mind you, we could always revive it and edit the lyrics to the following:
"Walk on, walk on, walk on, walk onnnnn
With no hope in your heart
And you'll never win the Premiership
You'll nayyyver win the Premiership"
I'd be interested to hear from any of the pre-prawn sandwich brigade, some of the die-hards of bygone decades when they recall YNWA and when they reckon it went out of circulation in west London.
[The author can be stalked at http://chelsea.thefootballnetwork.net]
DISCLAIMER: All articles written for the Chelsea Supporters Group 2005 (CSG) are those of the author and do not represent the views of the CSG. The views and opinions expressed are solely that of the author credited in the article. The CSG do not take any responsibility for the content of its contributors.